Host: Glenormiston Station
Written by Lynette Templeton – Governess, Glenormiston.
I would like to introduce Lynette Templeton our Governess, this may be Lyn's first year as a Govy but she has taken to it like a fish to water despite the challenges of working with a curriculum so different to what most people have grown up with. She is a big help and an important role in the lives of our children growing up in an isolated environment, having said we are isolated we are lucky in having two of Gracie's class mates living next door on Herbert 60km away so they still get to see other kids.
– Nicky
Hi my name is Lyn, I have come to live at Glenormiston station to work as a Governess for Ryan and Nicky Gurney. My job is to teach their beautiful daughter Gracie who is five, she has started her first year in Prep. This is my first time as a Govy, in previous years I have been in retail and accounts payable and receivable in my working career.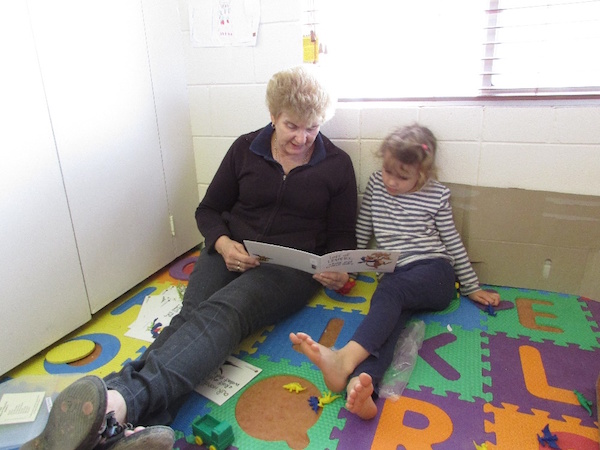 Lyn and Gracie.
My day starts at 8.00am when we listen in on the school of the air announcements over the phone which let us know what is happening that day and any reminders we might need to know. When this finishes we start school not long after that, we read a book then we start with Cassie Caterpillar – a new curriculum that has come in teaching kids how to write, using a blackboard and chalk. From there we go online using iConnect for Gracie, enabling her to talk and interact with her school of the air based teacher Mrs Jo Mills and four of her classmates.
We have a lot of fun reading books, ebooks, and videos that are put online for the children to watch and learn. There is not a dull moment in the school room, in the afternoons I have Ryan and Nicky's other beautiful daughter Emma who is three and in this time we do some painting and crafts much to Emma's delight, so we have a lot of fun all round.
Thanks, Lyn
Comments