Host: Helen Springs Station
Written by Sally Towne – Manager, Helen Springs Station.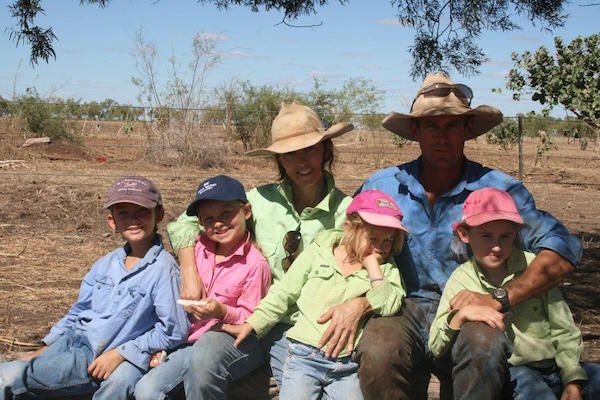 The Towne Family.
Hi from the Towne Tribe!!!
My husband Chris and I manage Helen Springs Station, we have four gorgeous children, ten year old twins Jack and Chloe, eight year old Annabelle, and seven year old Emily! We love our amazing life and are both extremely passionate about not only the Northern beef industry but the Australian cattle industry as a whole. We feel immensely proud that we are contributing to the ethical sustainable food production of our country and beyond.
Chris and Sal.
As managers, good animal welfare is our priority, we love our animals and treat them accordingly. By engaging in good animal welfare practices we are able to improve productivity, production, and economic returns.
We work hard to make our station environment like one big happy family, we value our staff immensely and believe very strongly in the importance of providing training opportunities, social activities, and good facilities for our staff. Throughout the year we engage in several work related training schools as well as social activities such as water skiing, rodeos, campdrafts, and races! We all work long hours so being able to reward people for their efforts always goes a long way!!
Annabelle and Chloe.
Chris and Jack having a bit of boys time.
Sal and Emily.
Emily Towne knee boarding at our local skiing waterhole.
Jack competing in a poddy ride at a rodeo.
Our life is full of the challenges that come with living in an isolated area, one of the many is the education of our children. Currently they are educated through Mt Isa School of the Air distance education but it is not too far away and the twins will be heading off to boarding school. We all try not to think about it too much at the moment as we know it will be very tough on both the kids and ourselves once it is all reality!
Along with our passion for cattle we also have a big passion for breeding and competing on quality Australian Stockhorses and Quarter horses, this love has also continued on into our children. In any spare time we have as a family we will often spend it traveling many hours and competing at campdrafts and stockman's challenges. We will always include our staff on these action packed weekends and a great time is had by all.
Chloe playing dress ups with her horse Husky!!
Annabelle competing in junior draft in Katherine 2014.
Jack Towne learning how to shoe a horse.
Chris and I are big believers in contributing back to the community and as a result are on several committees. Chris is the President of both The Barkly Landcare Association and the Barkly Campdraft Association, as well as being a committee member of the Barkly Branch of the NTCA (Northern Territory Cattlemen's Association), and I am the Secretary of the Barkly Campdraft Association.
On top of all this I own and run an all Australian made 100% cotton clothing business called Gumnut Designz! You will often find me up in the very early hours of the morning, attending to orders, sourcing material, working on designs all before the family awakens to another busy day on Helen Springs!!
There is never a dull moment in our life on Helen Springs, we live life to the fullest and make the most of every day! I hope you enjoy our station blogs and photos.
Comments