Host: Yarrie Station
Written by Martha Lindstad, Stationhand, Yarrie Station
After finishing my time at Yarrie in October 2017, I went to New Zealand for a month to catch up with friends and do a number of horse treks.
Through December 2017 and January 2018 I was lucky to work for Harmony Agriculture and Food Company on their farm/feedlot Rancho East in Esperance. I also got to spend time working at Kylagh feedlot in Tammin (which is owned by Harmony's WA manager, Ivan Rogers).
I truly enjoyed both places, and realised that working in the cattle industry is something I want to do.
Horse trekking, hiking, catching up with friends and traveling around filled my days for a couple of months, but I was eager to get back to Yarrie for another season.
However, my second working holiday visa was due to expire in March, so we had to come up with a plan. Also, I could only work three months as I was well overdue for a trip home to Norway and my cousin had his wedding at the start of July. That unfortunately meant I would only get in three months mustering on Yarrie and maybe worst of all – missing the Marble Bar ball and races!
"Just get another visa" or "Just find someone you can marry" are suggestions I've heard quite regularly the last few years. Getting a visa is getting harder and harder, and something I experienced last year.
As I could only work for three months at Yarrie, we found a temporary work visa for skilled people for three months which I could apply for as a farrier. I spent days filling out the application in New Zealand, and I was pretty sick of the whole process when I finally had all the paperwork sorted and sent it to the Australian government.
I assumed it would take a couple of weeks to process, and didn't spend too much time thinking about it as I was pretty confident I was going to be approved. All the required documents were there and I had good references and a letter of recommendation from Annabelle.
I was wrong.
As I reached the summit of the beautiful Mt Alfred in Glenorchy in New Zealand, I received an e-mail saying my application had been denied. I've never been so disappointed in my whole life, and the trip down from the mountain was rather unpleasant, having hundreds of thoughts in my head and not a good solution for the situation.
I fell over in the tussock grass about ten times from not being able to concentrate properly. When I finally got down from the mountain, I sat down by a river and drank the beers I had planned to enjoy at the summit, and read the e-mail properly. Apparently it sounded like I was going to stay at Yarrie permanently and not leave after three months. I felt like my application hadn't been read at all, and I was only a number in the bunch of papers they process in a city office somewhere.
We had to come up with something else. Annabelle contacted a migration agent, and we started the process again, with help this time. Weeks and weeks of paperwork followed.
Every spare moment I had, I was filling out different documents, listed addresses where I've lived (which is a whole heap after I started working & traveling around the world) and even countries I had visited. And not just which countries, but the dates I entered an exited them!
I really had to dig into it to get all the information right. My CV needed more information as well, as well as references from previous employers. Just a reference wasn't enough either, it had to be written in a specific way to be acknowledged by the government. Thankfully a lot of my previous employers were very helpful in this situation.
Even though I thought I had all my documents right in my first application, there was way more information needed that's not mentioned on the government's website. After about a month, the migration agent had what she needed and sent my application to the government. Since the first application had been denied, I didn't dare having too much hope. Besides, it was getting towards the end of March, and things were starting to happen at Yarrie, without me being there to help.
One afternoon I was having a cup of tea at a friends place in New Zealand, a message ticked in on my phone. It was from Annabelle and read, "I'm out in the hills grading, doing the biggest happy dance". At first I thought she'd messaged the wrong person, but then I noticed an e-mail from the Government saying my visa had been granted. Woohoo! It felt like I'd just won a million dollars. I was going back to Yarrie!
Five days later, after packing up in a hurry, and trying to sell my car (which didn't happen, it's still sitting at my friends place in NZ), I was on my way to Yarrie. The visa was only for three months, but three months was better than nothing at all.
After a rather unpleasant food poisoning incident in Port Hedland which had the best of me for a couple of days, I was back into the station work. And God, how I'd missed it. Hot, long days working amongst great people in beautiful scenery is what I truly enjoy.
Being the only team member returning from the previous year, I got a lot of responsibility straight away, I had to help train other workers and show them our systems. It felt like jumping five steps up the ladder compared to the last year when I was one of the least experienced workers. But how I enjoyed it!
From preparing to mustering, cleaning sheds, packing up trailers, servicing machinery and shoeing horses, we finally headed out to camp after about a month based at the homestead. Shoeing horses is really something I've enjoyed this season, after we had a course with farrier Mr Adrian Cowell before mustering started. It's a great skill to have, but also gets done very differently from farrier to farrier. Mr Cowell gave me some good tips and tricks, and I've improved my work a lot.
I also finished myCert 4 in agriculture last year, and after a lot of work with the assignment, including lots of reading and discussing feeding plans with Annabelle, I got my Cert 4 right before I left. Getting a lot of credit for the assignment made me extremely proud too.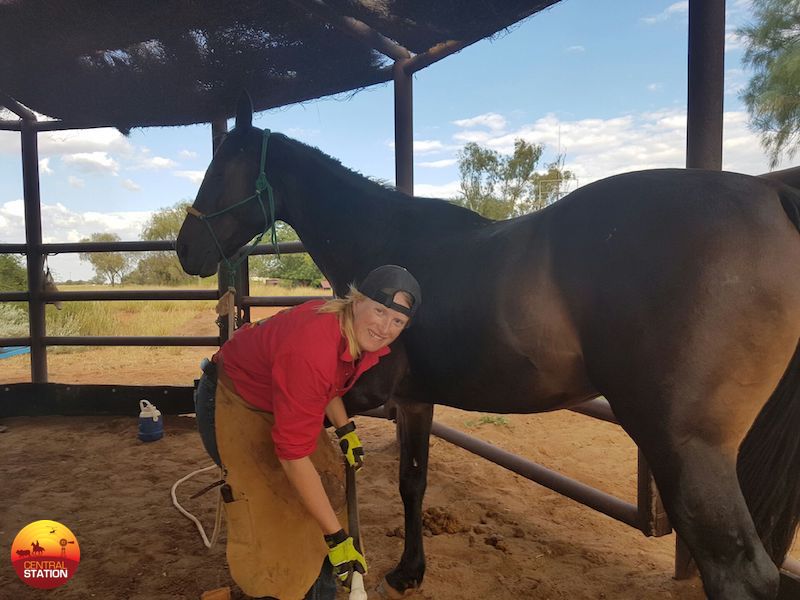 I was shoeing a lot this year at Yarrie.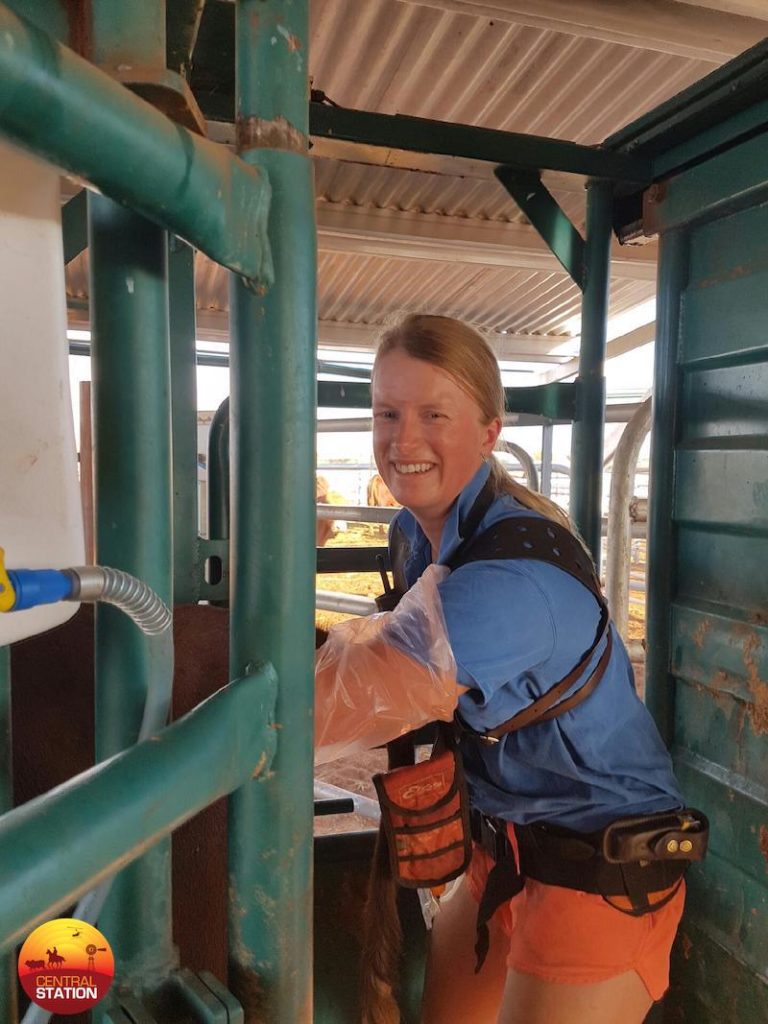 I tried preg testing for the first time this season at Yarrie. I never knew it could be such an amazing experiece feeling up a cows bum. Definitely something I would like to learn more about.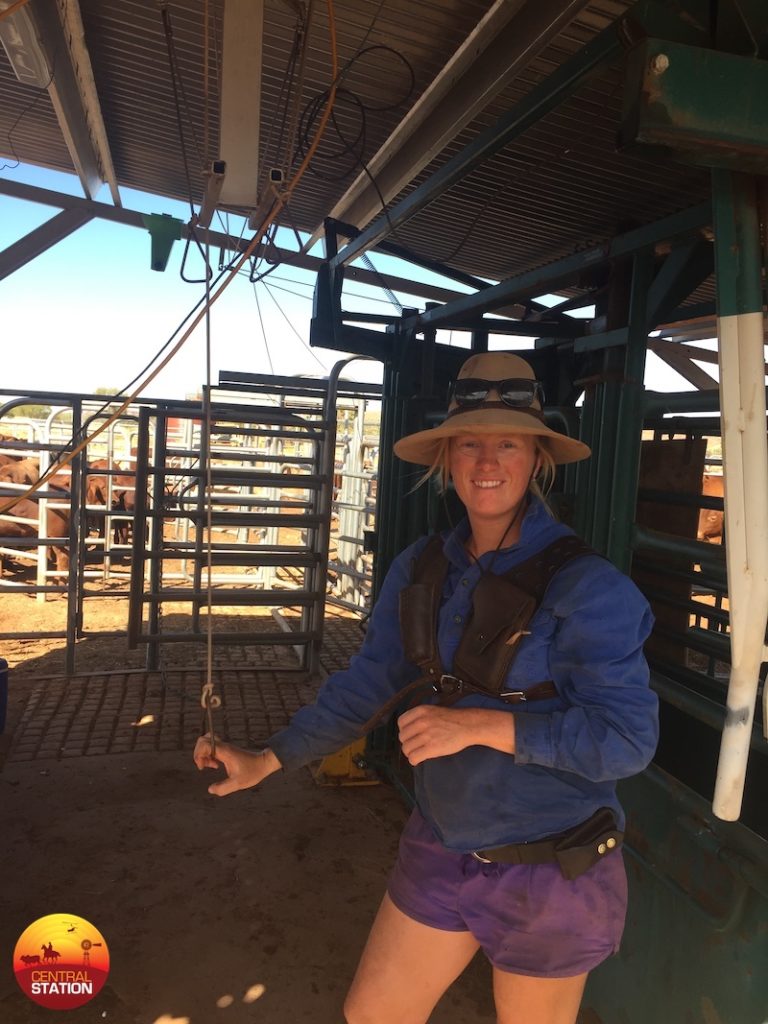 Working at the crush at our main yards Jinacarlie, where we've got a handy string system to draft four ways after the crush.
Camp life and mustering was just as good as the year before, maybe even better. Things made so much more sense last year, and I got to show and teach the rest of the crew plenty of times. When you're under pressure, things can get challenging at times, but with a great crew it was never really any issues.
My main horse Scandal definitely deserves a mention too.The previous year he was green as lush grass, jumping around like a ticking bomb at times, other times shying for cattle or shady trees. He came a long way after lots of work, and he really improved in 2018 too. Putting his ears back when getting cattle back to the mob, riding in on bulls shoulders and doing exactly what he's meant to be doing. I can't help but being proud of him.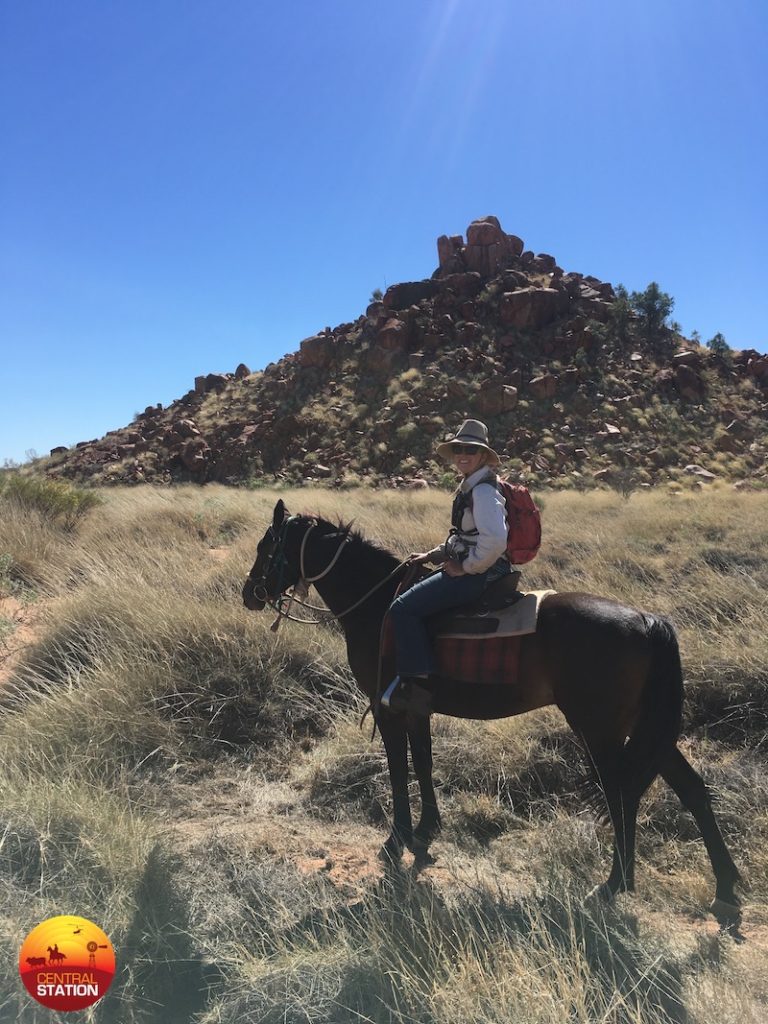 Out mustering with Scandal.
For non-bush people, Yarrie is in the middle of nowhere, but it's really only 2.5 hours drive to Port Hedland. People at home keeps asking me why I don't get homesick or miss meeting new people, but I've never met and got to know so many people as at Yarrie.
We have visitors all the time, and nearly every night there's a new person, couple or family at the dinner table who's staying for a couple of days. Everyone has great attitudes and gives us a hand where it's needed. To sit down and really get to know people is something people don't seem to do anymore in Norway (where I'm from). Everyone just rushes past you to get somewhere, do something or be someone that they're not.
"Time flies when you're having fun" they say and the time really flew at Yarrie last year. Suddenly I only had a couple of weeks left of my visa. I tried to push it out of my thoughts and enjoyed the last weeks just as much as the time before. However, it's hard to say goodbye and leave a place that's meant so much to you.
I was a mess the last four days and cried for every single little thing. For a person that never cries, it was way too many feelings to handle at once. My last muster with Scandal and the last day of yard work were definitely the worst ones. Thank god for sunglasses…
Two nights before my departure I had a leaving party, just the way I like it, in front of the camp fire at Gap well. The crew from the TV-show Backroads happened to be there filming us that day, and friends from Port Hedland came out. I think there were close to 30 people there. It was such a great evening with yummy food, songs, stories and speeches to be shared around the fire. I still get warm inside thinking back on it.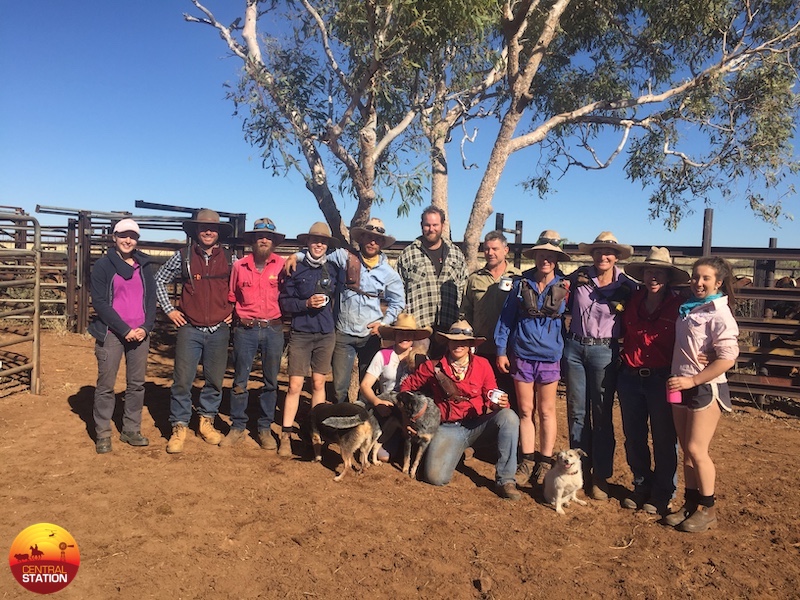 Parts of our great crew at Yarrie this season. This was my last day in the yards, at Gap well.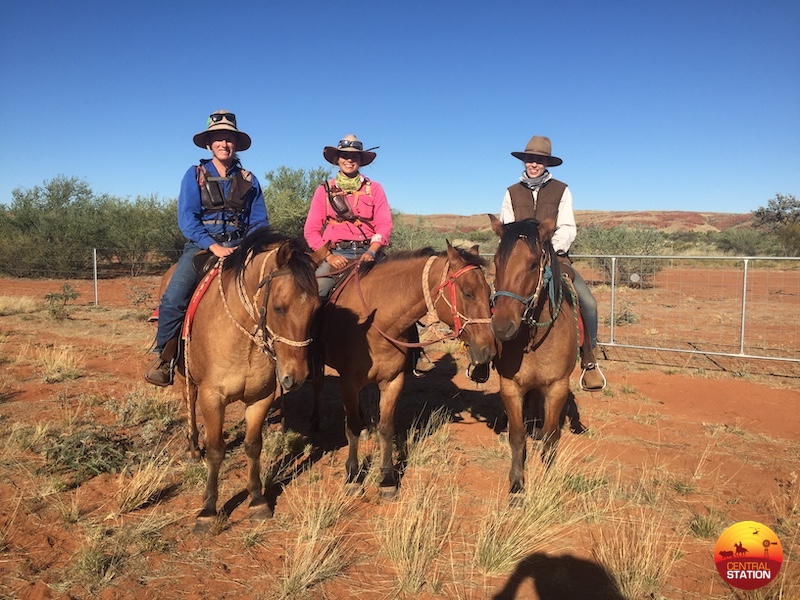 Pategonia & me, Sinco & Lydia and Oman & Georgia. The three horses are brothers, the other two girls felt like sisters.
By the time I drove off from Yarrie, my eyes were fully dried out with no tears left. A sad goodbye at the airport in Port Hedland followed, and after a day and a half traveling through the world, I was back at our farm in Norway. Four hectares of paddocks, a bit of forest and a closed-in house. You certainly feel claustrophobic when you've been used to living outside for two months.
Life in Norway is so different to the Australian life, and then I'm not even thinking about the bush life. It's been challenging trying to adjust to the daily life and routines here, with people not saying hello and walking straight past you, not even looking at you. It's almost like they're robots.
Thankfully I've been busy enjoying the Norwegian summer, which was rather hot (for Norwegians) with temperatures in the 30s. I loved it. Lots of mountains' have been climbed and new places discovered. It's a beautiful country that has a lot to offer scenic wise. Still, going back to Norway hasn't been easy.
It's bizarre being from one of the wealthiest countries in the world, where just about everything comes on a plate in front of you, but you still don't enjoy it. Not a day goes by without thinking of Yarrie and the Pilbara, the people, horses, cattle and the scenery. I even miss digging my shit holes at camp!
Some people would probably just overstay their visa but that would never be an option for me with the consequences that follow. Hopefully we'll have a visa application worked out soon, so I can return next year, develop my skills further and do what I enjoy the most.
"How do you pick up the threads of an old life, how do you go on when in your heart you begin to understand.. There is no going back. There are some things that time cannot mend, some hurts that go too deep, that have taken hold."– JRR Tolkien.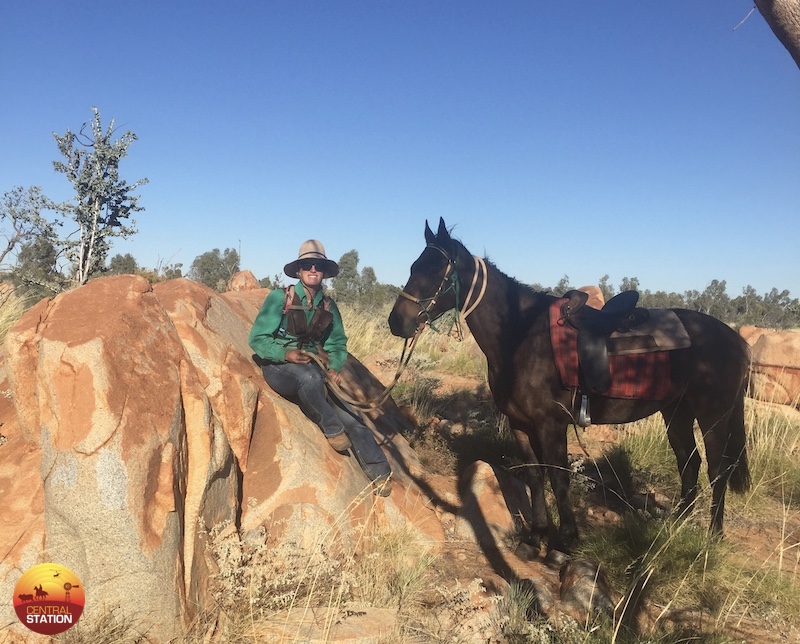 Scandal and I having a break waiting for cattle in one of our musters.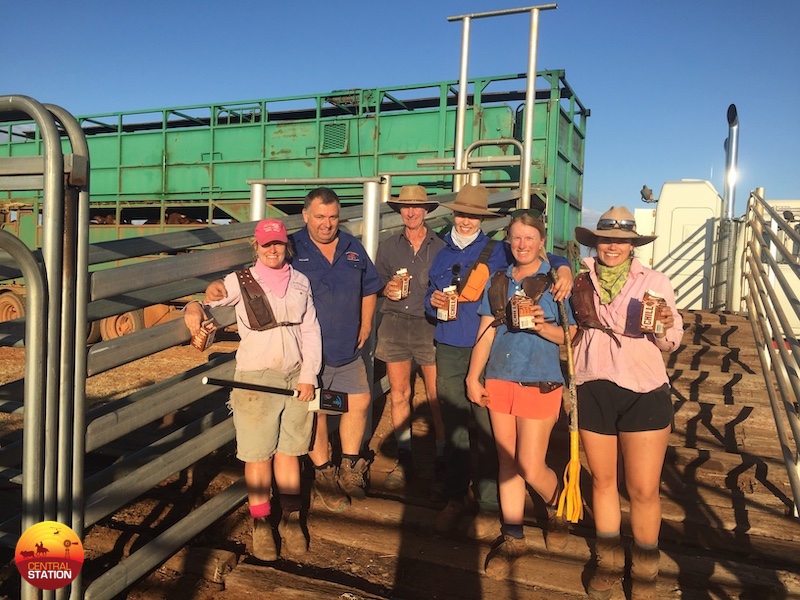 Number two from the left, Mr Richard Greenfield (also known as Mr Woggle), is a super trouper truck driver who comes with chocolate, ice coffees and good yarns when he's trucking out from Yarrie. Stuart (next to Woggle) visited us this year from New Zealand. I've done several horse treks with him over there, and he's always dreamed of coming to Australia mustering. It was great having him for three weeks.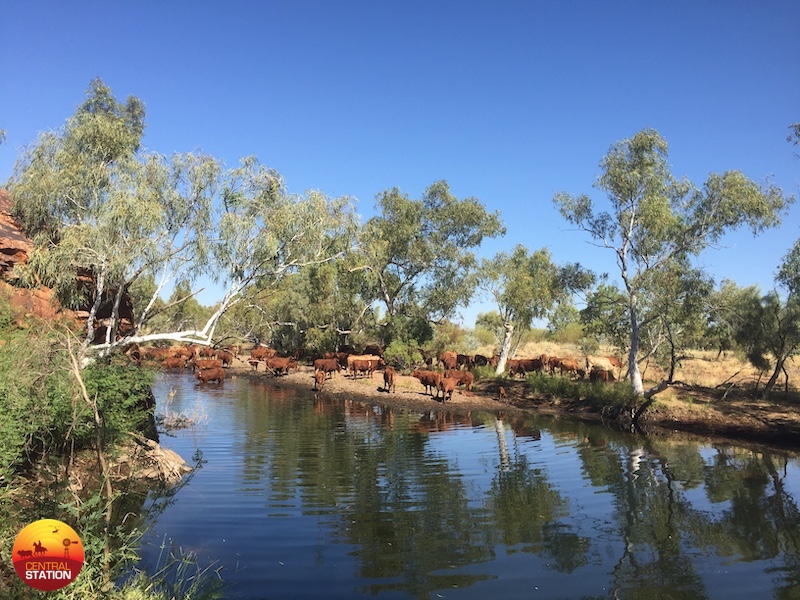 Bushing cows & calves at the Jarmon creek at Yarrie. I wouldn't mind being a cow here.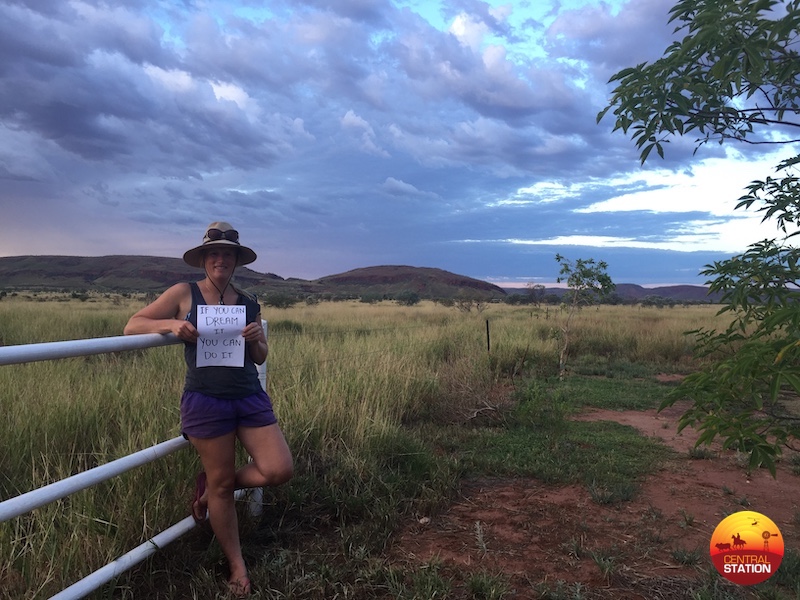 I keep dreaming, soon I'll be back.
Comments