Host: Kachana Station
Written by Jacqueline Henggeler, Owner.
Station life and farming were new to me. I grew up in a small village in Switzerland, surrounded by mountains, not on a farm, but in a hotel my parents managed at the time. I never imagined I would one day live in the middle of the Kimberley and in hindsight I put it down to a combination of youth, a sense of adventure and falling in love with a man who had a very convincing way of sharing his vision.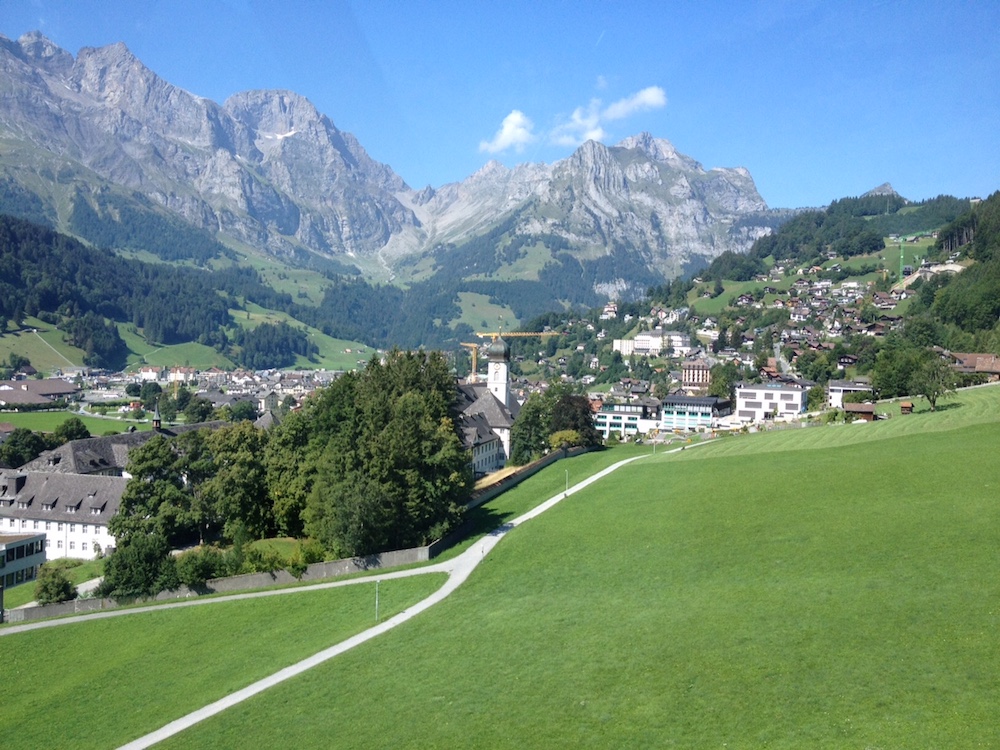 This is a view of Engelberg, the village where I was raised.
Although I did not have a farming background, nor was I a great cook, I think in many ways my husband Chris could consider himself fortunate, as I had no pre-conceived ideas what a station should comprise of and my views were rather naïve and romantic. When I arrived at Kachana with two toddlers in tow, in the middle of a hot December day, I thought that camping on the back of a Landcruiser, washing nappies in the river and cooking on an open fire was the normal way of life on a station. A notion probably acquired from reading books written by some amazing pioneers.
December 1991 – Our first 'bedroom' at Kachana was the Landcruiser on the left. It was equipped with a double mattress on the tray and a mosquito net hanging from the roof. Tarps could be rolled down in case of rain. The little shed to the right was the children's bedroom and provided some shade and shelter during our first wet-season. The cots can be seen through the black netting. The kitchen is to the right. The cooking and baking were done on the open fire between the two buildings. 
The novelty of starting from scratch and my romantic views of station life did not last long and my learning curve was huge. I understood that acquiring a plane was more important than spending the money on a house, however struggled to understand why we had to set up camp on the most desolate spot. Looking back on this stage of my life, I am amazed at what hard work marriage, combined with building an existence, can be at times. It took a lot of negotiations and compromises from both sides.
In those early years my camp was surrounded by desert, however I had the good fortune to have flowing water and some little oasis of trees and waterholes not too far. This is where I initially spent much time with the children. I would pack up the two cots and the daily washing and head to the river once I had finished the chores at the camp. The children would play in the shallow water and enjoyed being involved in washing their nappies. This was a good way to keep cool during the 40+°C days. Lunch was a picnic by the water.  When it was time for a nap the children would happily sleep in their cots under the big paperbark trees.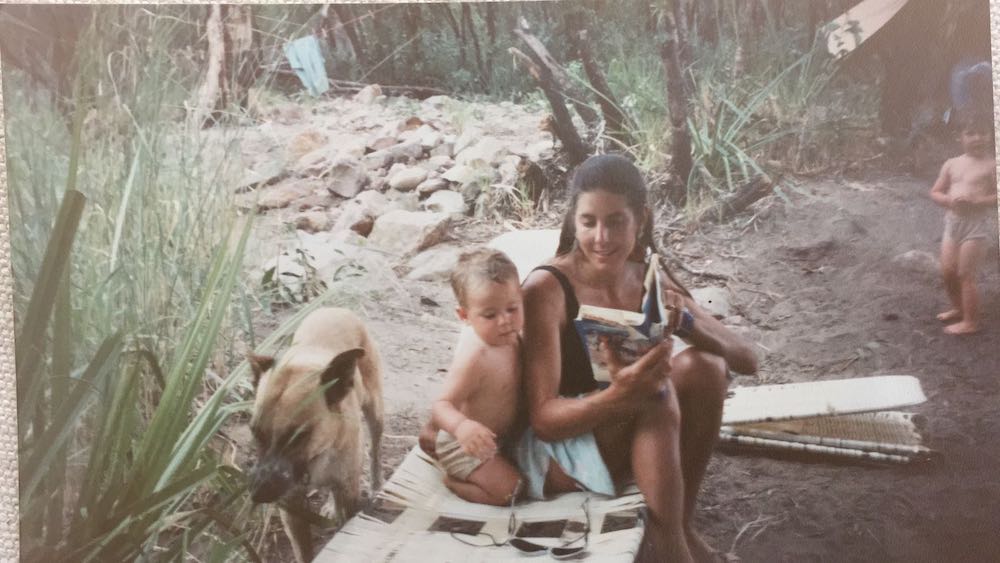 By the creek where we spent most days during the early weeks. The washing line can be seen hanging in the background.
Going back to camp late afternoons was hard as it meant braving the heat and the desert. At that time, it was difficult for me to envisage my surroundings ever changing from a desert to a productive landscape and I often doubted Chris' vision. Establishing a routine was important and once we had flown in an oven and my first 'wringer' it meant I could start planting a few trees, establish some lawn and even grow some veggies.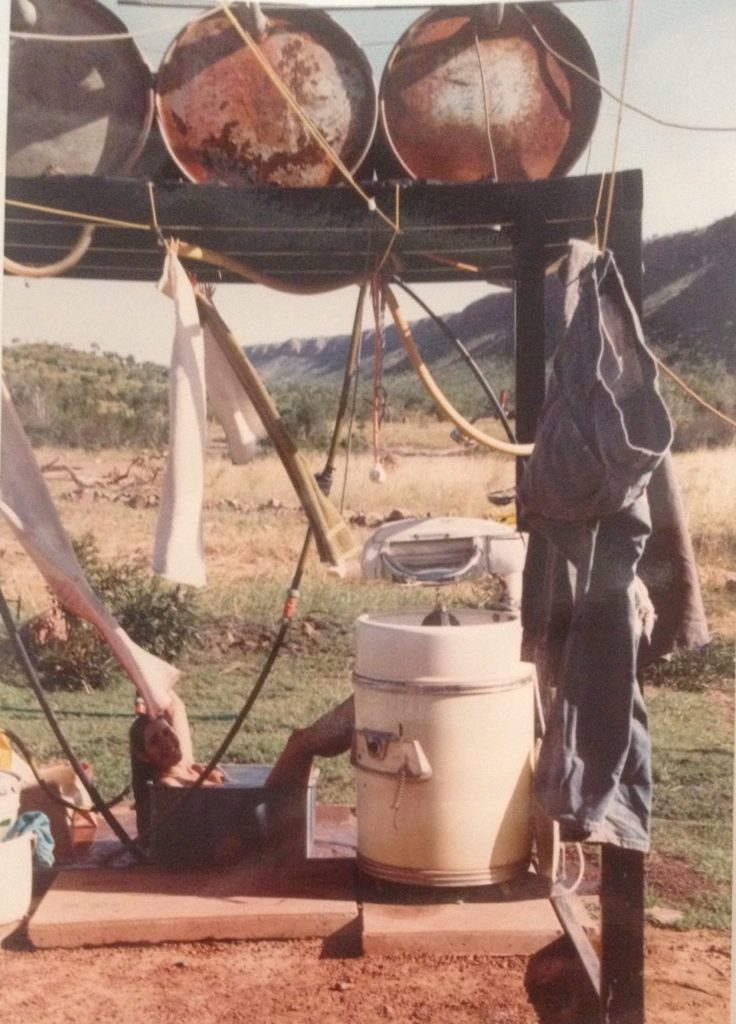 My first washing machine. The old wringer. I used the grey water to water the lawn which can be seen in the background. I can be seen having a bath and washing my hair. This had to be well timed during the winter months as the water at this time could not be heated.
I am a person who enjoys my own company, still I remember that during the first few years on Kachana I did have a sense of isolation and loneliness. I do however believe that feeling isolated and lonely is not connected to living in isolation. I know that one can feel just as lonely if not more, when surrounded by people and activity. The reason for my loneliness at the time was that my friends and family could not relate to my new way of life and I had not yet had the opportunity to form any relationships with people who shared any similarities to my lifestyle. In addition to this, I relied on Chris to fly me to town to catch up with anyone. When people visited, the question I got was: "What are you doing here?" which made me feel quite uncomfortable as I often wondered myself.
Teaching my children was a daunting prospect as English is not my first language and I was unfamiliar with the School of the Air system. School of the Air caters primary school to outback families and the lessons at the time were conducted by two-way radio. Mothers, governesses and children were offered one Home Tutor Seminar and two additional camps per year. The goal of the Home Tutor Seminar is to support mothers and governesses with educating the children, while the children have the opportunity to meet their teachers and peers and be involved in educational and sporting activities. For me this face to face contact with teachers, mothers and governesses was crucial. Not only did I feel that we belonged to a school community, I was finally able to relate to others who also lived miles from towns, families and friends. Being able to share my experiences and concerns with mothers who understood, helped me understand that I was not alone.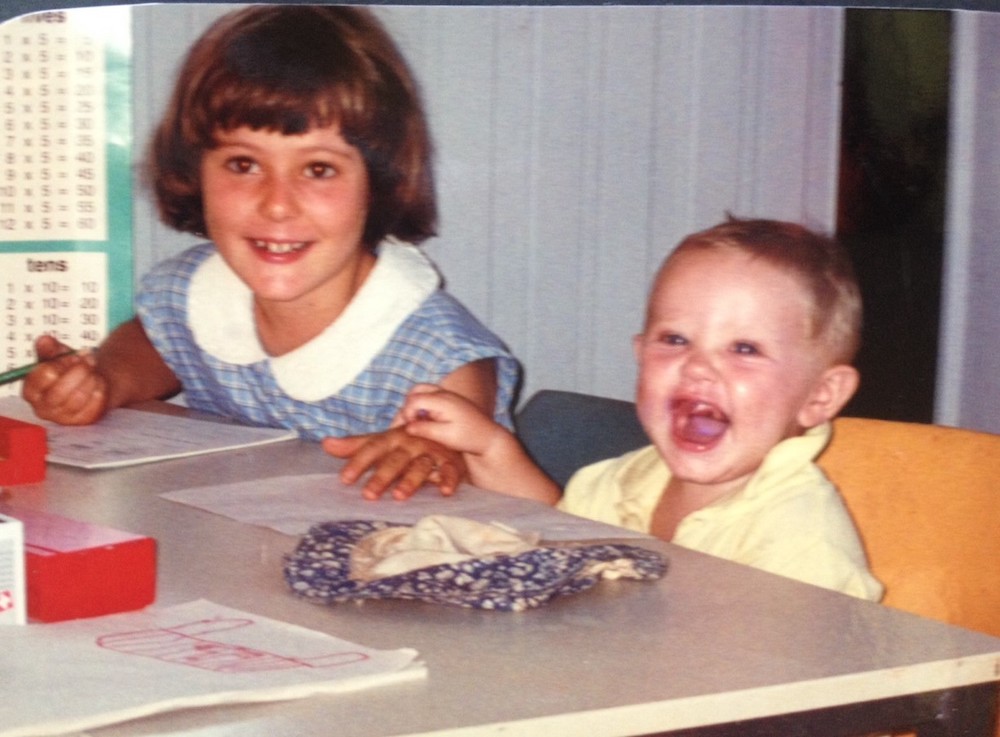 The Kimberley School of Air Home Tutor Seminar and school camps allowed children to meet and form relationships and make friends. It also provided them with a sense of belonging, all important ingredients for children to thrive and develop. I believe that this cannot be underestimated.
This face to face contact with teachers and other station families during Home Tutor Seminar and camps gave me the opportunity to build a strong network of support that went beyond education. I understood I was not alone, although I did live in the middle of nowhere and did not have the luxury of jumping in a car and meet a friend for a coffee. My new friends were dotted around the countryside and all had their own challenges to overcome, however were always available when the need arose and always happy to have a good time and a good laugh when the opportunity presented itself.
Although my beginnings at Kachana, first as a young mother, then as a teacher to my three children was a challenge, the possibility of being involved with School of the Air, School Council and later with the Isolated Parents and Children's Association, a voluntary, non-profit, apolitical body dedicated to ensuring that all rural and remote students have equity of access to education, opened many new doors and gave me a unique insight in the way of many Outback Australians.  It also provided me with the opportunity to meet the most amazing and resilient people I know. I am not sure I would have lasted the distance without them.
Kachana has been my home for the last 26 years and I remember those first years with a lot of fondness. Although it wasn't easy, the memories our family share are unique and have molded us into the people we are today. I was given the opportunity to get to know and learn to love the Outback and its way of life, an opportunity many Australians have not, and certainly not many Swiss.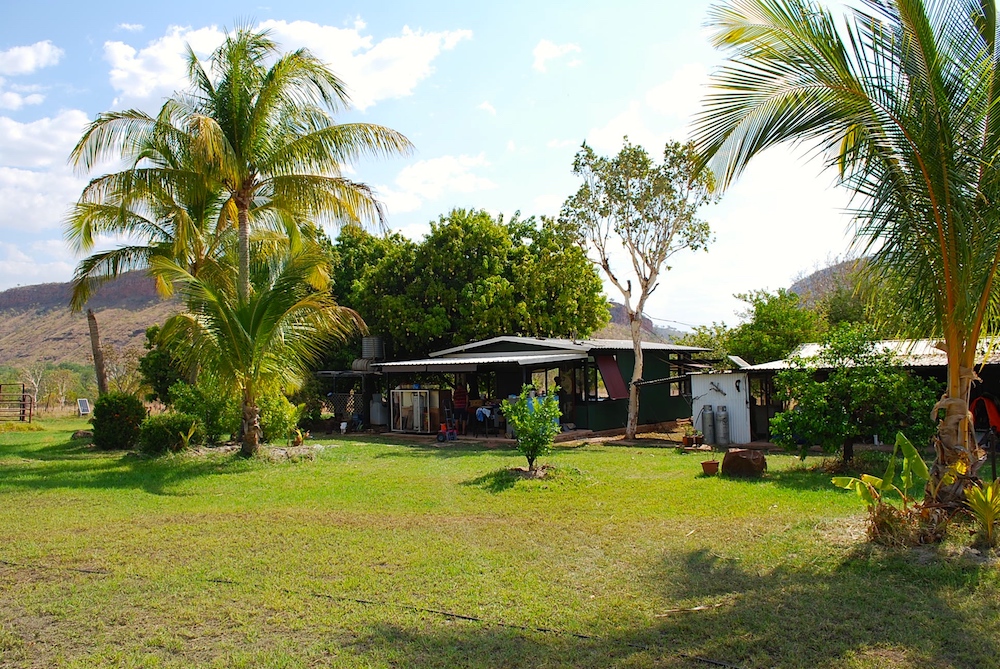 To this day we do not live in a house as such, and still call our homestead 'camp'. Compared to the beginning I do however feel comfortable. The buildings have a certain height and have big shutters and the air can circulate. The trees spend shade. Despite not having any air-conditioning it is mostly agreeable although it can get quite cold in winter when the South – Easterly blows through.
Comments