Host: Mandora Station
Written by Caitlin Mills, station co-manager.
Now I'm just putting this out there right now, I am in no way a fire expert! Sure, I've cooked a few deadly feeds over a camp fire but bush fires are in a league of their own, and they can be very dangerous. So, the following blog is just a few things we experienced last year when we lost nearly half of the station to three different fires.
---
Well it's that time of year again – fire season. Fire can be your friend and it can also be foe. When managed correctly you can easily control burn areas that need it, but when it's a howling easterly and 40 degrees it makes it very hard and dangerous to control. The 2017 fire season caught us a little off guard – it's something we never really had to worry about at Ben family's station where we mosaic burned each year and the station was that vast it was never really a threat. But here at Mandora, it definitely comes up on the radar.
Mandora is only a small property, around 230,000 acres. It is well developed into paddocks and has more water infrastructure than you can poke a stick at, so we need to protect what we have. There are quiet a few different land systems here but you can pretty well narrow it down to two that cover the property. North of the highway is predominantly the Anna Land System which is open grass plains, and the south of the highway is the Nita Land System which is sandy pindan soil covered mainly in spinifex and wattle scrub. Spinifex and wattle are both very oily and highly combustible so when a fire gets a bit of wind behind it in this pindan country it can get pretty hectic.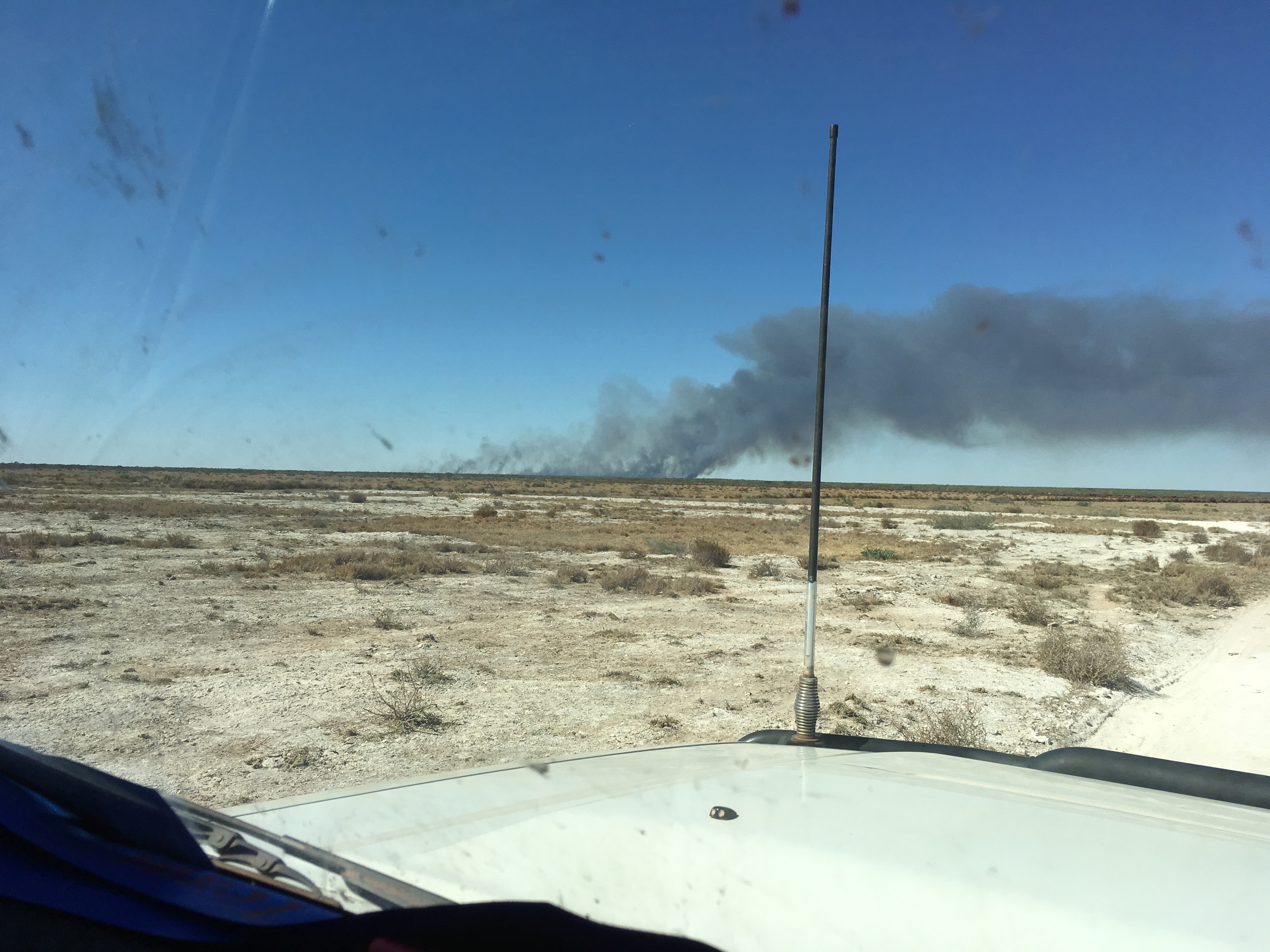 We had three different fire events last year. The first one started early August when a tourist who was parked up for the night in a parking bay just south of Sandfire thought it was a good idea to use a spinifex bush to cook his camp oven on seeing as there wasn't much fire wood about. However, there was a very strong sea breeze and the area was nowhere near clear enough to be lighting a camp fire, let alone lighting up a spinifex bush. His camp fire quickly spread in to the southern part of the station. Now we had intended to burn this area, but we wanted to do it in a controlled manner. The sea breeze was fairly strong so we figured we would just let it go, there weren't too many cattle around that area and it was fairly undeveloped so there weren't many access tracks – we thought it would just burn into no man's land and eventually burn out. That evening we prepared the grader and set up the fire fighting unit on the ute, just incase conditions changed in the morning. A quick weather check before bed showed the sea breeze was going to keep up and the temperature was going to drop significantly that night, then the easterly would return just before dawn.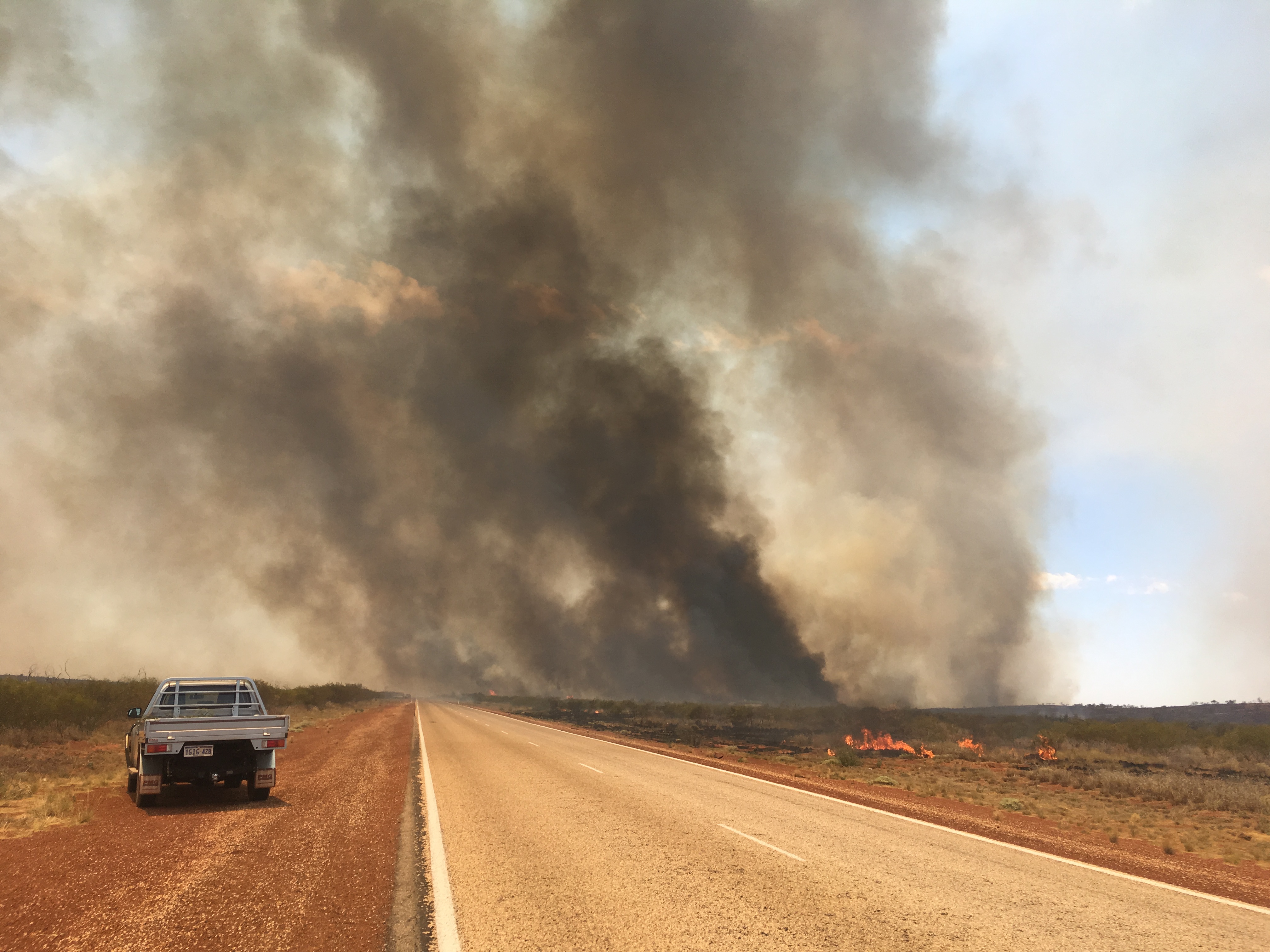 Pre-dawn Ben and Davo headed out to see what it was doing. The easterly had come in earlier than expected and it hadn't burnt as far as we had hoped, it was slowly heading back towards the highway so the boys stayed out there to keep an eye on it and make a plan. By now the fire front was about 3km wide so it was hard to follow it as it moved towards the highway. We got organised and took the grader and the ute out to the highway as there was a pretty good chase it would jump as the easterly was picking up. We had a call from the neighbours to see if we were ok and they offered their help and were going to bring their loader and scrub rake over. By the time back up had arrived the fire had well and truly crossed the highway and Davo was already out cutting fire breaks in the grader and the boys where behind him starting to back burn. Both machines worked hard cutting breaks all day, by evening it looked like we were having a win – there were a few spot fires still burning but they were well within the containment area. We stayed out there for quite some time to keep an eye on what was happening, driving the fire break to make sure no embers flared up and crossed the break, everyone was confident and we called it a night. The next morning when the crew headed out we realised it had flared up overnight and jumped the line, nothing too bad, and the crew had it contained and out before that evening.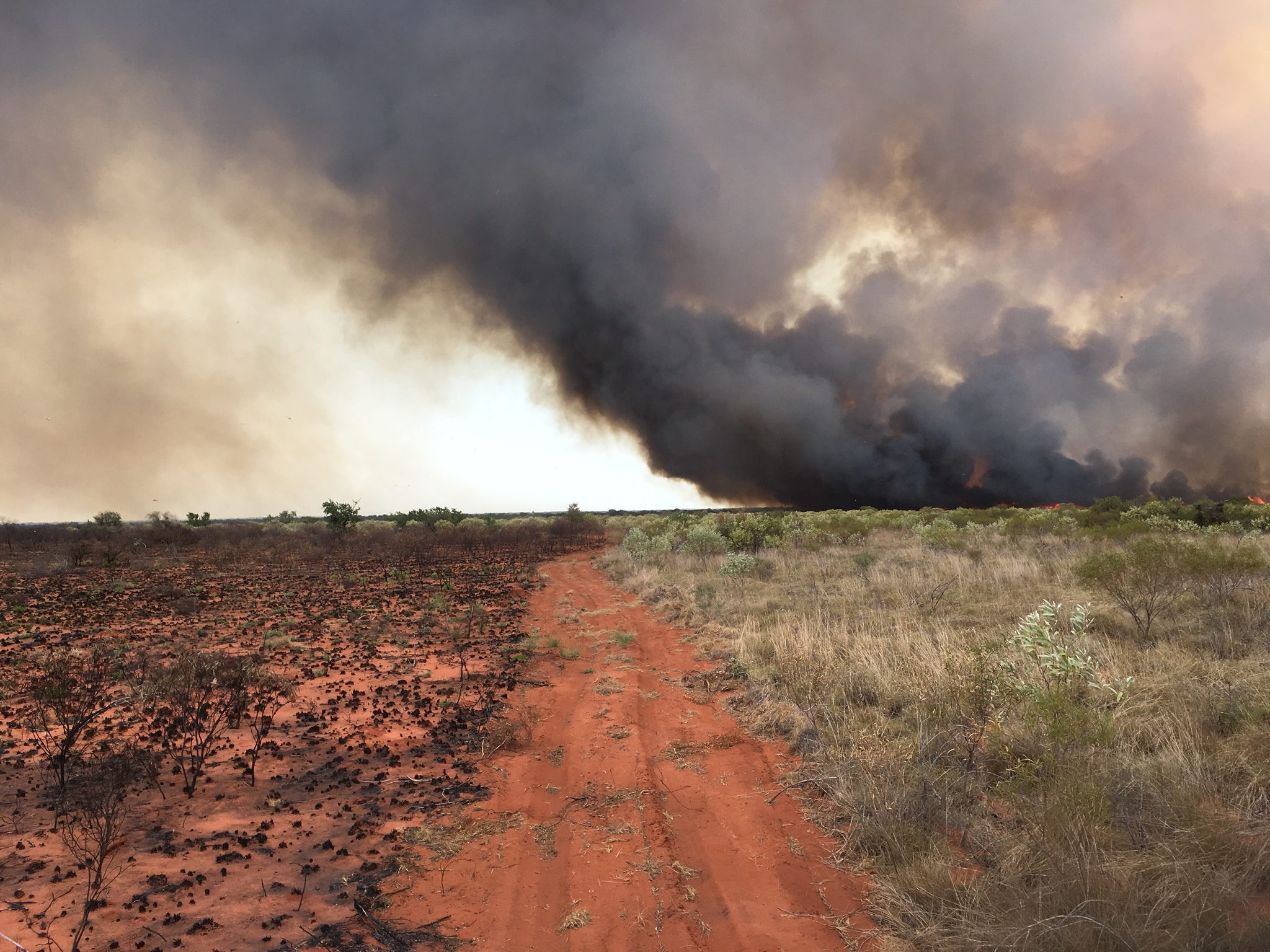 The second fire was a bit of a whoopsie-daisy on the neighbours behalf. They were doing a controlled burn and the fire jumped their massive break and started burning one of our paddocks. By now we were pretty fire shy and wanted to get it under control. The largest front was quite fierce burning through some pretty rank spinifex and wattle, and it was near impossible to cut breaks in front of as it was so bloody windy it was getting too dangerous to try and contain it. It jumped every break we put in and we made the decision to let it go as it was only burning towards the country where the first fire had been and we knew it would eventually burn out. Grass grows back, people don't. The second front was much slower moving, the neighbour brought over their second loader for us to use, but as Davo and Katie were away we were down a grader operator and running on a skeleton crew (just Ben and I). We tackled the slower moving front with one loader working from the opposite end working of the big fire break on the boundary. Ben was cutting a line in front of the front and I poked along behind putting out anything that even remotely looked like crossing the containment line. Together, we eventually got it under control and it finally burnt out.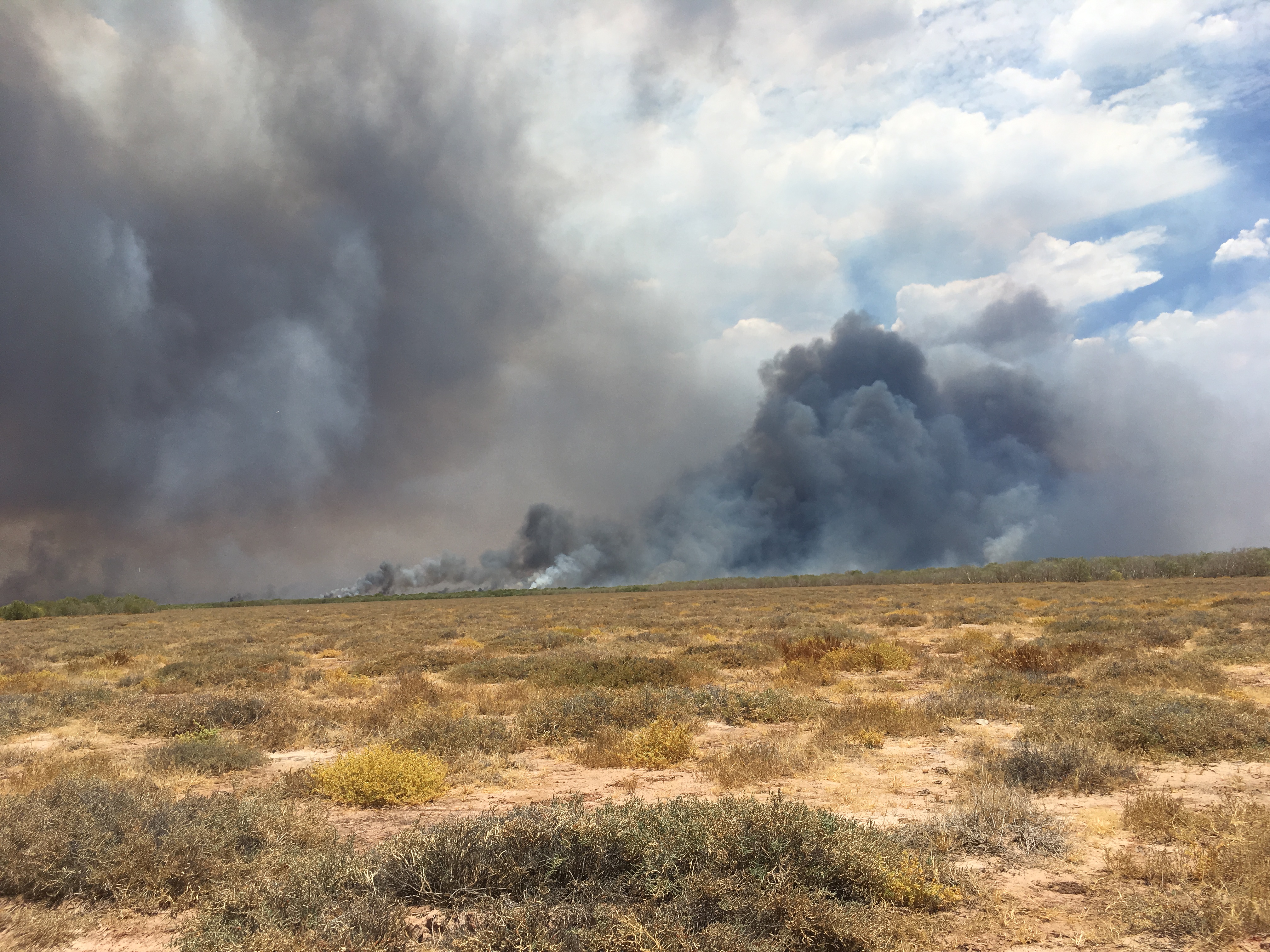 The third fire was started by lightening. We had been watching it for days as it was burning way out in the desert, it didn't even look like it was going to come our way. The next morning we got a call from Davo who was out on a mill run, he was perched up on top of the Telstra tower hill, "Ben this fire is knocking on our back door". At this stage it wasn't burning on our property but it was on our other neighbours place, so we teamed up with them for the day to help out. The country that was burning was pretty hard to access so we mainly watched from afar and extinguished any spot fires that had jumped the highway, we weren't much help as our grader had a flat tyre and a busted radiator hose that we hadn't had a chance to fix, so Davo headed back to the homestead to repair it as we knew there was a good chance the weather conditions would change, which they did. The fire had jumped onto our side of the fence, so Davo headed out and started cutting lines, when the neighbour's grader had finished putting out their side he came down the road and helped out as well. After a long day the crew managed to contain it and it eventually burnt itself out. We are so grateful to have such amazing neighbours who are happy to lend a hand!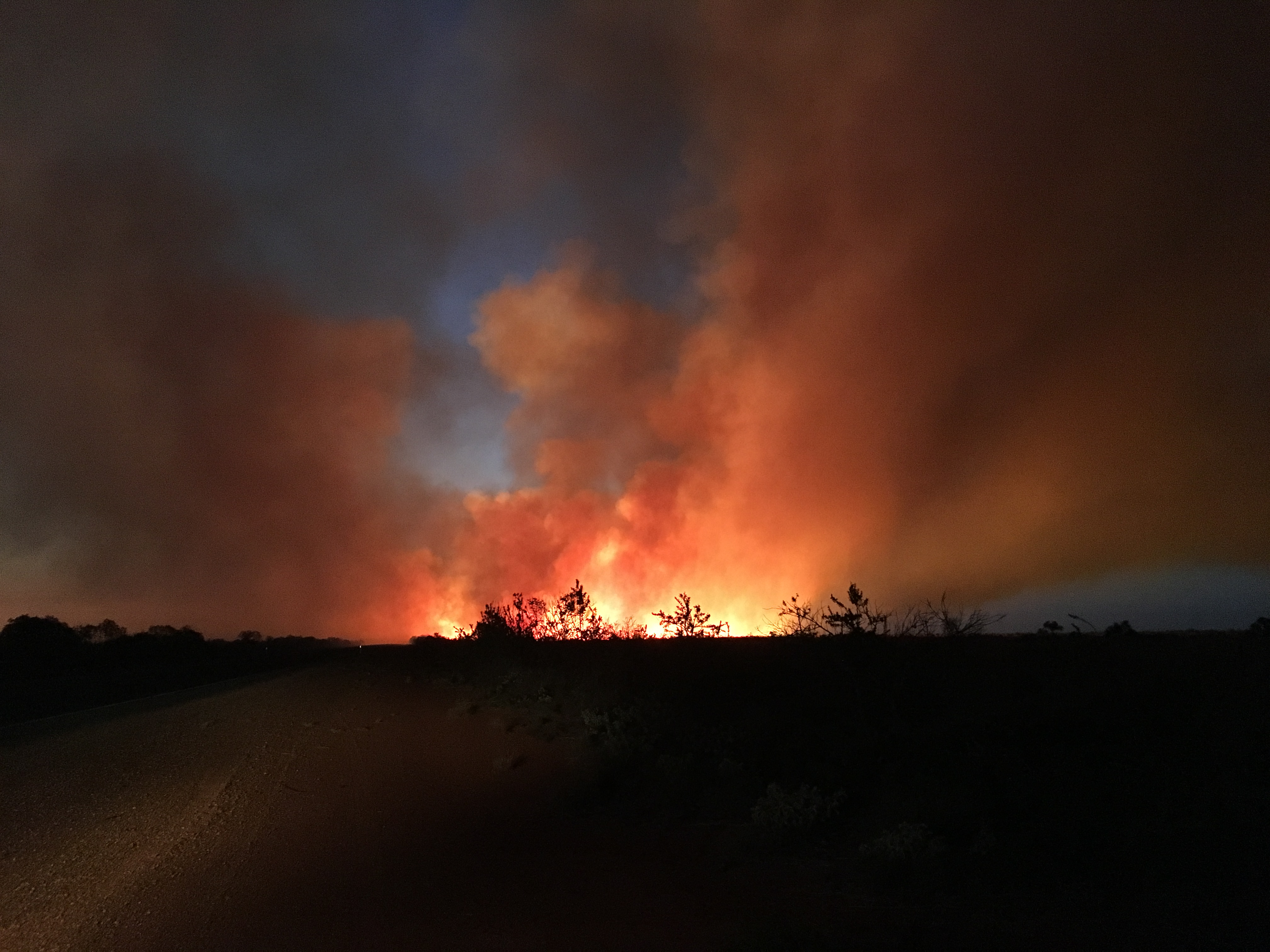 Now that we have been through a few different fires we certainly won't be taking any chances in the future, we are better prepared now and a little more experienced, we have a new loader with a scrub rake and the grader has foam filled tyres. We are also hoping to start mosaic burning this year, just before the wet starts, and this will help us manage any bush fires in the future. These fires become out of control when there is a lot of rank vegetation, old spinifex is unpalatable to cattle so they don't keep it down to a manageable height, plus thick wattle is highly combustible, so we can use fire to help prevent this, fighting fire with fire I guess you could say.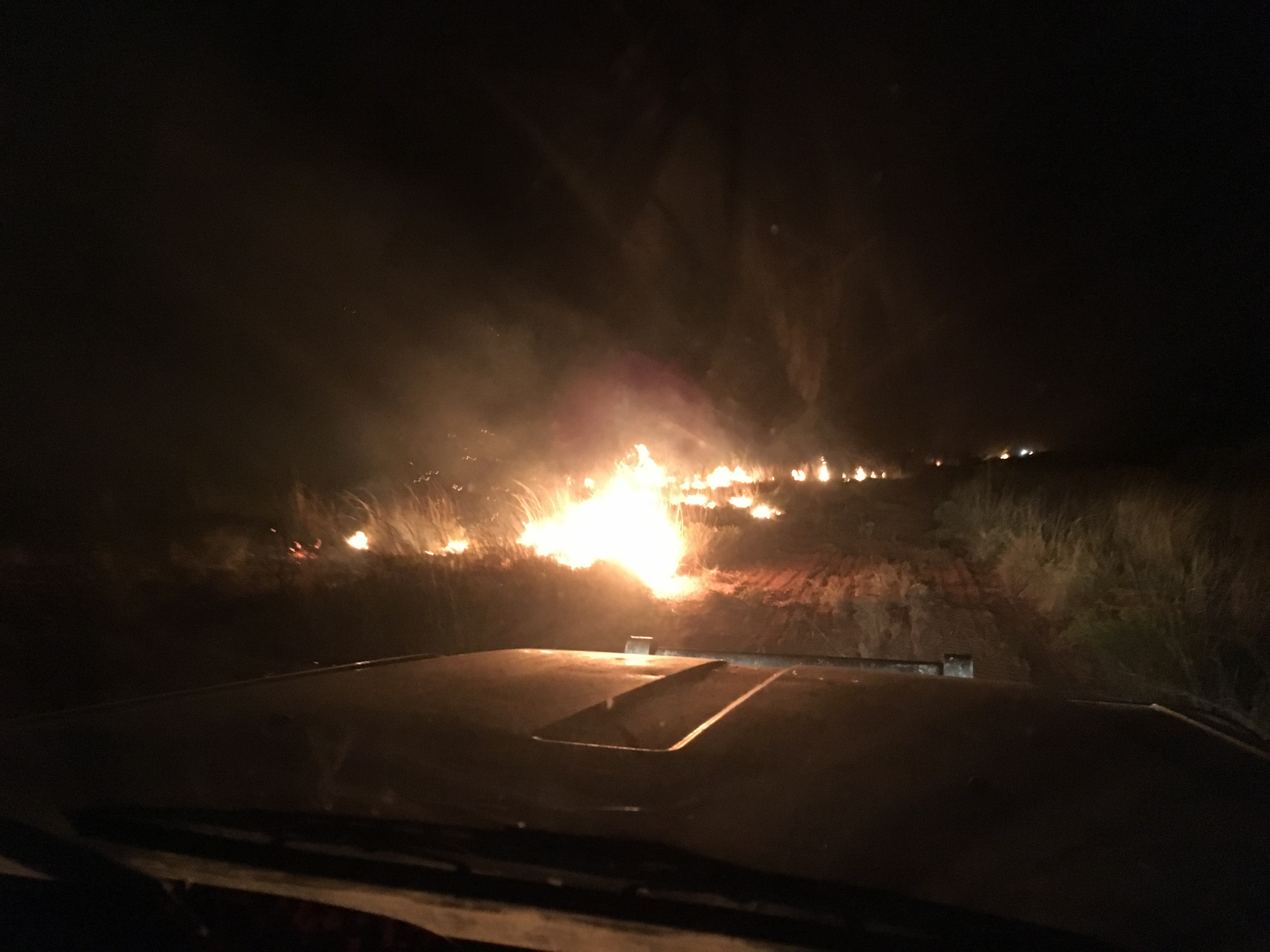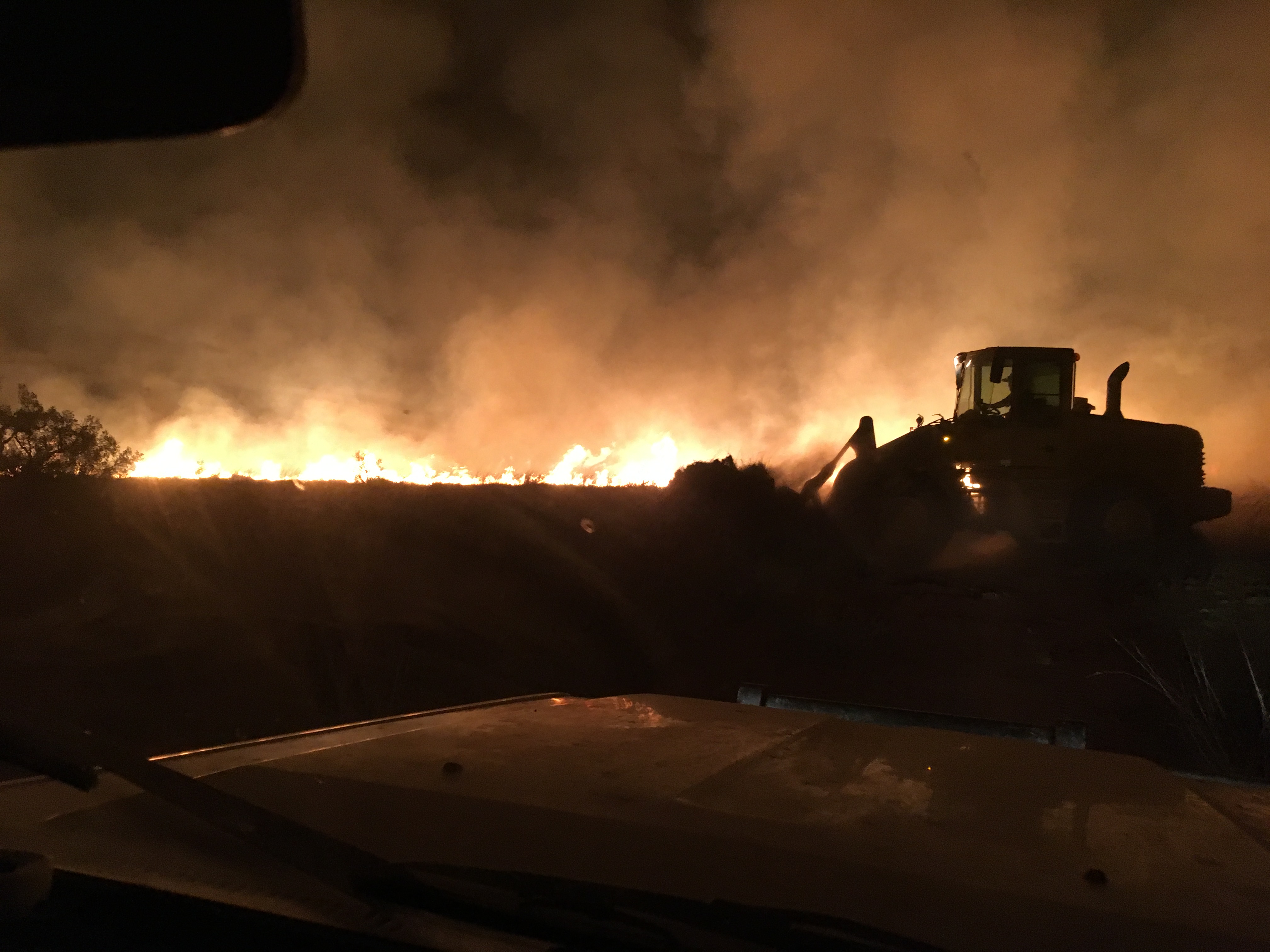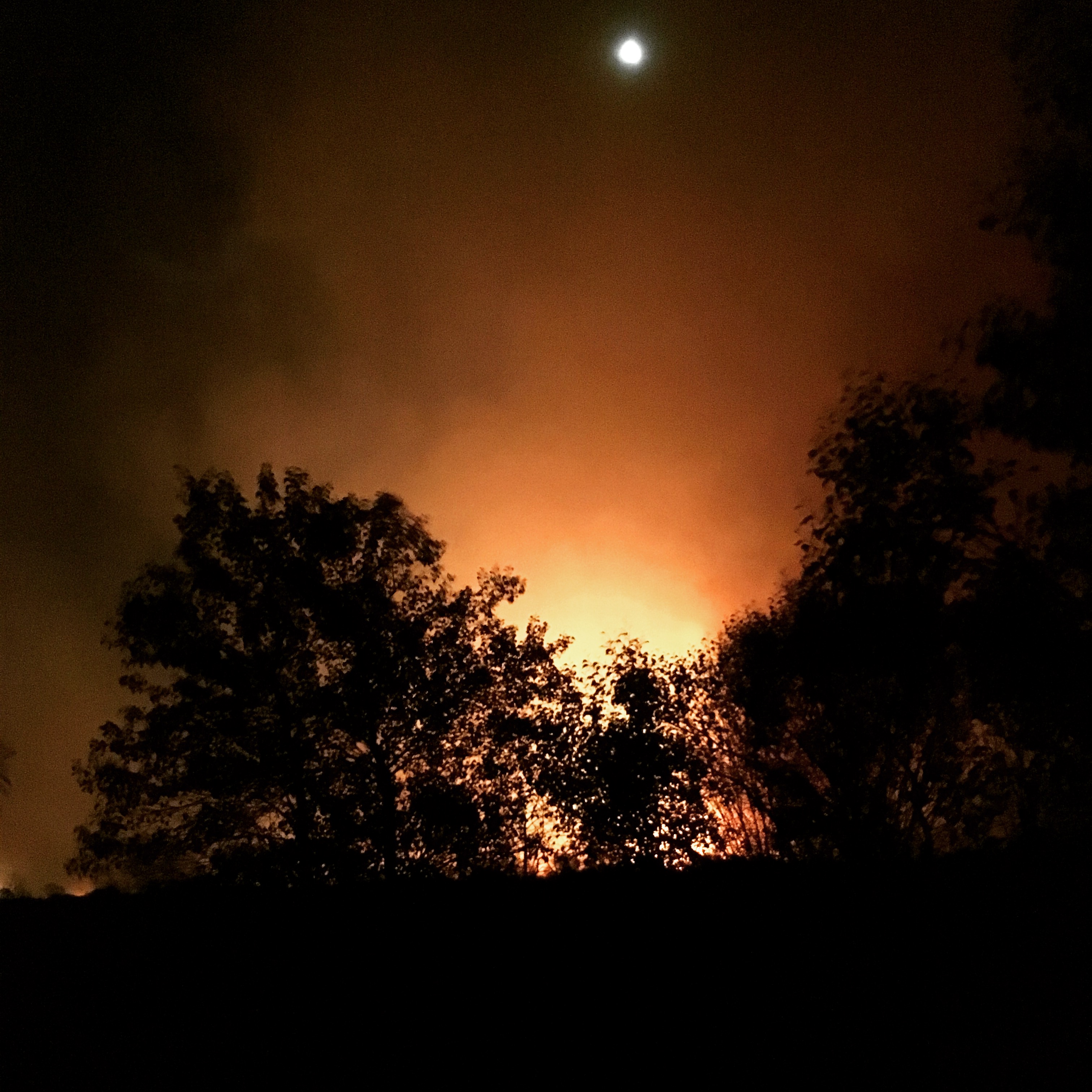 Comments