Host: Mandora Station
Written by Caitlin Mills, station co-manager.
G'day everyone! My name is Caitlin Mills and with my husband Ben we are the managers here at Mandora Station. We are super excited for you to join us this week on Central Station. Over the next few days you will read a few yarns about our first year as station managers; some of the challenges we have faced, getting to know new cattle and the landscape, fires and fire management on the fly, cyclone season and the floods we have been dealing with this year, what we have had to do to look after our cattle and the country.
Ben and I have been at Mandora since the start of 2017 after the property was purchased by Haydn & Jane Sale. Mandora was previously owned by the de Pledge family who brought the property back in the 1940's when it was a mixed sheep and cattle enterprise. As sheep production became unviable in the 70's the family decided to make the change solely to cattle. The de Pledges spent many years intensively developing the property and improving their herd. We are very fortunate to work with such a high-quality herd of cattle and have a well-developed beef production business to carry on with. The property is a true credit to their hard work and cattle management practices, and we endeavour to continue in their footsteps, further develop, and grow with the times.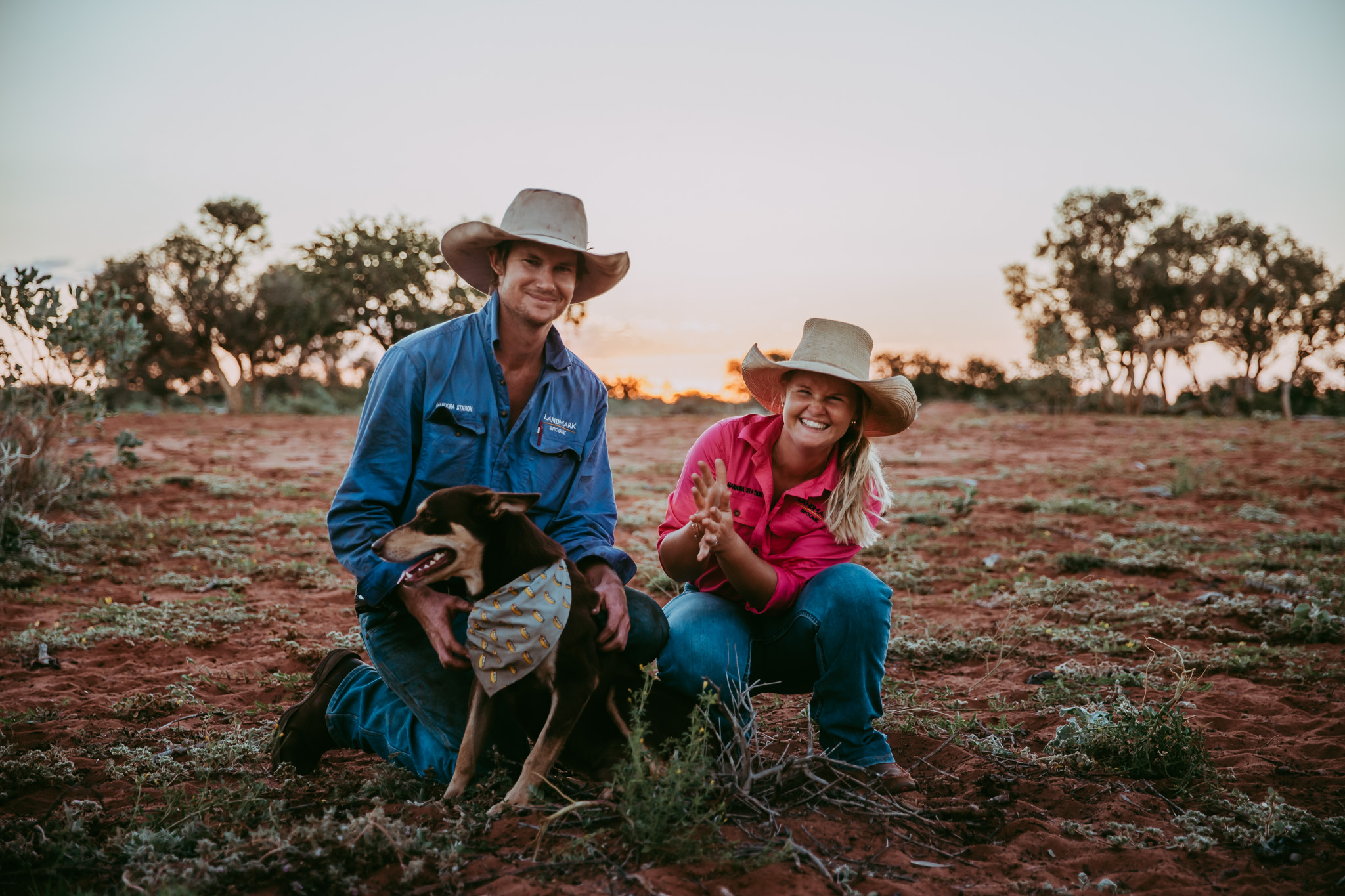 Ben and I with one of our dogs, Hank.
Ben and I have lived and worked together for nearly 7 years now. Ben grew up on his family's cattle station out near Marble Bar and started working there full-time after he finished school. When he was growing up the only way his mother could keep him focused in the school room was to establish one rule: "if you finish all your lessons by lunch time then you can go out and work with the boys". He always finished on time. After years of hard work, he had the opportunity to complete his helicopter license, and then worked his way up to becoming the Livestock Manager looking after 15,000 breeders.
I grew up down south in the Wheatbelt; I was that town kid who's pony lived in her back yard (admittingly we did live on a one acre block on the edge of town). I loved riding and being outdoors, every chance I had I was out with my pony or watching the farmer who lived behind us working his sheep with his team of dogs. I absolutely hated school and tried my very best to get out of it anyway I could (which never worked). I had always wanted to work with horses but never really knew how or where.
Our local high school only went to year ten so you either had to go to the local public high school (I know that sounds real snobby but it wasn't a nice place to be), go to boarding school in Perth or get an apprenticeship. As year ten was coming to an end, the Principal from the local Ag College came into our class and did a presentation about the school, all I got out of it was horses, farm work and something to do with school work. I told my folks about it and they decided it would be a good place for me to complete year 11 & 12. While I was there I was very fortunate to have a teacher who was an old drover and stockman, he would always tell us yarns about his time in the North, working and training horses, tailing cattle, chasing bullocks and scrubbers, long hard days in the saddle, and riding night watch. Those stories really planted the seed for me, he was a very inspirational man and I'd hope I've done him proud.
When I finished year 12 my friend and I headed north to work on a station. We landed ourselves a job that had everything to do with horse riding day-in day-out, shoeing, trimming, breaking & training – it was exactly what I was looking for! The cattle work was an unexpected passion that developed later on. I never really had much interest in cattle when I was at school … sure I didn't mind helping out in the yards when my time came around, but I did my best to avoid it, in all honesty they scared the crap out of me. When we stared cattle work at the station I got a pretty rude shock. In hindsight I really should have expected it, station cattle work nothing like the dear old girls we had at school (easy for me to say that now!). It took me quite a while to feel comfortable working with these cattle, not because they were wild or mad, but because I had no idea what the hell I was doing. I spent quiet a lot of time shuffling along the rails, doing my best to work them from the outside of the yard and trying to get the easy jobs up on the head bale or working the race. Over the year I really built up my confidence working in the yards, the family I worked for were great and wanted to get the best out of us, my boss was more than happy to teach you if you were willing to listen. By the end of my first year I was a different person, working cattle through the yards was my favourite job, they absolutely fascinated me how they reacted to different people, how they moved, what upset them, what didn't upset them, how different each animals personality was, how they reacted to you and your movements be big or small, I had so much more to learn, this was just the tip of the ice berg. I stuck my hand up for every opportunity that came my way, I wanted to experience it all, no question was out of bounds, my boss was happy to answer anything. I was very lucky to have such a great foundation to build on and grow to where I am today.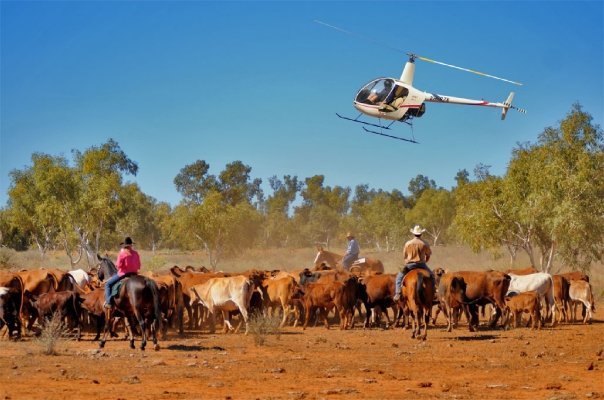 First year mustering at De Grey Station.
Ben and I first met at the Marble Bar Races, text book cliché love story, girl sees boy, plucks up the courage to finally talk to him, weekend ends, head back to the station for a few months, meet again at a rodeo, can't really see it going any further but let's just be friends, exchange numbers and 7 years later here we are! Anyway, by now I had been working in the Pilbara for a few years and somehow I hadn't heard of his family's property even though it was just up the river from where I was working. We would talk for hours on the phone after work about cattle and our days' work on the station, by this time he had figured I was relatively handy and asked if I would join his crew the following year. We worked on his family property together for four years, this certainly had its ups and downs and tested out our new relationship, but all in all we worked well as a team and had a bloody ripper time doing it. Sadly the family went separate ways and we had to make the decision to stay or go. It was a pretty hard time for us, well for everyone really, we were torn between the property we loved and the family we loved. We made the tough decision and decided to leave. We were a little lost after we left and didn't really know what path to take when the opportunity came up to run a backgrounding depot further north so we figured we had nothing to lose and we gave it a shot. It was a pretty challenging job, we hadn't much experience with intensively feeding cattle or running a depot, luckily for us we had a hugely supportive group of people surrounding us and they helped us make it happen. It was an incredible year, we met so many great people and made some amazing friends along the way. We were also very fortune to have gained a hell of a lot of experience about the live export trade and the domestic trade in WA.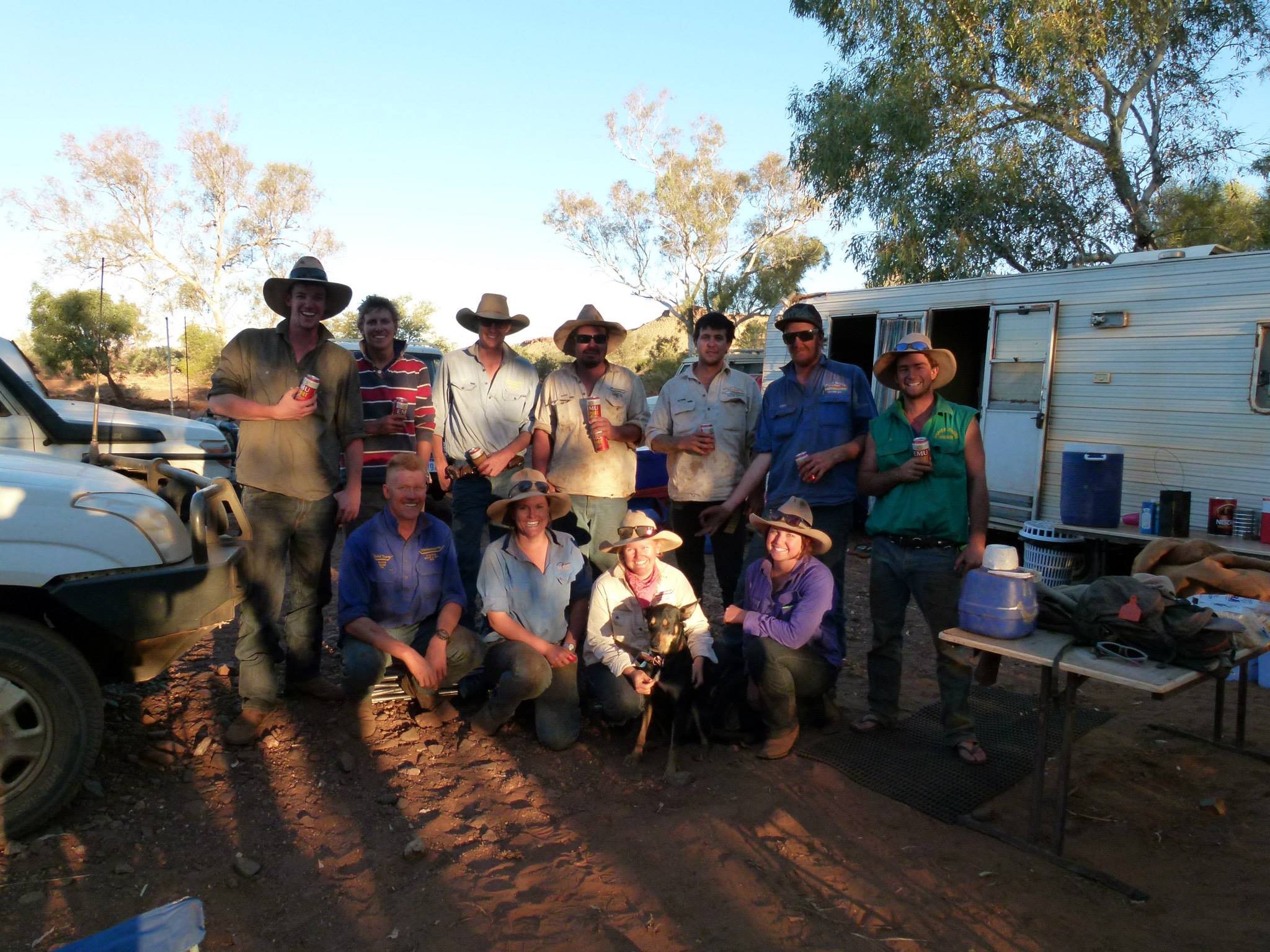 Our dream team from the days at Ben's family station.
When the season came to an end we made the decision that the depot life wasn't for us, our passion was breeding cattle. We moved back down south to figure out our next step. We were presented with a few different opportunities but nothing really jumped out at us – we didn't want to take just any job, we were looking for somewhere to pull up stumps for a few years. With mustering season was quickly approaching and no long-term job in sight we figured we would count our losses and head north and work in a camp. Fortunately, we received a call to see if we would be interested in managing a property in the Kimberley. This was super exciting and definitely something we wanted to do but we had some serious doubts, mainly within ourselves. We had never managed a pastoral property before, could we do it on our own? Working for family is (relatively) easy and straight forward, you know where you stand, but working for someone we didn't really know, not going to lie … it can be a little daunting. Would we work well with the owners? How would we be treated? What was expected of us? Could we actually do it together? We had so many questions, we figured we would never truly get an answer unless we gave it a try, so we threw our hat in the ring and took the job. It was the best decision we have ever made. We have learnt so much in our short time here and we have such great bosses! Now I'm not being a suck-hole here, they truly are great, they fully believe in us and have given us the reins to Mandora. Sure we have made some mistakes but boy have we learnt from them. Haydn and Jane have put their full trust in us which has allowed us to grow and learn and that is the most valuable thing, we love this place and run it like it was our own piece of land.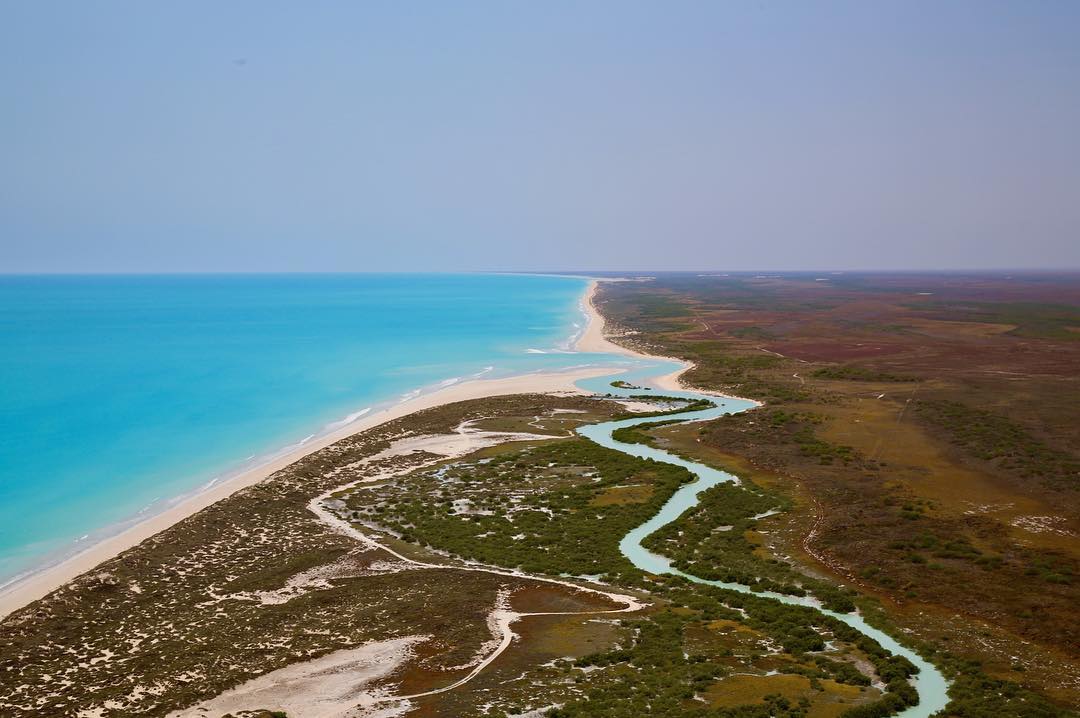 Mandora is situated on the 80 mile beach. Photo by Whirlybird Photography.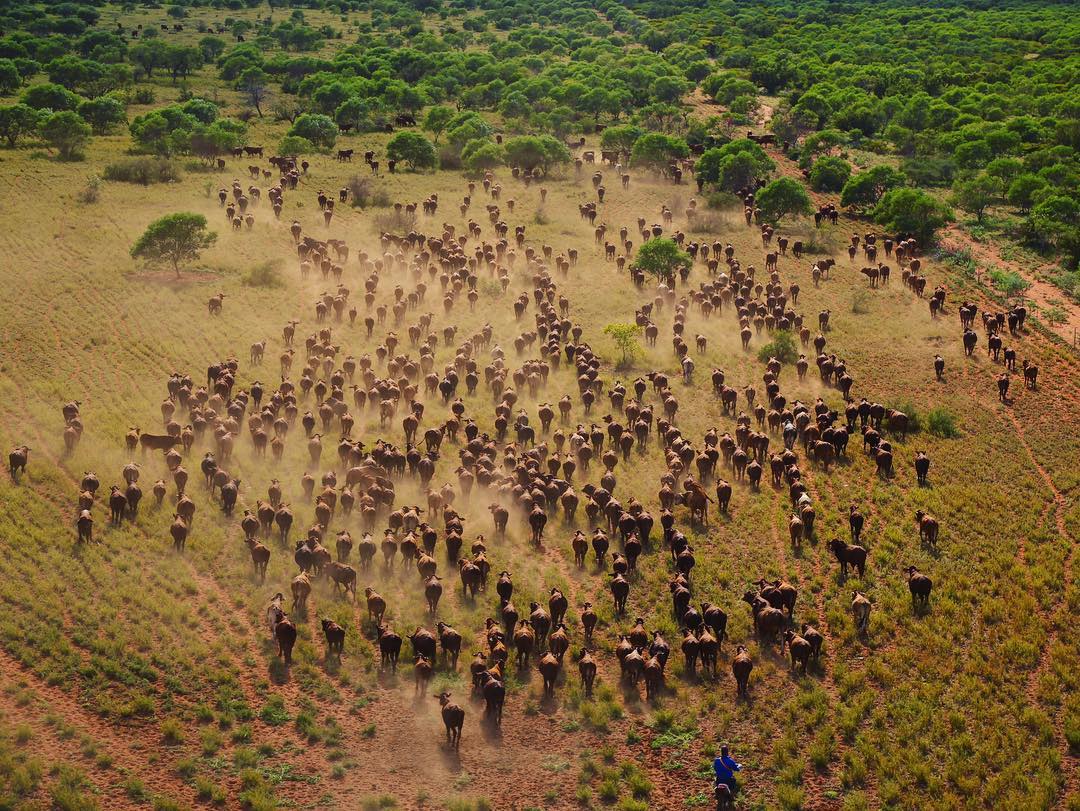 Mustering at Mandora. Photo by Whirlybird Photography.
Comments