Host: Mallina Station
Written by Lindsay Newland
I have always loved art. Back in the years following school I went to TAFE to study art not only because I enjoyed it but also because I had no idea what I wanted to be when I grew up. After several years of studying, working and struggling with living in the city I landed my first job on a station as a governess. I fell in love with the country, the colours, the harshness and the beauty that unfolded when the heavens opened up and the desert-like land came to life. I knew where I belonged now and learnt all I could about living and working on a cattle station. The years went on and as I took on more station orientated roles making my way up to managing with my then partner, art had to take a bit of a back seat. Recently I have been trying to make an effort to make time for my art. Not only is it important for me mentally but I feel like now I have the skills to show the beauty of the country and the industry that is my life.
Several years ago, I came across an Equine artist, Yvette Frahn, on social media who trades under "Spirit of Equine". I immediately loved her artwork, it was vibrant and depicted the most wonderful colours and movement in the horses she painted or drew. We'd been in contact a few times prior to her first workshop in WA in 2017 (she had run several in her home state of South Australia before) and, when I heard she was coming to WA, I knew I had to get down to Perth to participate. I frantically saved and asked family to put money towards flights and the workshop costs for my Birthday or Christmas presents. It was the most enlightening weekend with a great group of like-minded and positive people and Yvette gave me my first real introduction to Pastels, a medium I had avoided previously. After I had made the flight back to the Pilbara we often spoke about the possibility of having a workshop up here, either in town or at Mallina Station.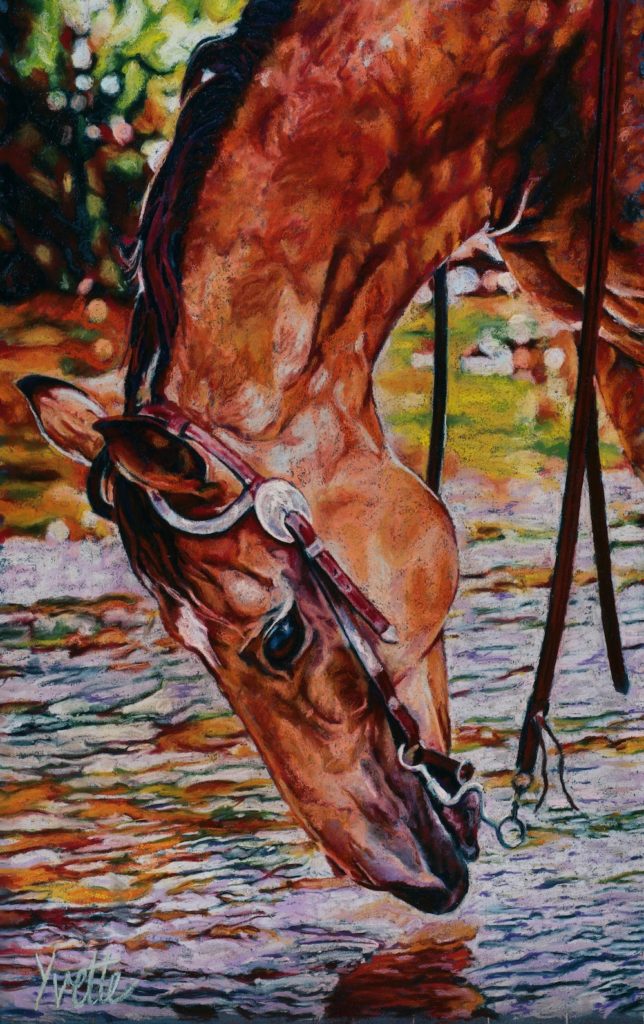 Spirit of Equine artwork, by Yvette Frahn.
In the first week of May this year, things somehow came together and I found that I was getting ready to pick Yvette up from the airport and that we had a fully booked workshop for the upcoming weekend. I had been so busy up until that point, a very late start to the wet season and then a cyclone on our doorstep for two days, that I couldn't quite believe that it had all come together. I am very grateful to all the people that helped to make it happen. Yvette came to visit a couple of days before the workshop and stayed a couple of days afterwards so I created some time in my busy days to take her out and see some waterholes and some of the country while she was here and we even managed to fit a horse ride in, down the creek near the homestead, where there is a spring fed waterhole. Yvette rode my stallion who is the subject of one of her works of art, that painting hangs in my kitchen and is often commented on by our many visitors.
Yvette fell in love with the country and all the colours that the Pilbara has to offer and it reminded me that it was that same love that had drawn me to the industry many years ago. I suppose we get so caught up in daily life and all the business that goes along with it – worrying about broken waters and the damage that the cyclone had left us with, our impending muster and whether the yards and vehicles were ready to go for it, coaching new crew through work they hadn't done before and remembering that I hadn't dipped the fuel tanks yet and they must be starting to get low by now, I would need to order more fuel soon – that I forget to just breathe and observe and admire this beautiful part of the world that we call home. One of the times that I do just that is during mustering, as the jobs have been done as best they can and you have to live in the moment, aware of where you are and what is going on around you. Perhaps that is why I love mustering so much. Yvette reminded me of how lucky I am, particularly so after the deluge of rain that Cyclone Veronica brought us. If she had come to visit two months earlier she may not have found the place so picturesque!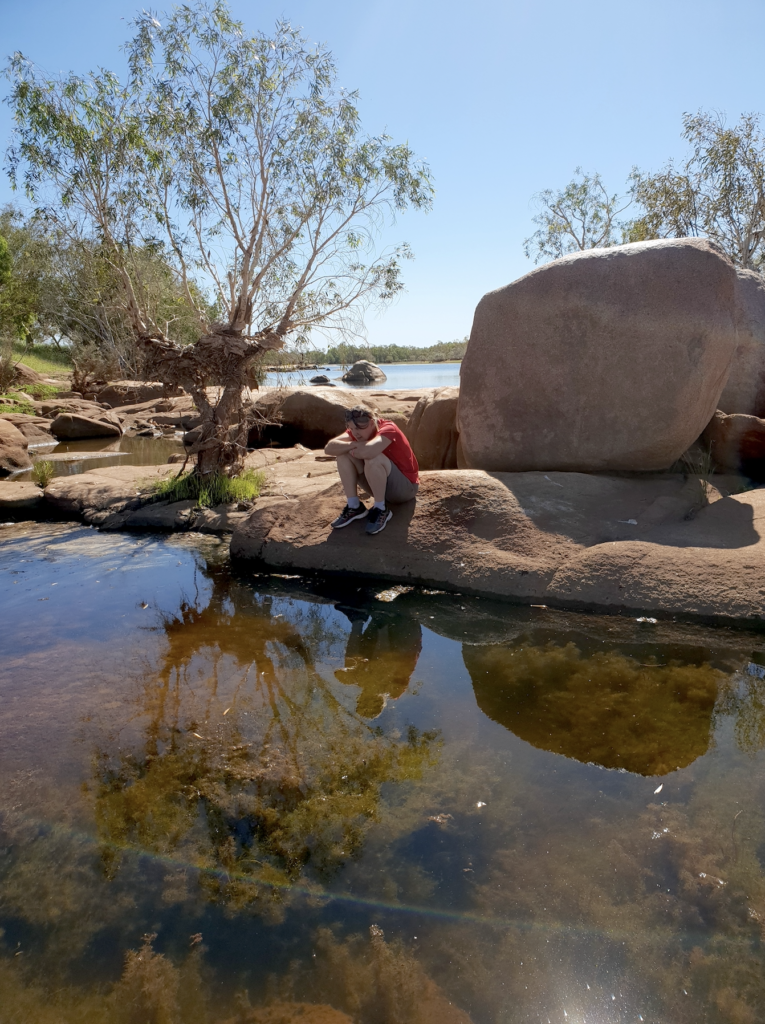 Yvette at Millindinna pool on Mallina.
With the skills that I now have thanks to Yvette's workshops and my compatibility with the mediums I am now using, I am finally happy with the artwork I am producing and feel that I am starting to do justice to the country and industry that I love so much with the images I depict. My latest artworks are getting selected to be exhibited in the local gallery and I'm looking at trying to hold an exhibition in the future that will be collaboration with other artists from station backgrounds. It has been wonderful to get positive feedback on the works that I have produced and I have several friends that have told me that they love coming out to Mallina and seeing whatever new artwork I am working on, sitting on the easel, in our big kitchen and dining room at the homestead. Yvette and I have talked about the possibility of running an art camp at the station and how great it would be to camp down near some of the waterholes and paint the amazing scenery that surrounds us. I look forward to making that a reality and maybe sharing our little slice of heaven with others that will also see the beauty in our rugged landscapes.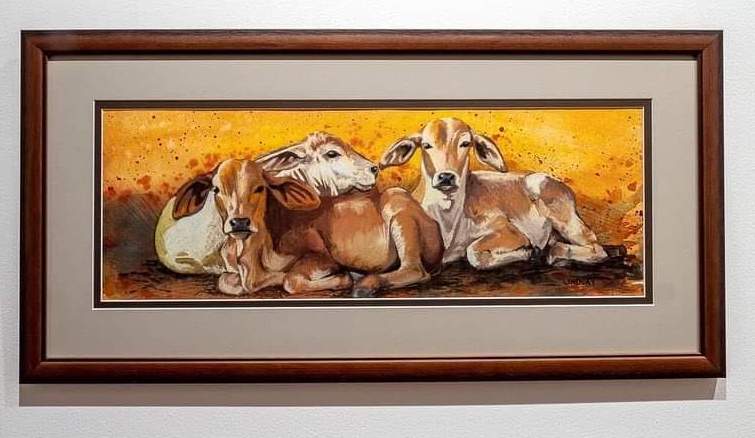 A recent artwork of mine, "Dinnercamp" referenced from a photo I took during a windmill run.
I will always jump at any opportunity to attend workshops and continue to learn whether that be in my art or otherwise. I'm pretty sure I know what I want to be when I grow up now and I'm glad I have been able to merge my passion for art with my passion for the agricultural industry.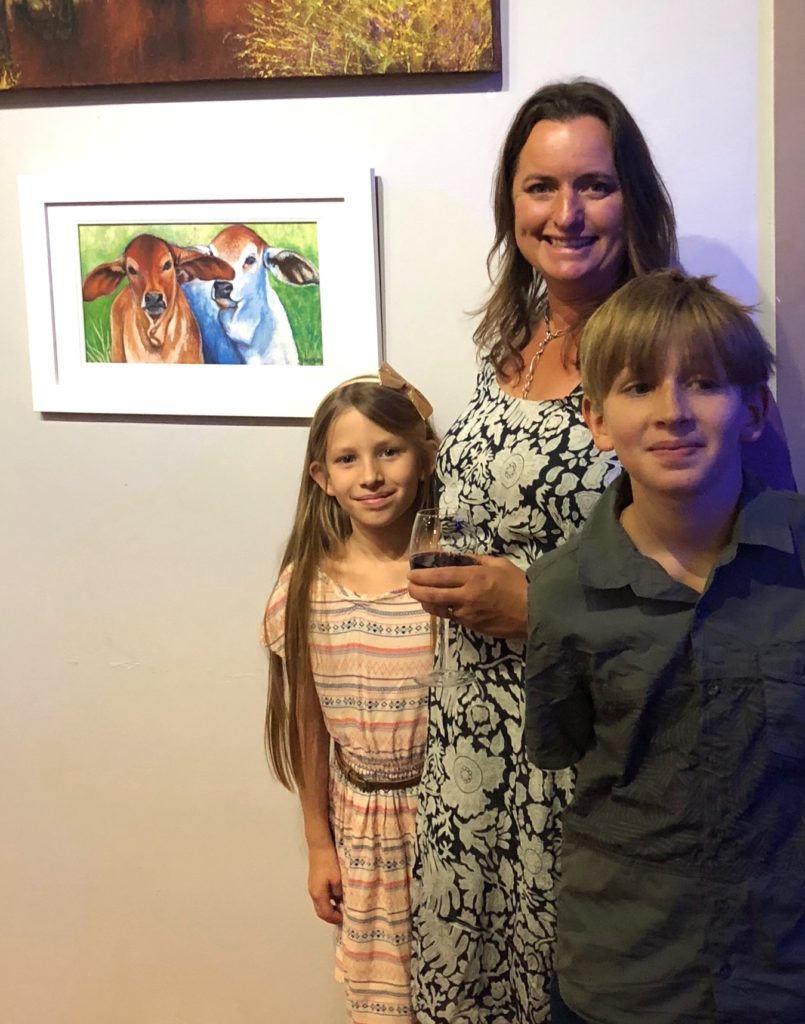 Me and the kids with my first attempt at painting calves.
Comments