Host: Remote Building Services
Written by Lise Browning, co-owner – Remote Building Services.
A rare weekend escape in the magical far north Kimberley.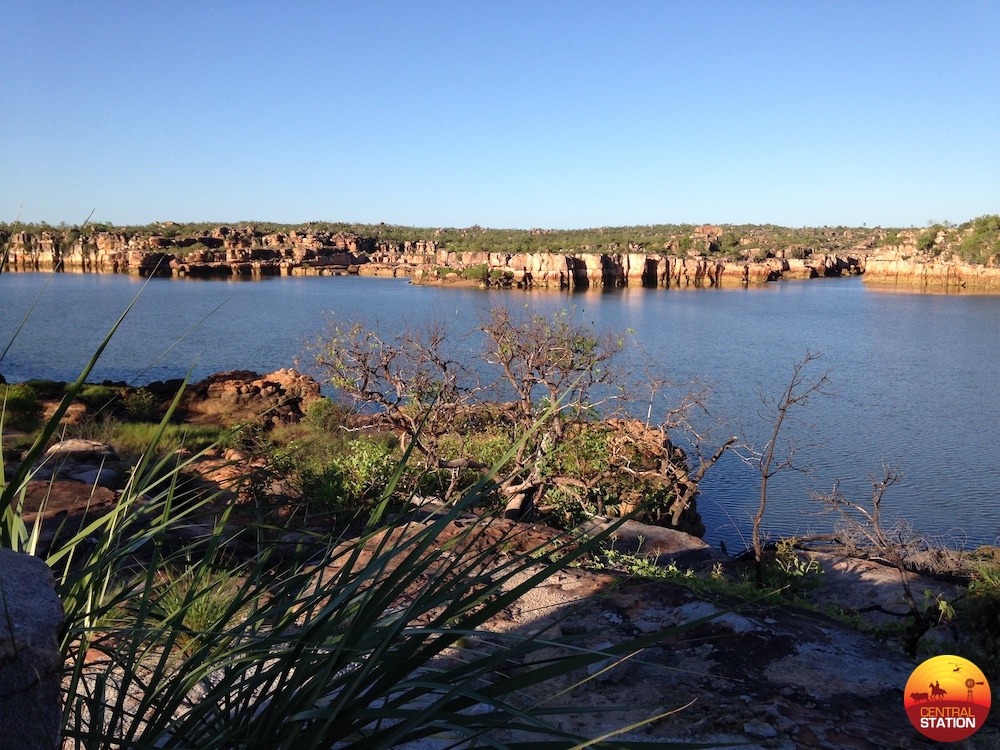 The amazing view from the loo!
It had been a jam-packed few months renovating and building at Kalumburu Mission on the northern most point in Western Australia. Being so remote with few places to go, we were pretty keen to explore and get away for a bit.
It was about a two-hour boat trip to get to our special weekend destination. I climbed in the boat (watching out for crocs) a little apprehensive that I'd be sleeping in the heat with snakes and mozzies in the middle of nowhere, but apart from that I was really looking forward to this trip.
We pushed off into the aqua blue water and sped away, passing big stretches of white sandy beaches, Kimberley rock formations, points, islands and more islands. It was clear that our host Don had done this trip more times than he probably even knows, and he looks after his vessel but I couldn't help but feel exposed in the long stretch of water. No one else onboard seemed to be bothered in the slightest though.
Eventually after all the open water we headed into the mouth of the river and the scenery changed quickly to muddy waters and mangroves on either side. Again, Don seamlessly negotiating the sandbanks and submerged rocks that we couldn't even see. As we travelled down the mangroves it was truly sobering to realise that if anything happened to the boat we were definitely very low on the food chain and between the crocodiles and sharks that were so abundant, we probably wouldn't make the short swim to shore (no exaggeration!).
About two hours into our trip the mangroves faded away to big Kimberley rock formations. There are big walls of rock on either side of the river and as we travelled a few more kilometres further around a bend the river opened up to an amazing gorge. High pillars of Kimberley rock, massive blocks of stone towered on either side of the narrow water channel. We passed a small cove with a shack and a humpy and kept going to see the rapids around a dog leg in the river. It was an amazing place – paradise!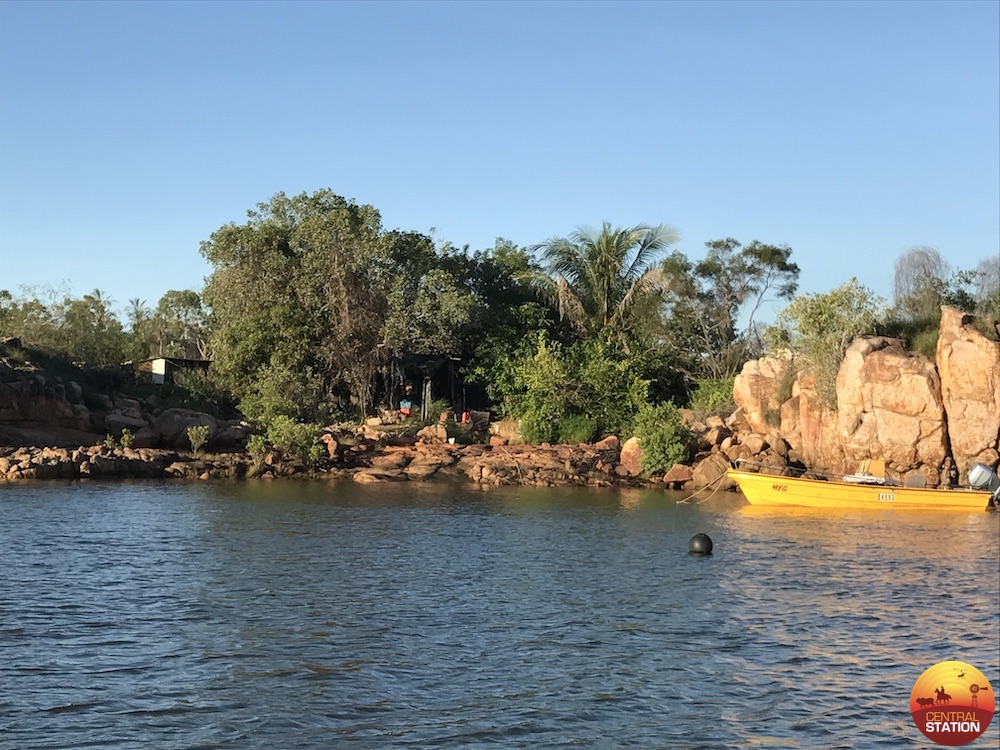 The Humpy camp.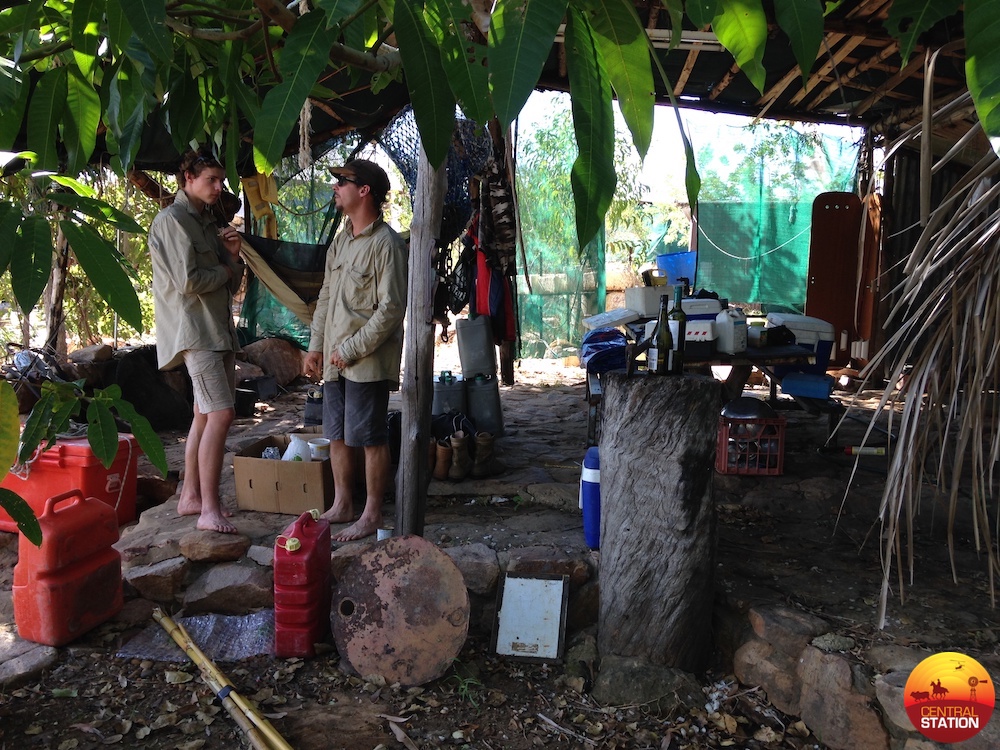 Unpacking supplies.
We rounded back in the boat to the shady humpy and little inlet that had a fresh water creek flowing into the gorge. We learnt how to moor the boat away from the shoreline and were versed on how to stay croc-wise getting in and out of the boat.
Our son got right into setting baits for prawns and then we all set off to explore the lily covered fresh water lagoon and to find a spot in the creek safe enough to swim in as the salt water crocodiles and wild cattle frequent both.
After a long cool off it was getting late and was time to collect firewood and heat up a pre-cooked dinner. We watched one of the resident crocodiles cruise around the cove as the sun set, drinking hot plunger coffee and listening to Don's Blues tape. Apparently there are three resident crocodiles: George, Margaret and Victoria (all named after royalty), but so far, we have only ever seen Margaret.
It had been a long day and was time to turn in for the night so we cooled-off in the outside rock-wall shower under the Milky Way and watched the orange moon rising, overlooking the mirror-still gorge lit by the night sky! That night we had the luxury of a fan in our camping area.
I woke up to the loo with a view over the whole gorge. We listened to more blues music over a plunger coffee and baked beans on toast breakfast before Don took us fishing at a special spot. It was a clear water inlet with white sand and blue water where the fish and water flow in quickly with the tide to a rock pillar lined creek bed. Richard spotted big flashes of white where three massive manta rays were playing and feeding in the small bay. We climbed a big rocky outlook and watched the manta rays flip on their backs and flash their huge white bellies.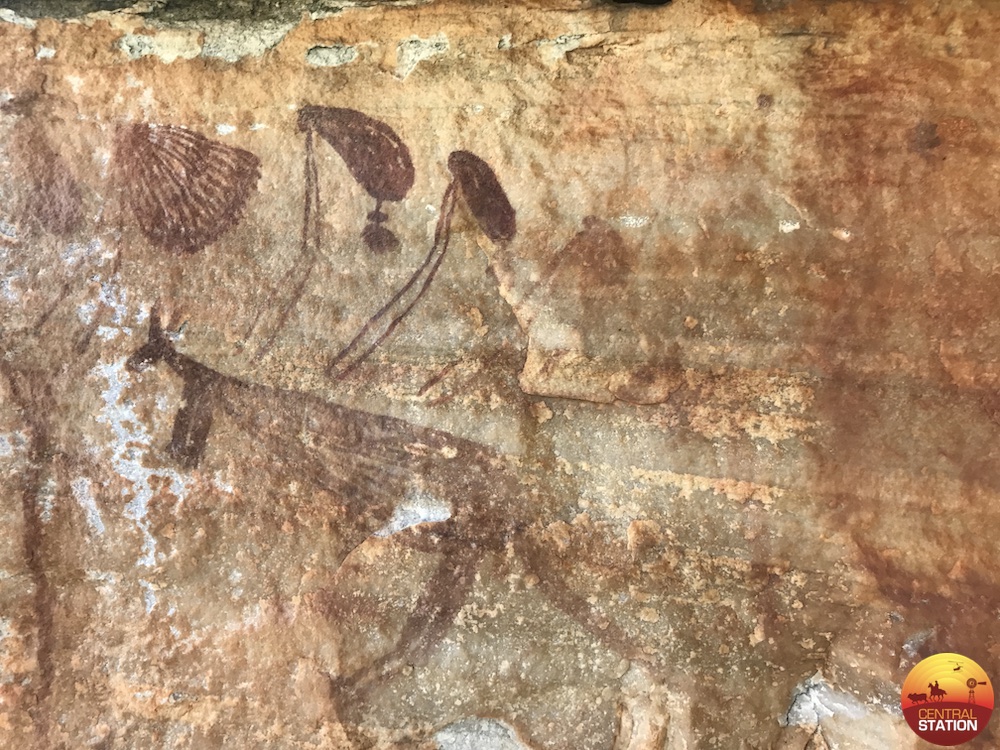 Exploring the rock art amongst the rock pillars.
We explored the dunes behind to find amazing rock paintings amongst the rock pillars lining the clear, blue and deep sandy creek bed that had been quickly filling up with water and fish with the tide. Then it was off to a spot to fish to catch enough for our dinner.
The next day we went out in the tinnie and stopped off first to have a cool down in a clear creek with no crocodiles, beautiful, waist deep and sandy bottom. It had iridescent blue damselflies balance on twigs, floating on the water and lots of little Kimberley wild flowers line the shore.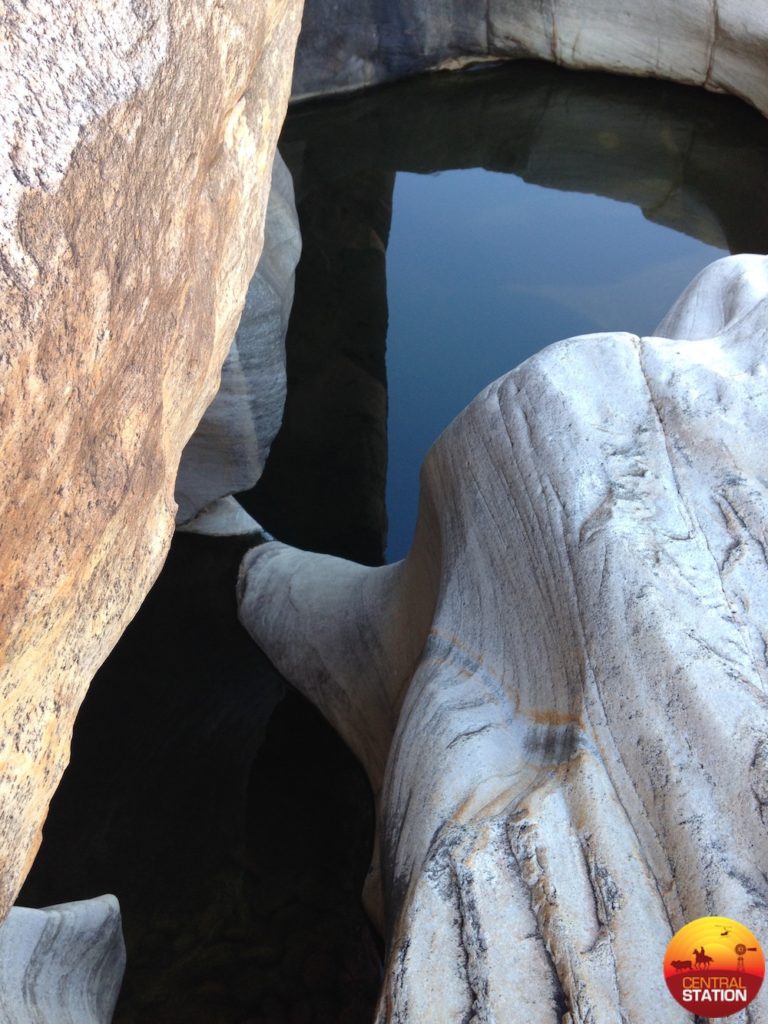 Rock spa.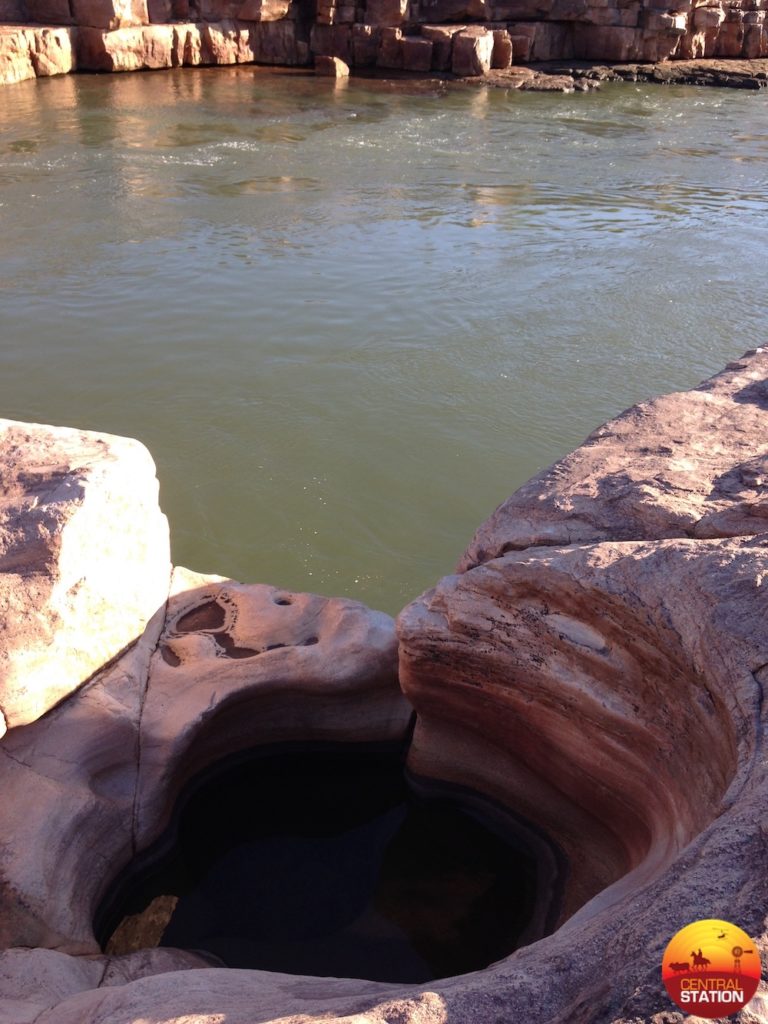 More amazing rock pools.
We headed up to the rapids to see and explore the natural spa pools worn into the rocks, smoothed over the years by the floods and big wet seasons. The side of the gorge near the rapids had a network of tunnels and rock pools ground out over thousands of years by huge boulders.
The gift we had laid out earlier for Margaret the croc was still there, so we watched it as we prepared dinner to see if she would take it. She was hanging around but wouldn't come up to shore. After giving up and putting the cameras down we got the camp fire going turned back to preparing dinner. I came out of the camp kitchen with ginger and garlic in hand, to see a soft ripple in the water where Margaret had made off with her prize. She was only waiting for us to turn our backs to make her move…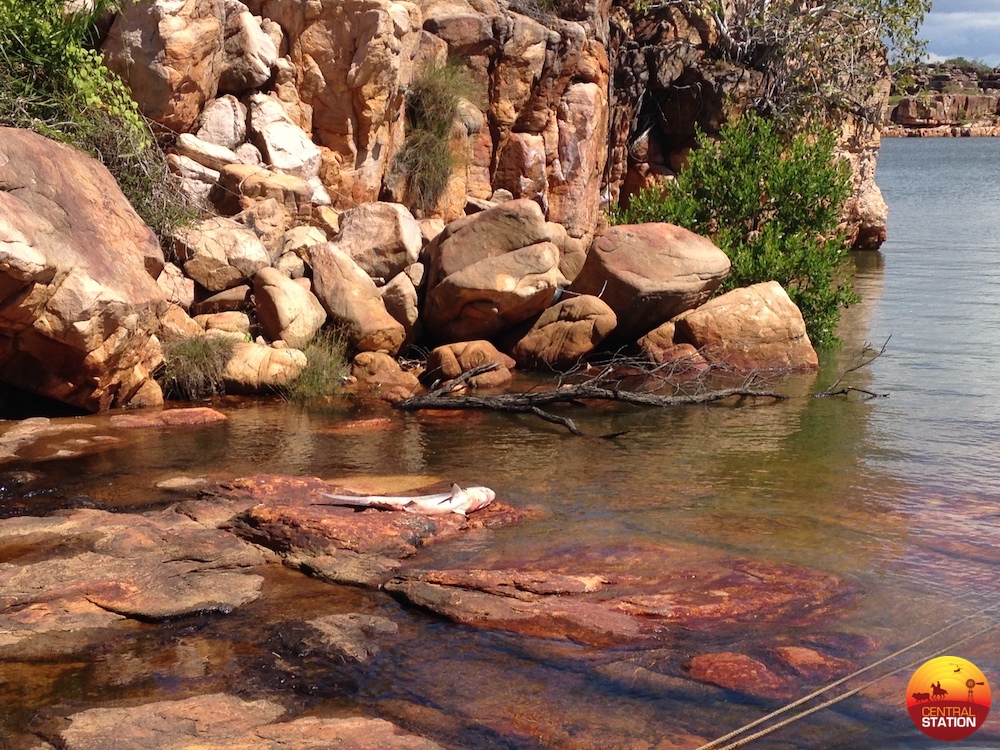 A gift for Margaret the croc.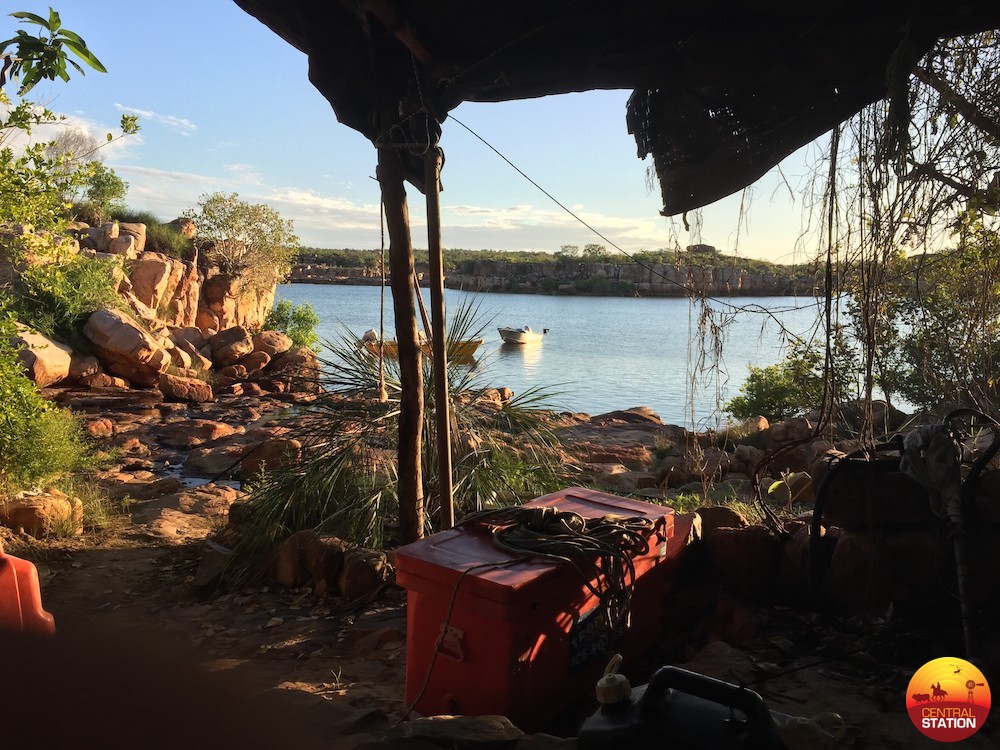 View from the humpy.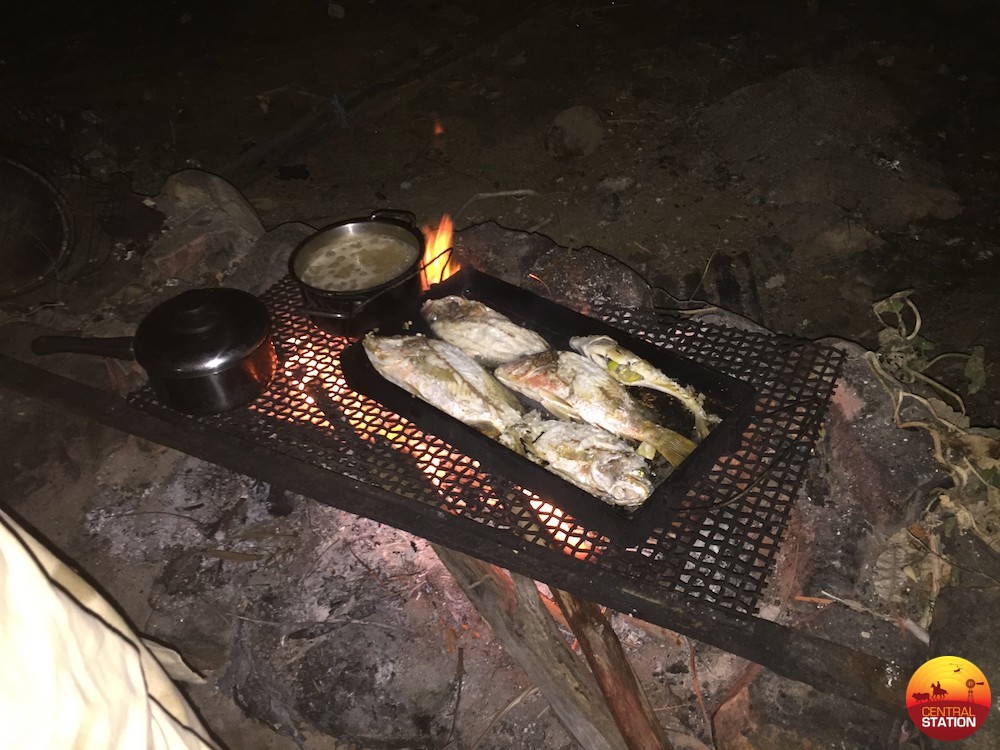 Fresh caught fish for tea.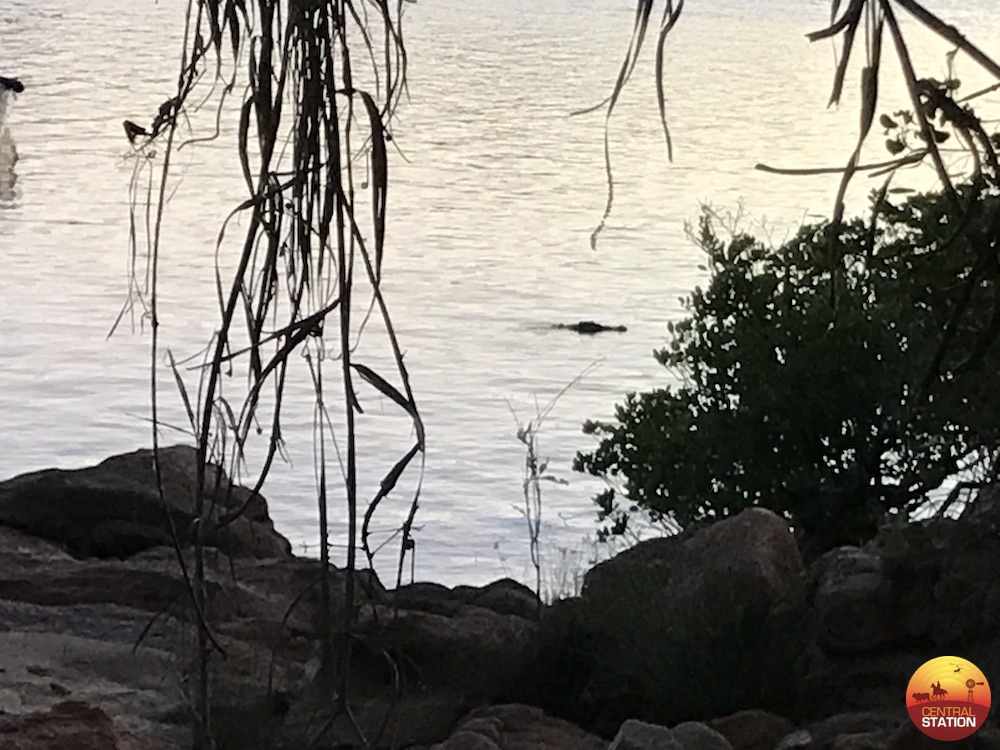 Margaret waiting to claim her prize.
We were treated to another shower under the Milky Way with a lightning storm on the horizon before turning in with more mozzie coils and Bushman's insect repellent in hope of a better night's sleep.
At breakfast the next morning Don said we missed the crocodile up in the camp. A small croc was hanging around eyeing off the fish leftovers from last night.

Loo with handwash basin, very civilised!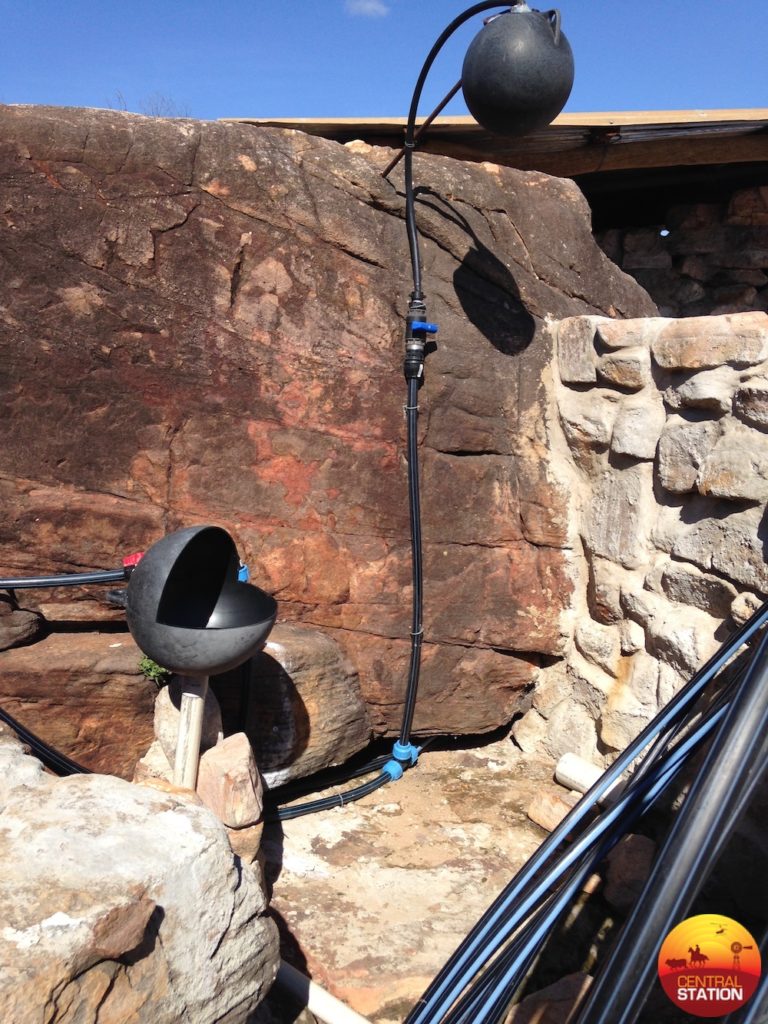 Outside shower and sink, no renovations needed here!
 It was time to get back to work. It had been a special break, one to remember for a lifetime. We like to extend huge 'thankyou' to Don for his generosity and sharing his private paradise. We will never forget it. Our only regret on this trip is that we missed 'Codly'. 'Codly' is a huge potato cod that returns to Don's special spot every year for feeds and pats and friendship.
Comments