Host: Rutland Plains Station
Written by Liz Cameron (@dusty_lens_ and @gulfcountryworkwear)
"Can you cook?"
I thought, "well, yes I can…", but could I cook for 19 men with 2 camp ovens, 1 hot plate, 1 small chest freezer and a large pan used for salting beef, in a buffalo catching camp in the middle of Arnhem Land? "No", was the answer. But, at 21 years old and head over heels in love, I wasn't about to admit that.
18 months earlier in 2005 I left for Delamere Station in the Northern Territory to be a Jillaroo with my best friend in tow. Working in the stockcamp I met my now husband and the father of my 2 young children, Ken, whom I was ready to take on this world with one leap of faith at a time.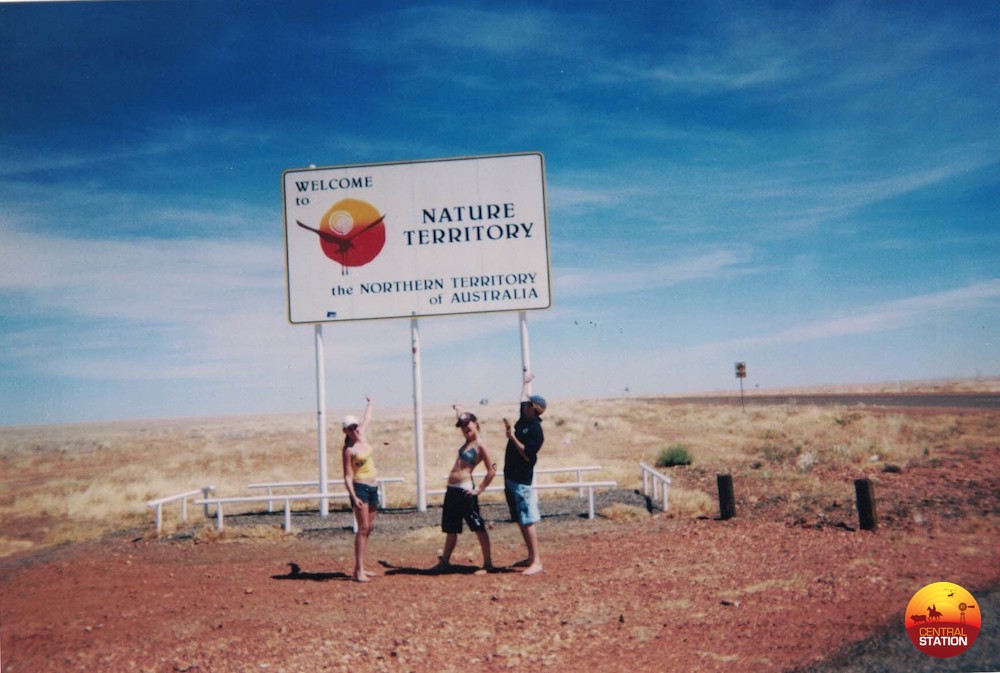 Myself, Cherie and Graham heading to the NT in 2005.
Ken and I at Delamere, NT in 2006.
In 2006 Ken completed his helicopter licence and took a job flying for NAH (North Australian Helicopters). He was based at Coolibah Station about 200km away from Delamere where I was still working. We didn't get to see each other often so I packed up in July 2006 and headed to Katherine where NAH had a base in hope we would get to see each other more. I had a job lined up at Woolworths stacking shelves in the freezer section and was all set to start when I got a phone call out of the blue from Ken. He was on a river somewhere in Arnhem Land calling on his boss's satellite phone. I was so excited and relieved to hear his voice. He said he couldn't talk for long, he then asked me "Can you cook?". "Uuummmm YES", I replied grasping at anything that would allow me to see him, "Good" he said, "A chopper will bring you out at daylight tomorrow" then he was gone (and this is exactly how it played out). Left a little dumbfounded and shocked as to what had just happened I sheepishly went down to the help desk at Woolies and dropped off the uniform I hadn't even had a chance to wear.
The next morning I arrived at the NAH hanger bursting at the seams and terrified at the same time. What was I doing? I couldn't cook! And I was about to cook in some of the most challenging conditions imaginable. When I arrived I looked around at the camp. No trees or shade. Bulldust everywhere. The shower was attached to the side of a water tank out in the open. There was a pile of clothes on the ground beside the washing machine which I knew had my name on them.
I set to work trying to navigate my way through this. Down the river about 200m there was a small camp of Aboriginal ladies who where doing the exact same thing as me, but pulling it off way better though. They were there to cook and care for their men. It was a little confronting at first that there was such a divide of separate camps even in the year of 2006, none-the-less they were all such kind welcoming women who seemed happy that they were also able to be with the men that they loved.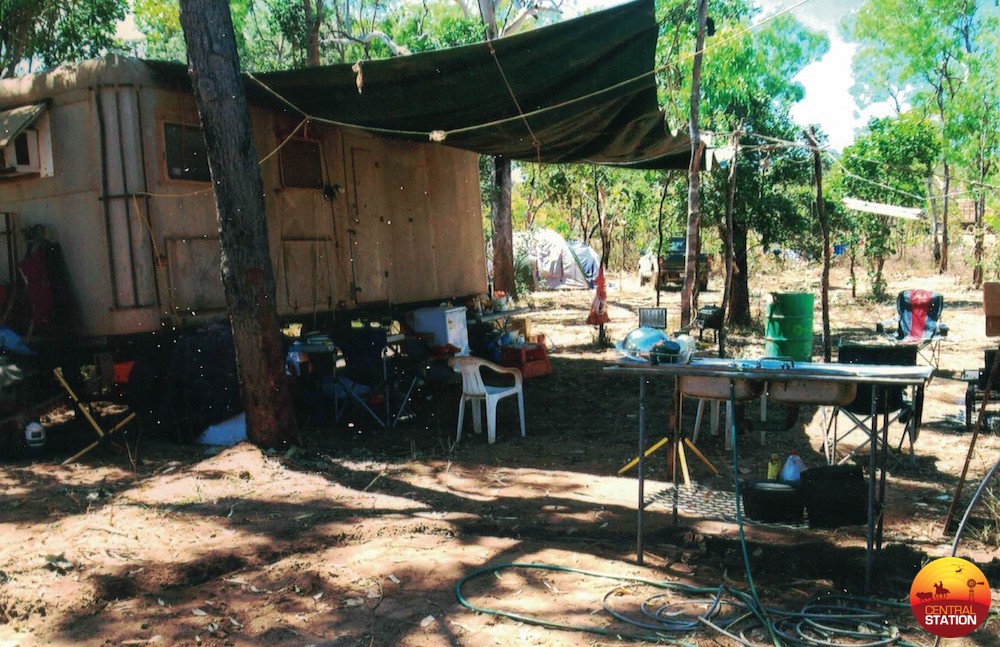 Our camp at snow drop creek, this was our second camp which was much more comfortable. Had trees and even constructed a hessian shower curtain.
I didn't even know how many people I would have in for dinner that night. There was a remanence of the camp fire from the night before but no timber. I had just put the washing on when some of the Aboriginal ladies arrived from their camp with armfuls of timber for me. They must have felt sorry for me, which I suppose was written all over my face. We chatted and I gave them some beef from our freezer. After filling their drums of flour and their sugar, I gave them some Panadol they had asked for and went on their way. The next day they came back for their beef, sugar and Panadol. Little did I know these women went through sugar and Panadol like a hot blade through butter. It was about 5-6 days in when I realised I needed hide my stash!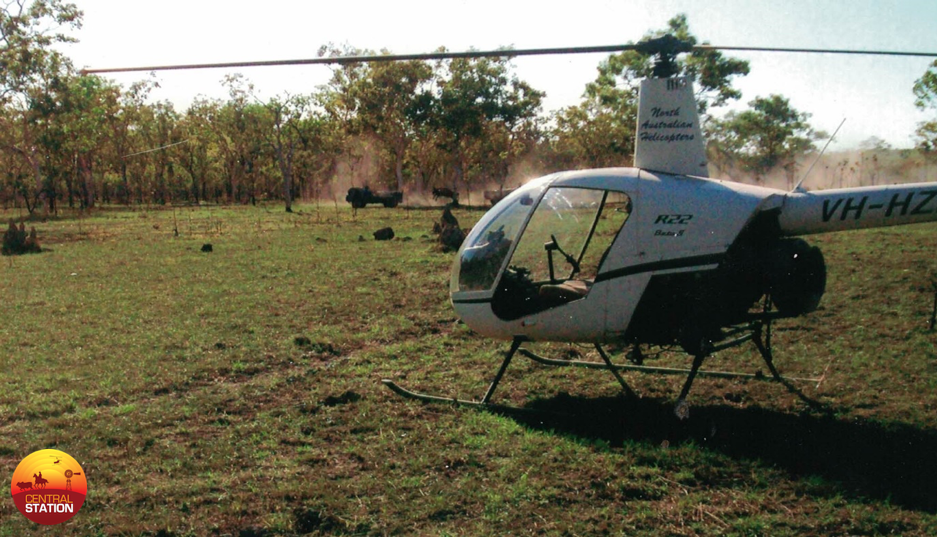 The boys collecting cattle they had caught earlier that day.
The equipment I used for cooking was extremely basic. I had a hot plate that I cooked most things on: toast, steak, eggs, veggies etc. I always made sure the only fridge I had was fully stocked with beer for when the men arrived home. The billy was always on and the camp was always clean. I am sure those men had some pretty ordinary feeds whilst we were out camping in the middle of Arnhem Land, but we seemed to survive the conjunctivitis and the barcoo rot somehow. Looking back I cant believe I even pulled it off. It's crazy the things one will do for love!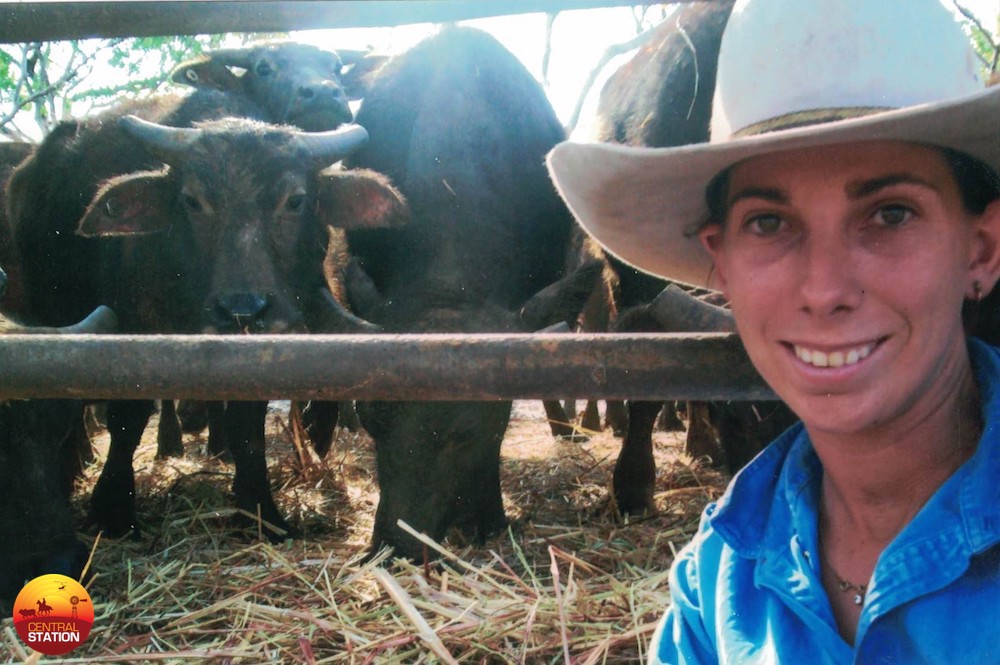 The buffalo weaners were extremely quiet and could be pat after.
Comments