Host: Rutland Plains Station
Written by Liz Cameron (@dusty_lens_ and @gulfcountryworkwear)
We finished our season at Coolibah in 2006 where I cooked and Ken was flying. We then made the move back to Katherine in 2007. Ken was predominantly flying in the Barkly region, so he was never home. Even when his helicopter was due for a service they would usually fly a fresh one out to him and bring the other one home. We had a little house out near the Katherine Gorge about 40km out of town so things were very lonely for me. I had a dog who kept me company. She also let me know when the local buffalo got too close to the back fence.
I scored a job working for the amazing Newton family at The Top Saddlery as a retail assistant. Geoff and Julie were so kind and patient with me. This is one part of my life I wish I could redo. I don't think I ever really appreciated what a awesome job I had (I definitely loved my job but now I am older I realise how good it really was, thanks Geoff and Julie).
I had so much fun working here. It was very rewarding building relationships with the locals and the stations in the area. Learning new skills and not to mention the smell of leather every time you walk in to a saddlery.
After nearly 2 years working at the saddlery Ken knew it was time we found a job where we could spend more time together, he told me about a job in the Queensland Gulf on a place called Miranda Downs. I was really keen on this idea – all I wanted was to get back in the bush.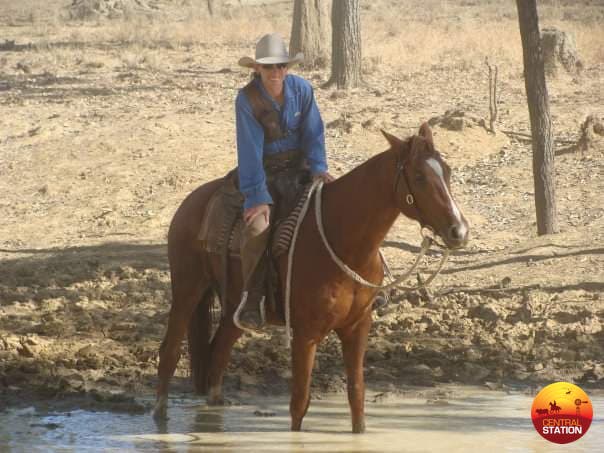 My old faithful, Clappers.
We arrived at Miranda in March 2009. The property had just suffered a massive flood and there was 150km of flood fencing to be done. The keen 24 year old in me didn't care, I was just glad to be back doing what I was passionate about and what I loved. We had a team of 4 of us pulling these fences up. Everyday seemed to never end with endless views of washed down fences, but it was always washed down with a cold beverage at the end of it.
Always having a passion for young horses/colts, I find it to be very rewarding working with a young horse and to see them come in after a spell even better then you expected. I believe colts are a great reflection on your ability and as you get better so do your horses. You see your mistakes and your triumphs. I've always been proud of my horses and to see my hard work pay off. I'll never forget an albino colt showing up on the truck with our crop of colts for the year and I wanted that thing right or wrong. Kens's father pointed out all the things that he believed made that horse worthless, I didn't care that he was a 5 year old midget. After breaking my arm I was made to bow out and hand him to one of the other ringers in the camp.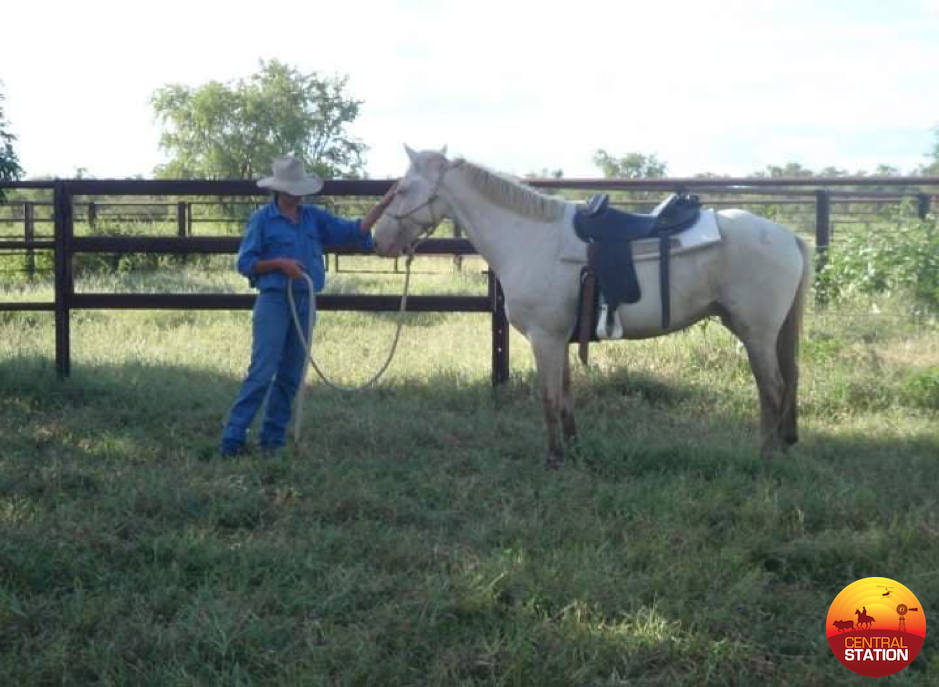 My 5 year old colt who I had to give to someone else after he broke my arm.
Miranda was an easy place to love. With plenty of pig hunting, fishing, swimming holes, it was a bit over a hour to town and we had great bosses. The country was beautiful, mostly made up of river frontage and forest. Walking cattle across the mighty Maxwell was always a challenge; from the Noogoora burr higher than your horse to the many rivers crossings keeping you on your toes. We worked there at time when people did several years at the one place so the camp was familiar each year and every year we had just as much if not more fun then the year before. We made some ever lasting relationships working for Stanbroke which I will be forever grateful for.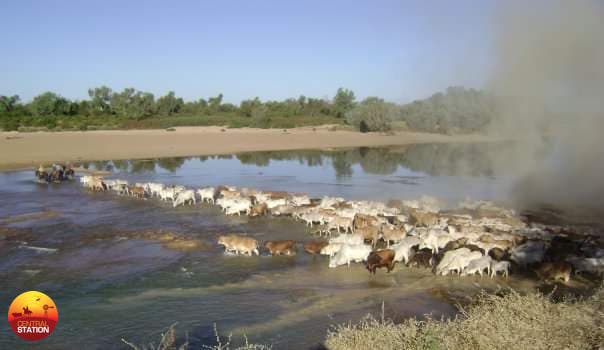 Crossing cattle on the Maxwell river.
Comments