Host: Blina Station
Written by Constance Gray – Manager, Blina Station.
My cool, calm, and collected partner was unusually nervous as we headed from Blina to Broome for the last rodeo of the season, followed by the Broome Cup. He was twitchy and weird, watching saddle bronc riding flat out on his phone and being cagey. I was getting a tad annoyed, at the short responses, his hazel eyes usually looking about, checking out everyone else's patch of country, were instead fixated to the iPhone screen showing no signs of budging – I put it down to nerves about riding in front of such a big crowd . . .
We arrive at the rodeo grounds, just on the outskirts of beautiful Broome. Normally I help out with whatever needs doing before and during the various rodeo events in the Kimberley – "I'll just hang around for a bit and maybe give Zoe a call and see if she needs a hand?" Matt snapped – "NO! NO! Zoe doesn't need a hand, she's got it covered! Have a night off for once, and just go to the bar and hang out with your friends". I thought to myself, "Geeze, I must of pissed Zoe off somewhere along the line, I better sort that out tonight and apologise for whatever it was!" I left Matt and his strange mood at the rodeo grounds to check in to our hotel, settle in, and have a couple of drinks to start my "night off".
I was happily singing away, chatting on my phone, and sipping my wine while I blow dried my hair – doing all of the girly stuff that girls in the bush rarely get to enjoy.
Matt called to check on me – and the usual torrent of questions start:
"Babe, did you check in alright?" "Yeah, all good buddy."
"What are you up to?" "Nothin'", I pause, "maybe – drinking wine."
"What are you going to wear?" ("WHAT?" I pulled a face, "what is it to you?!") "I dunno, a shirt??" "Don't wear that blue and white striped one, wear something sexy" (my nose screwed up again at this last cheeky comment, anyone who knows Matt will understand the tone!)
"Who's picking you up?" ("Why?") "I dunno, Jesse?"
By this time I was thinking, "Hmm OK – just settle down Matt!" But after living with and loving a station manager, for a couple of years now, it comes with the territory to deal with a somewhat 'control freak' personality from time to time. I just put it down to nerves and being the last and largest rodeo of the Kimberley circuit.
"Con, are you going to be on time tonight?" I sigh – "YES, I will be on time!" (this is odd) "What does it matter – it's my night off? I can come down when I jolly well feel like it." "Well, just make sure you get down to the grounds in good time babe."
I hung up thinking, "F*ck off, I'm taking my sweet time and I am wearing that shirt", plus I don't think I own anything that fits Matt's definition of sexy.
Another hour passes, it's about 7 o'clock by now and I am on to about my 3rd glass of wine, starting to really enjoy the time off. The phone rings again – its Matt. I sigh and pick up the phone, ready to be told off for being late.
"Where are you? The bronc ride is going to start soon!"
Me: "I'm still at the hotel, you told me to have the night off."
Matt: "Wha? Connie, what the hell? You are going to miss my ride!"
ME: (getting grumpy and defensive) "Well you miss plenty of my runs, all the time! I don't need to see you ride and fall off yet another Bronc horse!"
Matt (getting stressed now) "CONSTANCE! You need to see my ride, I'll send Toni to come and get you."
Connie: "No, it's fine Jesse is coming to get me, she's almost in Broome."
Matt: "Nope, you and Jesse will just get on the wines, I know you bitches – I'll send Toni."
Connie: "Matt you are being a control freak, settle down I'll get to the bloody rodeo. It's not a drama, it's just another rodeo!"
Matt, having none of it – called Toni over and sent her to come and collect me. Toni happens to be a close friend of mine and was working in the Blina stockcamp last year. Toni, true to form – got lost finding the hotel. After a few phone calls and directions, and a slight rise in Matt's blood pressure, she was back on the right track and arrived at my hotel – I was sitting on a rock out the front, drinking a pink cruiser by now – not to phased and blissfully unaware of the stress my partner was experiencing. Toni ushers me into the car – she was flustered but hid it well. Off we go to the rodeo grounds.
When we arrive at the grounds – Chev, another girl in the camp, comes running out to collect Toni's car (I find out later this is so she didn't have to spend the time parking it) citing the excuse of "I need to get money out".
We rush in to the grounds, and Jesse meets us out front – see we would have gotten here on time. Get to the bar, and it seems Toni has a spot right at the front of the bar, already reserved by our Grader driver, Stuey who is grinning and looking pleased with himself for reserving such a top spot. Oop. There's that familiar feeling – I inform Toni that I am busting for a wee, I'll be back in a tic – did she want anything from the bar on my way back? Toni looks concerned – "How long will you be? You will miss Matt's ride!" I think, what is with everyone tonight?! It's like it's the PBR or National Finals or something. Off I go, via the ladies, get the drinks and head back.
I get back to our spot – Toni taps me excitedly, "Matt's going to ride in a tic – don't go anywhere!" Cool, I grab my phone, it's my usual habit to video his rides. Phone at the ready I watch Matt go through the usual routine of saddling up the bronc – Toni grabs my phone – "Con, I'll video – you are crappy at it." I laugh, remembering one of the last times he rode at Fitzroy Crossing, I got overexcited, too busy watching and videoed the tops of the trees around the arena. Righto – I concede, and hand over the phone to my mate.
Todd Walsh is the president of the Broome Rodeo Club, a good mate of ours, as usual is announcing the rodeo, also takes great delight in dishing out public embarrassment over the mic. I hold my breath and frown as I see Walshy head over to Matt's chute with the mic. Gawd Walshy, please don't give me sh*t in front of all these people. Matt lowers down onto the horse. Walshy starts his spiel. Except this time he is interviewing Matt. HEY?!
I am too busy straining to hear Walshy and Matts 'interview' to notice my friends watching me trying to contain their excitement. I hear "You are looking pretty nervous Mr Wood" Matt is sitting back in his bronc saddle now, feet in the stirrups, ready to ride – Matt's reply "Yes yes Walshy, pretty nervous tonight mate. " (You're telling me, I think, hurry up boys, get it over with so he can go back to normal!) I'm pretty nervous tonight, because I've got a pretty big question to ask a certain young lady (WHAT? I think – WHAT QUESTION?!) Miss Constance Gray – I want to ask you if you will be my wife?"
"Holy crap!" I think, "is this happening?". I am half deaf, did I hear right? What rhymes with WIFE?! I look at Toni, she's got a smile from ear to ear and is nodding at me, confirming my thoughts. Before I know it, I am up on the rails giving Matt the thumbs up! YES, of course I'll bloody marry you, now please don't hurt yourself! Matt nods his head "righto boys, outside!" The horse didn't buck hard, so he rode time easily, ending up with a re-ride.
Now I spoilt the grand plan, he had planned to ride time, jump on the pick up man's horse, ride around to my spot in the bar, and then get down on one knee. I've never been one to sit back and let things just float my way, so as soon as I see that bronc thunder past and clear of the arena I'm up and over the rails, ducking and weaving, dodging the pick up horses, grinning at the guys as I go, pushing past Walshy, I'm running toward Matt to make sure he gets my answer before he changes his mind!
My heart was pounding, he hasn't seen me yet with all of the goings on in the arena. I tap him on the shoulder as he's trying to get something from Michael Dahls pocket (my ring!) he turns around, surprised that it's me and I've foiled his plan of being the white knight on a pick up horse. He fumbles for the box, lucky not to drop it in the red sand of the arena, and there he is – down on one knee, still in the chaps I bought him for his birthday. I smile.
He says to me "Well, hows this for a bloody grand gesture Con – what do you say?". I can't wipe the Cheshire cat smile from my face – "Yes, I say, yes a thousand times over."
My big handsome cowboy smiles at me, jams the ring on my finger (its fits – perfectly!) wraps me in his arms and as he gives me a kiss, in true showman style – throws his hat in the air to the cheer of the 4,000 strong Broome rodeo crowd.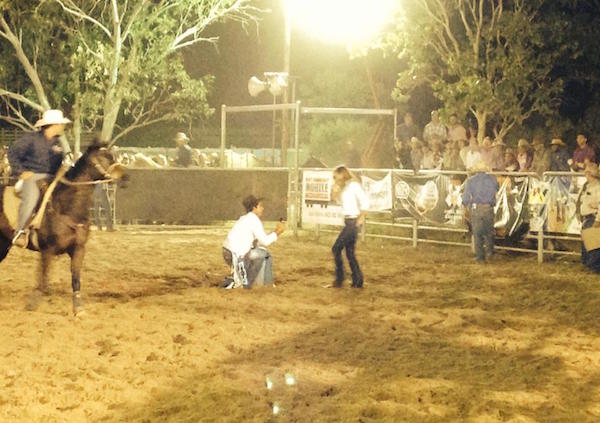 Matt on one Knee in the middle of the arena.
Now I know why he didn't want us to be matching!
A very surprised and very happy chappy!
You've read about the proposal, now read about the wedding here!
Comments