Host: Mallina Station
Written by Lindsay Newland
I can safely say that I had a pretty extreme introduction to my first cyclone experience. From all reports Cyclone Veronica was the biggest and slowest moving cyclone that WA had seen in over a decade and from the earliest reports it was heading straight for Mallina homestead. I had been affected by cyclones before, but we lived a lot further inland, so a bit of wind and steady rain for days were the most extreme weather conditions I had ever had to endure. Veronica was a little different.
Prior to Veronica we had only had 20mm of rain for the entire "wet" season. Things were pretty grim, bores and wells were going dry and we had moved cattle to a couple of new bores that were recently drilled and had solar pumps, tanks and troughs installed. Our drought plan was in place and we would have started mustering a week prior, but we'd had a smattering of rain that left us with 17 mm in the rain gauge, so we had delayed it by a week. That 17 mm would have saved us in the end, it started germination, put a bit of green feed on the ground and allowed the soft spinifex to throw up new growth that would have filled our cattle's bellies before the cyclone hit.
We were getting ready to muster again when the cyclone warnings started reaching us. Veronica had been on her way for a little while, but I hadn't taken too much notice. Mentally, I felt that if I got my hopes up for a good cyclone there was no way she would come. I think it works the same way as when you leave your washing on the line or the windows down in a car, it's sure to rain when you do that. So, it was probably Tuesday when we started taking the threat of Veronica seriously and by Thursday the tracking maps had her crossing the coast just above us and coming straight over the homestead as a category 5. I was definitely taking her seriously then!
By that stage our cyclone plan was in place. The station was well into its cyclone prep, we'd spoken to crew to work out what they were going to do and I was feeling pretty confident. Mallina homestead has seen cyclones go over the top of it before and the main house is built solid. Our crew were all heading into Karratha to stay with family and friends and Ben, myself and our two children were going to stay at Mallina. However, by Friday people were starting to give me doubts about our plan. Veronica was still heading straight for us and friends and family were urging us to go, at the very least the kids and I should go to town. I was told the cyclone would be very traumatic for them to have to sit through even if it didn't end up causing any damage to the homestead. Now I wasn't feeling very prepared at all.
I packed bags for the kids and I, swags were ready to go in the shed and I threw a couple of bags of food together. Water containers were already filled and in our storeroom, so I had one of them ready to come with me. Not knowing just how long we would be stuck in town for made it hard to work out what I would need to take. One of the workers had agreed to stay with Ben so I could take the kids somewhere that would potentially be safer. Finding a house in town was also a little difficult. I didn't want to leave Ben with my dog, I am sure he suffers from PTSD and he doesn't cope with storms or being away from me at the best of times. Ella was also adamant that our cats had to come with her so we couldn't exactly check into a hotel. Also, by that stage there was some major flood warnings issued for Port Hedland, the effects of Cyclone Veronica were going to be felt at the same time as a king tide, so a lot of Port Hedland was expected to be under water. This made some of the houses that I could possibly have stayed at, unavailable.
It was late Friday night that the tracking maps showed Veronica heading towards Port Hedland instead of straight at us. That changed everything. I didn't want to head into town were potentially I would be in more danger than if I stayed here at home. Saturday morning brought the last of the cyclone prep to a close and the crew were getting ready to head into town. Friends that were previously urging me to go were now agreeing with me that I should stay so the decision was made to go back to our original plan. At about 11 am I gave all our crew a hug goodbye with the command that they stay safe and we would see them again after Veronica had made her merry way down the coast. We shifted our bags into the main house and set up beds that we would be using over the next few days. Our family house is a transportable, so we opted to stay in the TV room that is double roofed and adjoins the kitchen and storeroom that is part of the original homestead. Cats were caught and moved into the pantry and the dog beds were brought into the kitchen. The wind had started to pick up a bit, but it wasn't any worse than the mild windy sort of day that usually occurs at Mallina. I was nervous but confident that we had made the right decision.
Just after lunch a police car pulls into the homestead.
"You've got to leave", they tell me.
"No, I don't" I stupidly reply. In my mind I had churned over whether to leave or not several times already and this was the decision we had come to. About two days prior the police from South Hedland had rung and checked in with me to make sure that we were aware of the impending cyclone and were getting ready for it. I had already told them that we were planning to stay and that the rest of the crew were going. Surely they would have told me then if I would have to leave or not, that was when the tracking maps had it coming straight over us as a category 5. The police on my doorstep now said they had been ordered to evacuate Whim Creek, the pub that is 20kms East of us, and were coming around to make sure all the neighbouring stations had left too. Ben was refusing to leave and while I was ready with bags packed and could have left, I couldn't leave him here on his own now that the crew had left. We were given the option of staying in the Roebourne police station with all our pets and I'm very grateful for that offer even though we never took it up.
Because they didn't specifically have orders to evacuate us they left, saying that they would phone if those orders changed. We were right on the edge of the red alert now and I felt that they were leaving things a little late. I went off to do a last check around (keeping busy is how I deal with stress). When I came back Ben had said the police had called and told us we had to leave, he had told them in no uncertain terms that we were staying. By now we were on red alert, so they weren't coming back to make sure we left, and it was too dangerous for us to travel the hour and a half to head into the town that was in the opposite direction to the way Veronica was heading. We got into the main house and my anxiety slowly crept skywards while we waited for Veronica to visit.
By Saturday evening the wind had picked up some more and the rain had set in. It was noisy inside but not too bad. Mallina can be a pretty windy place on a normal day so it wasn't anything we weren't used to. The cyclone tracking maps had changed once more and Veronica was coming much closer to us now than Port Hedland. This didn't help the turmoil going on inside my head, on whether I had made the right decision to stay or not, any better. The kids were excited to be camping in the lounge room and, because I needed to keep busy, we even had pudding after dinner. The next day we continued to watch the rain come in from an angle, the kids spent all day in their pyjamas watching movies and playing games and Ben and I placed bets on where we thought the creek would come up to by the end of the cyclone.
Veronica was the slowest moving cyclone I have ever heard of and, like a guest that won't leave well after the party has finished, she hung around awkwardly for far too long. I spent my time taking naps, reading, cooking and mopping the small river running through my kitchen and the lake pooling in the loungeroom. I had the foresight to sandbag the two doors on the windward side on the house but I didn't realise that the rain would be coming in practically sideways, hitting the doors and running down them to end up streaming through the house. Everything felt damp. Originally I thought this would give me some time to finish my artwork that I was working on for the Cossack Art Awards but the medium I was using was Pastel (chalks) and I was worried they would apply thick and clumpy-like to the paper with all the moisture in the air.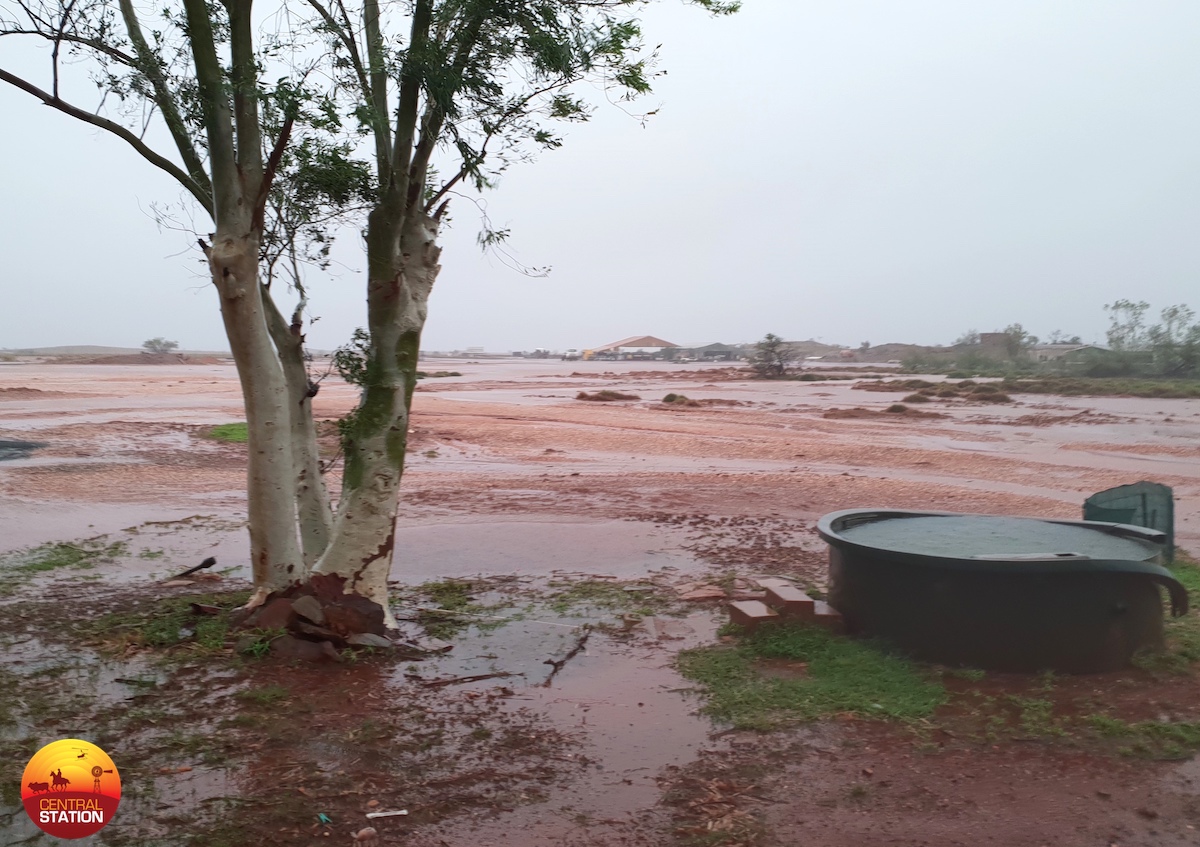 Water streaming across the flats and around the homestead.
By the end of Sunday I was so glad that we were getting towards the end of having our overstaying house guest. While the noise wasn't too bad, it was constant and it was getting on my nerves. I don't do stuck inside very well and we had been in here for 30 odd hrs now. The kids however were loving it. Stuck inside with a TV and their games, they weren't bothered or traumatised at all. I would wake from my interrupted and sleepless night with the tin roof making banging sounds as it moved in the wind and find them blissfully asleep on the sofa bed. The room they were in was the double roofed one and it was a lot quieter.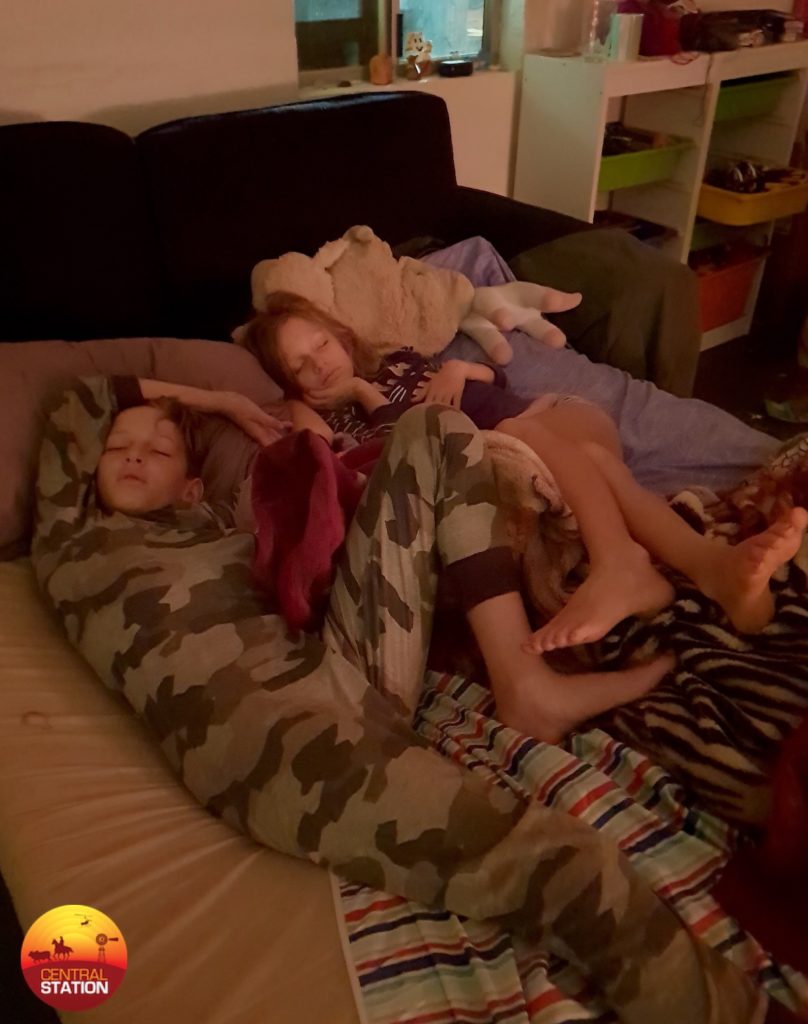 My children, fast asleep, during Cyclone Veronica.
I'd been checking the BOM (Bureau of Meteorology) site every hour to see the updated version of the cyclone tracking map in the hope that Veronica would soon be moving off down the coast and, with luck, not cross over us at all. She had never got up to the strength that she was predicted to, thank goodness, and had been a category 3 for all of this time. I went to bed that night thinking that we'd be able to go out and walk around in the morning hopefully, she was meant to move off after midnight.
When I woke on Monday the wind didn't seem to have dropped at all and I remember waking to a loud banging during the early hours of the morning. The rain and the wind continued, and I was so tired of it. I looked online to see that Veronica had done a little loop in the bay near Balla Balla, which is an old port and now a fishing spot on Mallina and was basically sitting offshore so that she could continue to harass us with the wind. I was so disheartened. By this stage the creek near the homestead had overflowed so much that it was touching the lowest part of the homestead lawn, far surpassing both of the places that Ben and I had thought it would get up to. My dog was now on his lead and attached to the sturdy kitchen table given that he had attacked our other dog in the kitchen the day before, he really doesn't do well with stress and storms. I was miserable. I was very grateful and also a little surprised that our power supply had survived for the storm so far, we had lost power to some of the rooms but were able to run extensions to keep things running efficiently. I'd been able to keep in contact with family and friends over social media and the phone was always ringing with people checking in and making sure we were ok. The kids were still happy as they could be and had now come to the conclusion that they didn't have to bother with pants given that we wouldn't be getting any visitors.
Late Monday morning the wind started dropping off and a quick look on the BOM site confirmed that Veronica had finally decided to start moving away, she'd also dropped in strength, and I got the courage up to run out to the rain gauge. It was completely full and overflowing, water was everywhere, and it was still raining consistently. Shortly afterwards we came off Red Alert and the wind dropped again, enough that I went for a wander to check on my horses, chickens and poddy calves. We'd been inside for 48 hrs now and I couldn't stand it anymore. My chicken pen was completely underwater and I discovered that I had lost all my quails as their cage had blown over (it was possibly the one thing that I hadn't thought to tie down). Miraculously one hen had hatched out a couple of chicks during the cyclone so I brought them and their mum up to the homestead to put them in a dry place and under a light to warm up and dry out. All my other animals had survived the constant wind and rain that Cyclone Veronica had brought to us.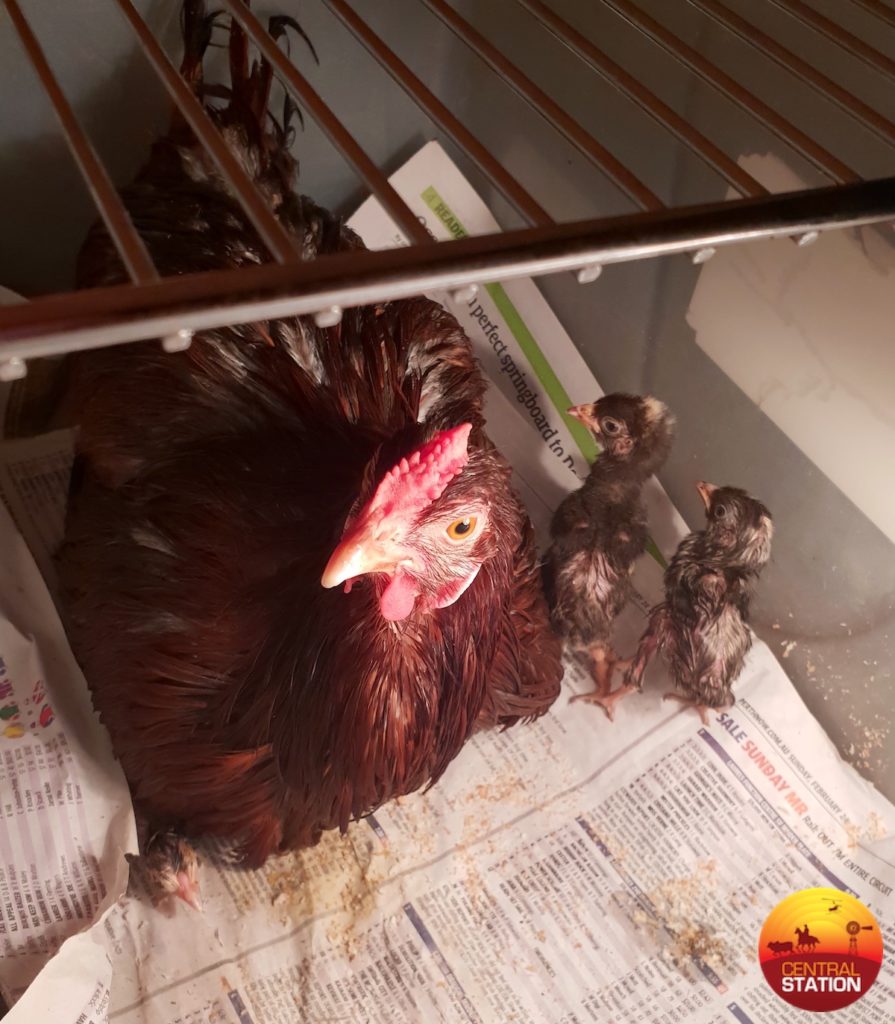 A very soggy mother hen.
It rained for another 12 hrs only pulling up on Tuesday morning. It's possibly been the first time I've been happy for it to stop raining. I'd measured just under 600 mm of rain (almost twice our yearly average) in the gauge over the last three days but who knows how much we actually had. I got to go for a fly on Tuesday and have a look at the damage that Veronica had brought. All of the flat land areas to the North and around us were completely underwater and that was after our creek had receded back to a more respectable level. Sections of the highway were under water and our roadside fences were completely flat in a lot of places.
It was incredible, awe-inspiring and more than a little devastating to see the losses in cattle. Three days of constant wind and rain was more than some of them could bare and it was heartbreaking to see that some of them had gone to the sheltered side of hills and still not been able to survive the elements. However there were plenty of healthy cattle wandering back out of the hills and I took some heart from that. Having that little bit of rain, a week or two beforehand had certainly given a lot of our cattle a better chance of surviving than if Veronica had hit without it.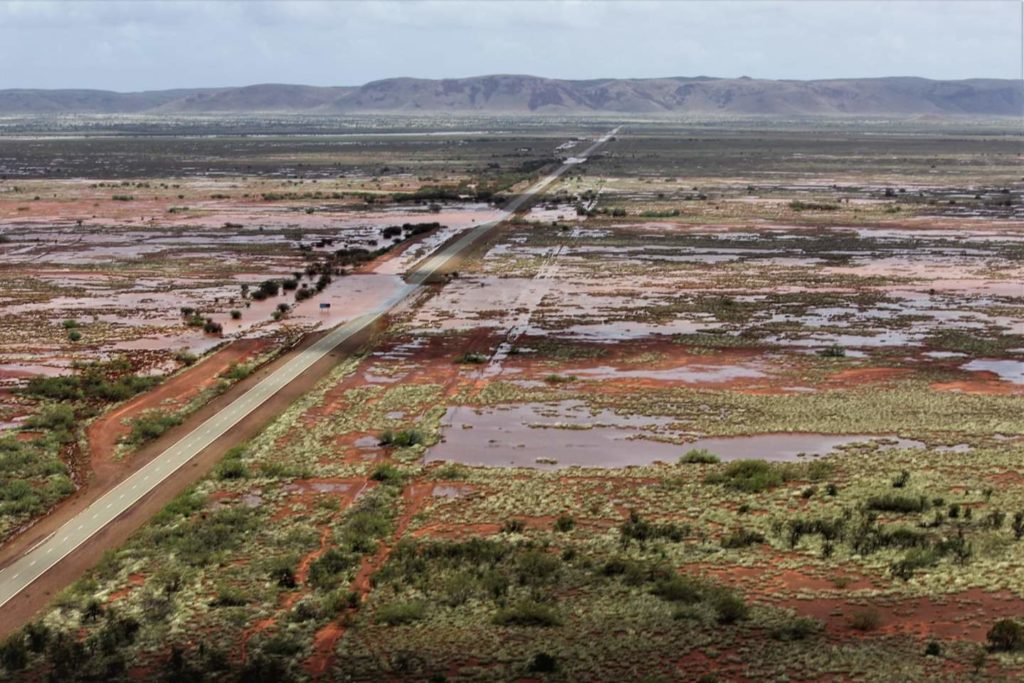 Water over the North West Coastal highway after Cyclone Veronica.
In the days afterwards the cattle came back to their regular hangouts around the homestead and they put weight on quickly with the new feed available to them. Our crew were stuck in Karratha for several more days until we managed to get them a permit to be able to drive on the closed roads and come back out to the station. We had a lot of fencing repairs to do and more than a little clean up and they were all a bit tired of sitting in Karratha doing nothing. The main road didn't open for a full week after the red alert was lifted so it was possibly the quietest it has ever been at Mallina with the lack of visitors.
The rain had given us some welcome relief after what was an exhausting, both mentally and physically, Summer. Cyclone Veronica had left us with a huge list of jobs to tackle. Despite our best efforts, windmills were damaged, tanks had moved and our station roads were completely washed out , some with holes in them big enough to lose a work ute in. However, the knowledge that the surviving cattle had plenty of surface water pooling in the rivers and creeks and in the depressions in the clay flats as well as having their bellies full of the green feed that was quickly growing throughout the property meant the constant worry over the welfare of the cattle that had plagued us all Summer had been dramatically reduced.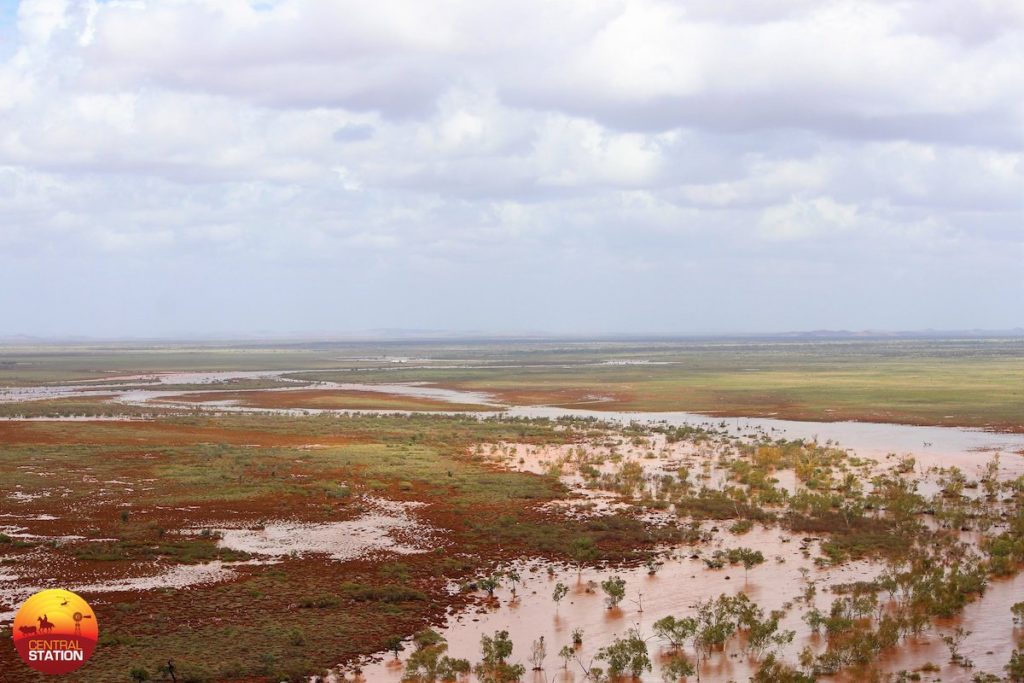 Water overflowing from the Poverty Creek which runs past the homestead.
We sustained a small amount of damage during the cyclone. Because of the rain coming at us almost sideways, it had worked its way under some eaves to cause water damage to one of our buildings. The huge bang we heard on the last morning turned out to be a section of the schoolroom roof that had peeled back. The school room itself is a transportable so it still had another roof underneath meaning it wasn't affected at all and much to my children's dismay we were able to start school again on the Wednesday.
Despite my initial nerves and anxiety over wondering if we had made the right decision to stay during Cyclone Veronica's visit, I am glad we did. With the roads being closed as long as they were I would have been a mess if I was stuck in town worrying about my horses and other pets who needed fresh, dry feed after so many hours of rain and wind. In saying that I also have a new found respect for mother nature in her ferocity and I have an excellent cyclone plan ready to go for the next one!
Comments