Host: Yarrie Station
Written by Martha Lindstad, Stationhand, Yarrie Station
"Go up north and find yourself some handsome young cowboy", is a saying quite a few young girls hear when they decide to work on a station. Is it really that easy, finding someone and dating in the bush?
When I first arrived at Yarrie a couple of years ago, I had no plans at all finding myself a man. I was going to work on a station, learn new skills, ride horses and muster cattle. A guy simply didn't fit into my plans there and then. I might have changed my point of view slightly since then, and realising now that the handsome young cowboys you ride into the sunset with, does not exist. In fact, there are not many options at all.
The first three months, my other female colleagues were all about the neighbouring station boys. "My god", I thought. I really could not be bothered. There were so many other things I had on my bucket list to do up here. Shagging an Australian cowboy was not one of them. And I was only here for the season. No point getting involved in anything. Despite that, one night, after a couple of glasses of wine, I decided to do a comeback on the dating app Tinder. Maybe there would be someone out there? Having not used Tinder since I was back in Norway, my radius was set on five kilometres. Well, five kilometres doesn't reach much further than the river gate at Yarrie. Turned it up to 20 kilometres. I knew the nearest station was 17 kilometres down the road, but clearly no Tinder users there. 80 kilometres however did the trick. Couple of blokes from another neighbouring station came up on my screen. However, the boys that came up had already hooked up with some of my crew. No way.
I went all in and maxed it. 160 kilometres. I started getting truck drivers from the Great Northern Highway messaging me. A one night stand in a truck at Pardoo Roadhouse? No thanks, not for me. On my next town run to Port Hedland, I happened to open the app. This was my chance. Heaps of handsome blokes. I was hooked, swiping right and left in between picking up mechanical parts, swapping gas bottles, getting tyres repaired (I think I even matched with one of the workers there), and picking up grogg & stores. I headed home with some more hope. However, mustering is busy with not many days off, little time in reception and when you do have reception, you prefer catching up with family rather than texting some random guy you've never met, and probably won't meet in the next couple of months anyway. Tinder was put on the shelf for quite some time.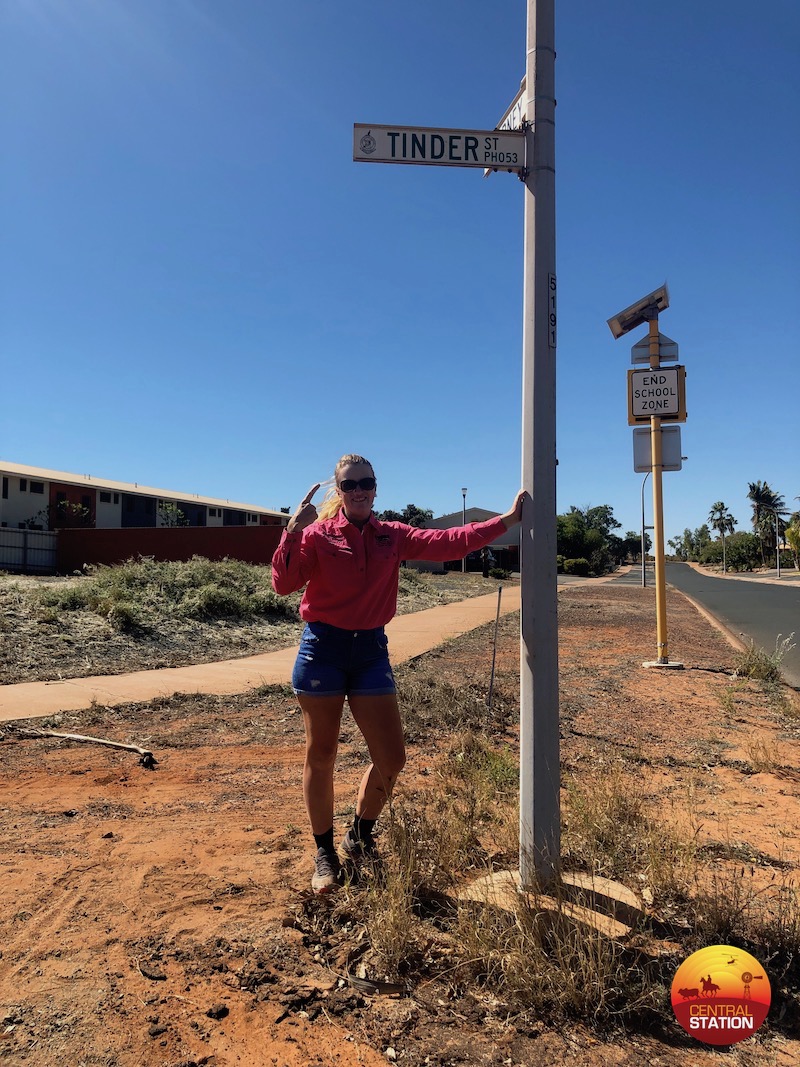 Hanging out on Tinder street in Port Hedland. No luck.
July arrived, and so did the Marble Bar races. A mad weekend with a lot of fun involved. New technology is not needed there, the old fashioned way still works. Talking to blokes in person, dancing and whatever the night brings. Fantastic. The weekend went way too fast. As a wise woman once told me: "If you can't get a root at the Marble Bar races, there's something wrong with you".
Dating in the bush is challenging. If you meet someone that isn't from the station you work on, chances are the one day off you both get a month doesn't align and there will be a six week interval between each date, if you can call that dating. Everyone is so busy, that it is hard to make things happen. However, if you happen to meet someone that doesn't work on a station and has ample time to come visit you on the station, good luck having them return after all your crew members have interrogated them.
Being a station hand you'll get your hands dirty. Greasing up the tractor is necessary, but probably not the best preparation for the races. I spent 30 minutes washing my hands, but still couldn't get rid of the black spots under my nails. Even though nail polish covered up the worst, my date still questioned the black spots.
The odd chopper pilot comes past the northern stations every now and then. Maybe the worst thing for a young jillaroo? Who doesn't get carried away after being taken on a chopper date? Going to the movies is sort of nothing after that. The quickest way into a station girls heart, but also the fastest way to break her heart when he heads off to the next station. "Don't get hung up on pilots", was an advice I got. Probably a good one to pass on. Going to movies isn't too bad after all.
Fast forward two years I'm still at Yarrie. I haven't found a handsome bloke to marry, that can sort a visa out for me. Turned out I was way better off relying on Annabelle as an employer sponsoring me. Thank the lord for that, if not I would not be here. I've been back and forwards between Yarrie, Norway and New Zealand for the past three years. Now I'm finally here, got a two year visa and can't wait to see where it will take me. Tinder's deleted (for now), but I'm considering putting an ad on Gumtree next year.
Unless you find love at work, or have a bunch of hot cowboys from next door visiting regularly (which only seems to occur on McLeod's Daughters), it's not easy dating in the bush. In saying that, I'm probably not the prime example in such case. I hope others have better luck. But if you are half handy and looking for something, you'll find some single girls at Yarrie for the next couple of years.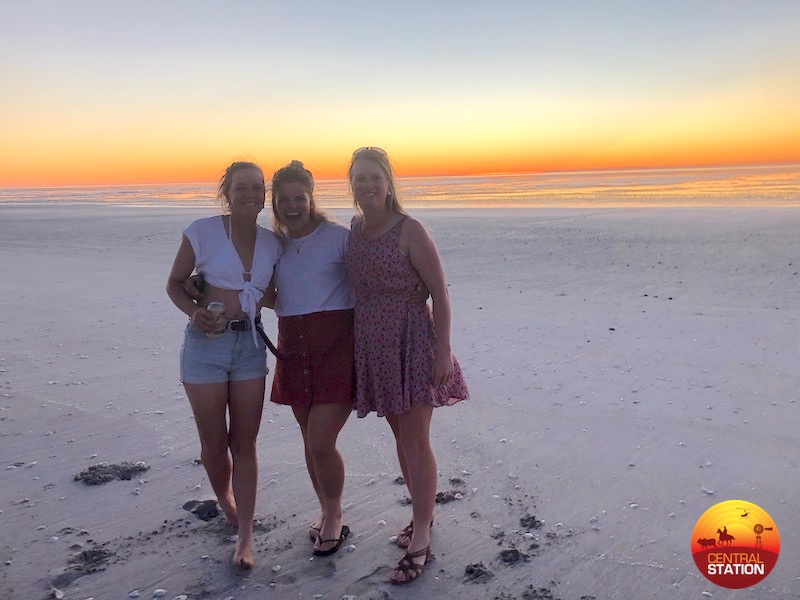 Three single Yarrie girls enjoying the sunset at 80 mile beach.
Comments