Host: Yarrie Station
Written by Tara Shiels, Stationhand
Why did I move from the high altitudes and rolling mountains coated in rich green gums trees, icy waterfalls and the glistening sandstone cliffs of the Blue Mountains in New South Wales to red dirt plains further than the eye can see? With sandy river beds lined with beautiful trees and both sunrises and sunsets illuminating the tips of every spinifex on this 500,000 acre property, it's quite a sight to see every day in the East Pilbara region of Western Australia. From one wonder of Australia to another, many from home thought I was crazy (and I mean they aren't wrong!) but sometimes you just need something different and I have found just that.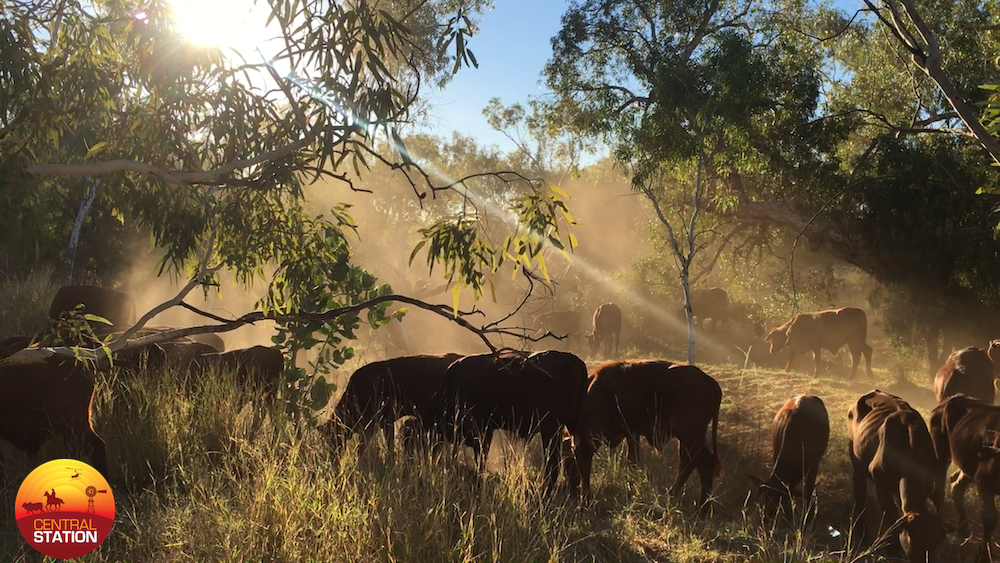 Grazing in the River Paddock.
Being a town girl, hot water meant turning on a tap. Now it's setting a camp fire to boil a billy or stoking up the donkey. Using a toaster doesn't just mean flicking a switch, now it's a generator coming on before 5am each morning only metres from your bedroom. Forgetting groceries from the supermarket used to mean a 5 minute walk, but not here, a 3 hour drive means you definitely don't want to forget the bread and milk!
At home if I ever got a flat tyre my mum always told me to ring NRMA and wait in the car for assistance… good luck trying that one out here, you might be waiting a lifetime! Instead it always happens on the days when you have a million and one things to get done, so it's more like a timed mission. Jack that car up, pull the tyre off, pray the spare was checked, get it on and away you go. Then what does that afternoon entail, you guessed it, tyre repairs! It has for sure been an experience, one where a helicopter landing next to your camp, showering from a bucket, being covered in dirt, grease and cow poo all before 7am each morning and cooking on a camp fire each night is all normal.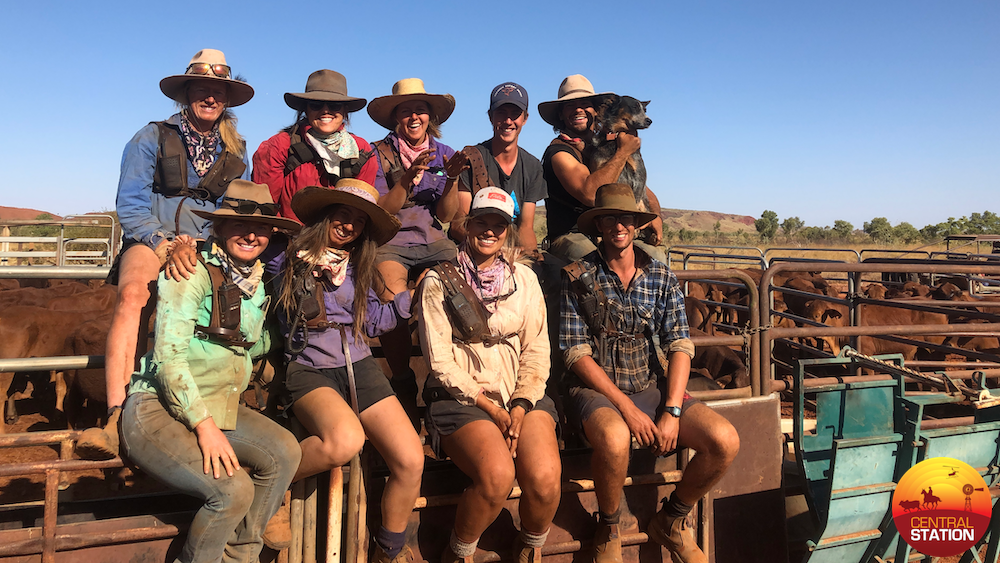 My Yarrie Family.
Swapping spinach for bread, almond milk for long life milk and tofu for red meat (Oh I'm such a town girl!). Luckily, peanut butter has remained a constant and I'm not alone here on that one! Upon arrival the adjustment to a new way of eating was going to need to be a slow one. Don't get me wrong the food here is absolutely delicious but very different to what I'm used to. What can you expect when you spend all day producing beef… beef for dinner every night (lovely beef might I just add!). As our Mexican, David, would say "What's for dinner? You know the answer – beef!". Our cooks are all so amazing and come up with some mouth-watering roasts and curries. Comparing food babies after every meal speaks for itself!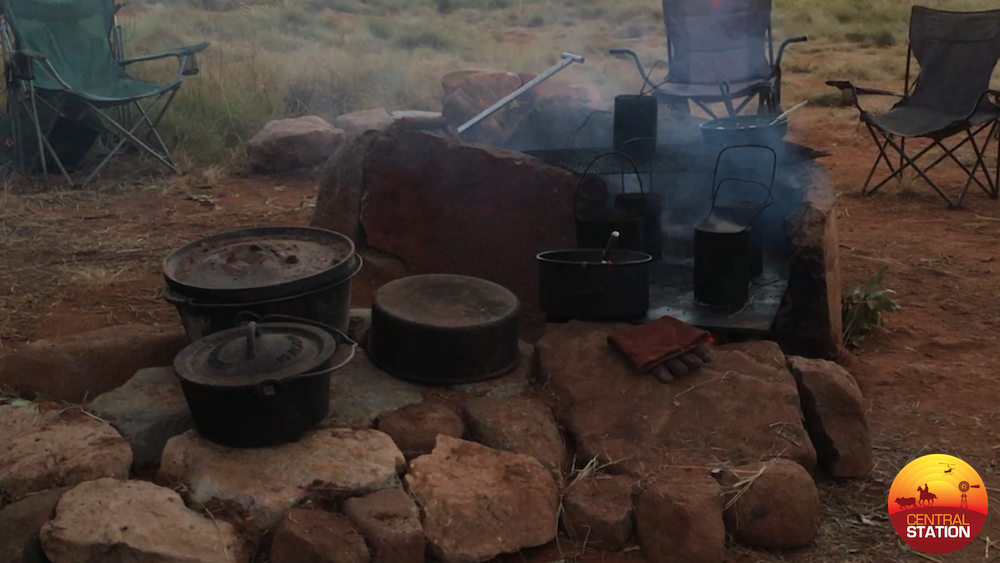 Our Camp Stove.
Starting work when the sun rises and finishing when the sun sets. Long days, tiring hours, sweaty minutes and rewarding moments. Our days can consist of anything from mustering cattle to cleaning troughs, feeding hay to wood runs, loading trucks to caring for calves and so much in between. The list is never ending, no really we have a list that never ends on WunderList!
When living in town, jobs are mostly indoors, the classic 9-5, everyone goes to work, gets it done and goes home. But it's safe to say that working on a station is more of a lifestyle, we live and breathe this work, you have to love it, there is nowhere to hide if you don't. Luckily for me I couldn't have ended up in a better place to learn, it's amazing how far a little teamwork and understanding of each other can go.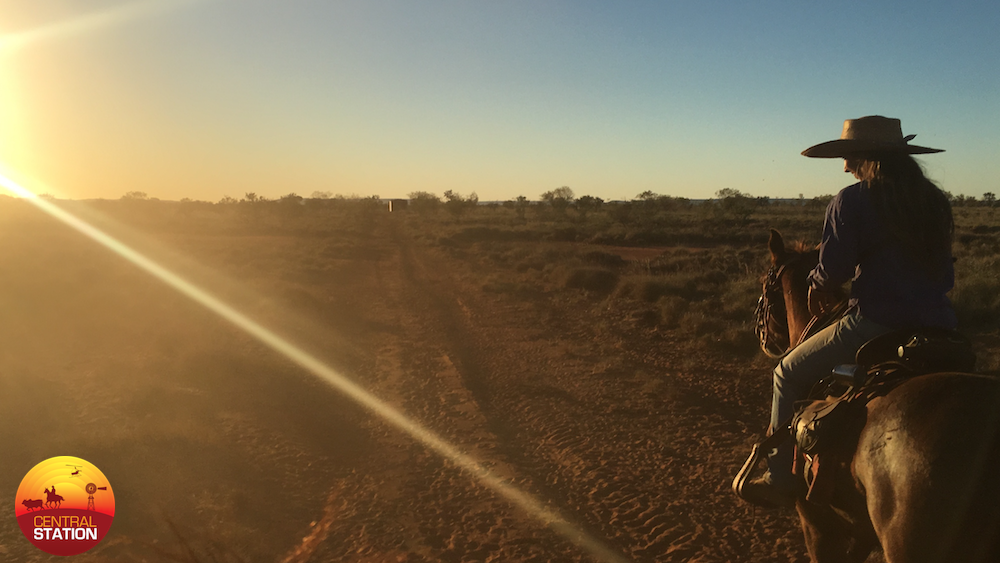 Riding Back from the Paddock at Sunset.
The only people I had ever lived with before coming to the outback was my family. Naturally, the idea of living and working with the same people, who I had never met before, for months on end, at the opposite end of the country seemed a little daunting. Who would have known that they would be some of the loveliest people I have ever met! Each with their own characteristics and quirks, we all got to know each other pretty quickly. I can tell you it wasn't long before every dinner time conversation would lead to something about our shit holes, if that's not the epitome of comfort I don't know what is! These people have gone from strangers to a family to me, we have turned into more and more of a family unit each day.
We all have a bit of Camp Mum inside –  looking after everyone, making an extra sandwich for someone or doing a water run to fill up everyone's drink bottles and always checking in to make sure we are all still doing ok. We all have a bit of Knowledgeable Father in us – passing on all the wise tips and handy tricks that we have definitely learnt from doing things the wrong way a few times. And of course a little Cheeky Sibling in all of us – the funny comments, running jokes and knowing exactly how to make each other laugh.
We all have a bit of these family dynamics in us that makes us such a good team and it keeps things interesting. My Yarrie family has taught me so much more than I ever could have imagined, with the immense amount of patience and dedication to showing me the ropes around the station, and for that I am so grateful!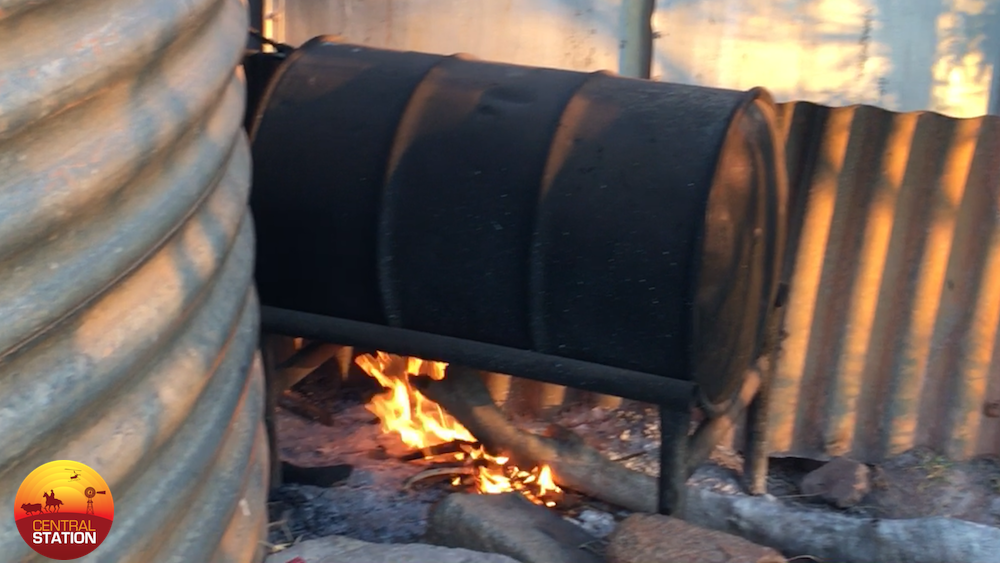 The Donkey – Fire under a barrel makes our hot water for shower!
Not going to lie, it has definitely been an adjustment but one that I have loved he process of learning, it is exactly what I had hoped it would be. Removed far from the hustle and bustle of town life to our own little bubble of organised chaos.
Comments