Host: Latrobe Station
Written by Jody Brown
While writing my previous blog entry, One for the Women, I came to the realisation that what began as a brief shout out to an irrepressible woman and her extraordinary escapades, would actually require a little more elbow room than one paragraph allowed. The following words hardly do their subject justice; but they will, I hope, offer a brief glimpse into a dynamic and evolving world, where cultures mingle, adventures abound, and cattle make bold voyages of their own. 
A treasured mate of mine, Fiona Baird, has an exceedingly colourful tale to tell, of life in the northern cattle industry. Originally from New Zealand, Fi launched into outback station life as a cook and worked her way industriously upward to become head stockwoman of the weaner camp at Dunbar Station, Cape York, before moving on to various other roles from ringer, to contract musterer to overseer. 
Fi with the "international" crew at May Downs, 2005, where her northern cattle career began. She started there as a cook and six months later moved into the stock camp.
We first met while working in seperate contract mustering teams at Vanrook Station, in the Gulf. I was on a motorbike, ready to lend a hand to the other team in walking some cattle away, when Fi Baird bounded off the truck, with her horse in tow, a wide smile and a big "Hola!" She immediately struck me as vibrant, friendly and big hearted, and over the years I have come to recognise how courageously independent and very capable she is. 
Fi later migrated from the stock camps of the north to the cattle boats of the live export industry, rising to the top of her field. She became a highly sought after onboard stocklady, with a keen eye for animal health and well being, and a proven record of putting weight on cattle while in transit.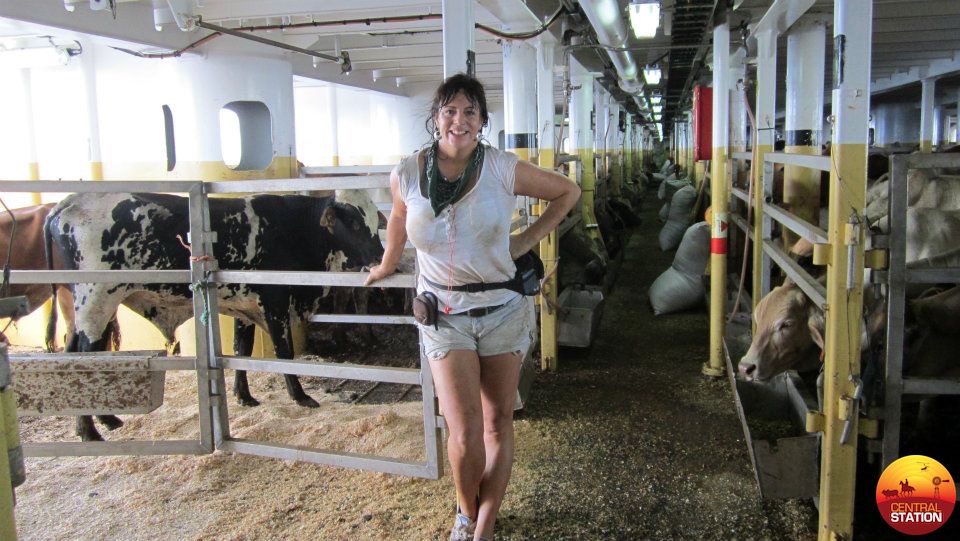 The number one priority of Fi's role onboard is to make sure the cattle are as comfortable and healthy as possible for the entire journey.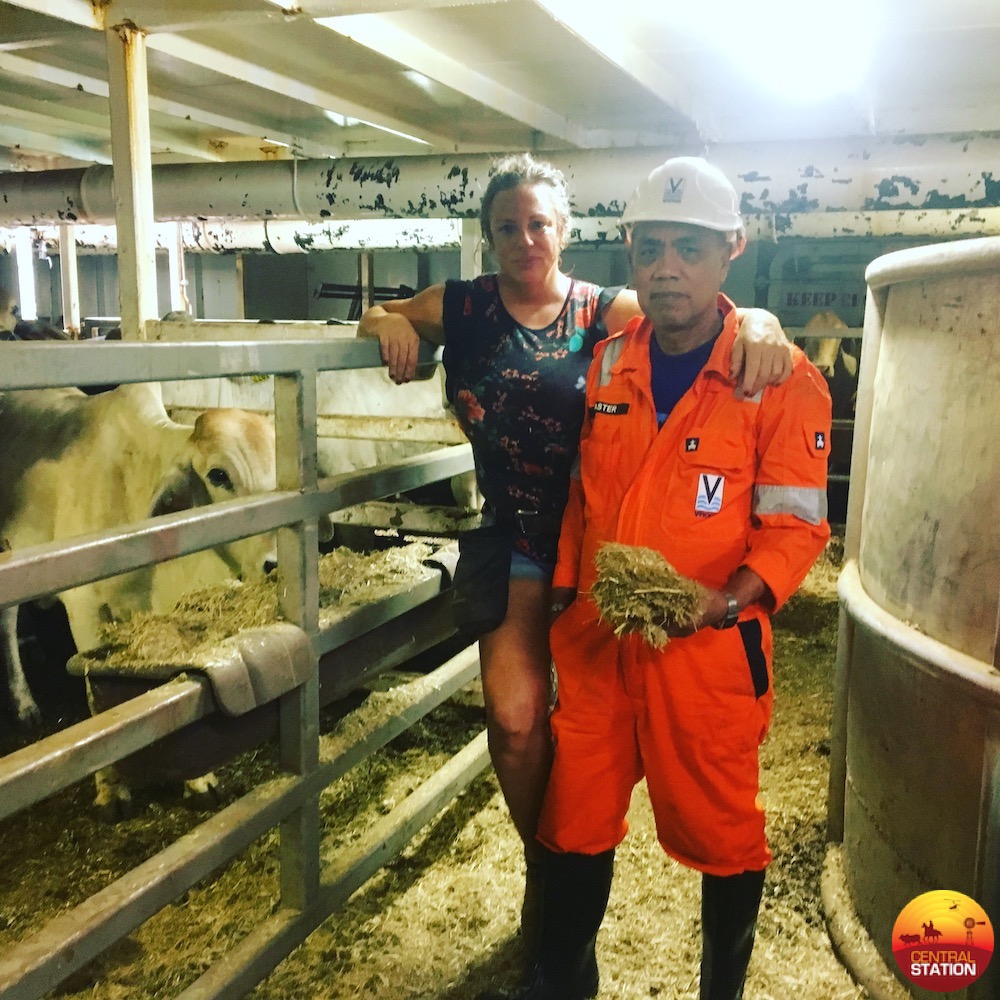 Fi on a cattle boat with Captain Parades.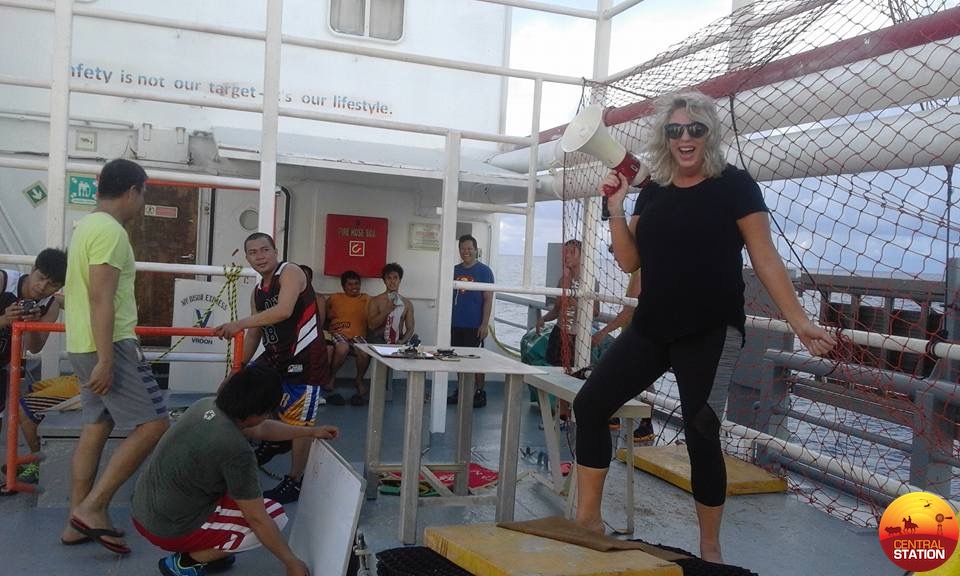 Keeping spirits high aboard ship!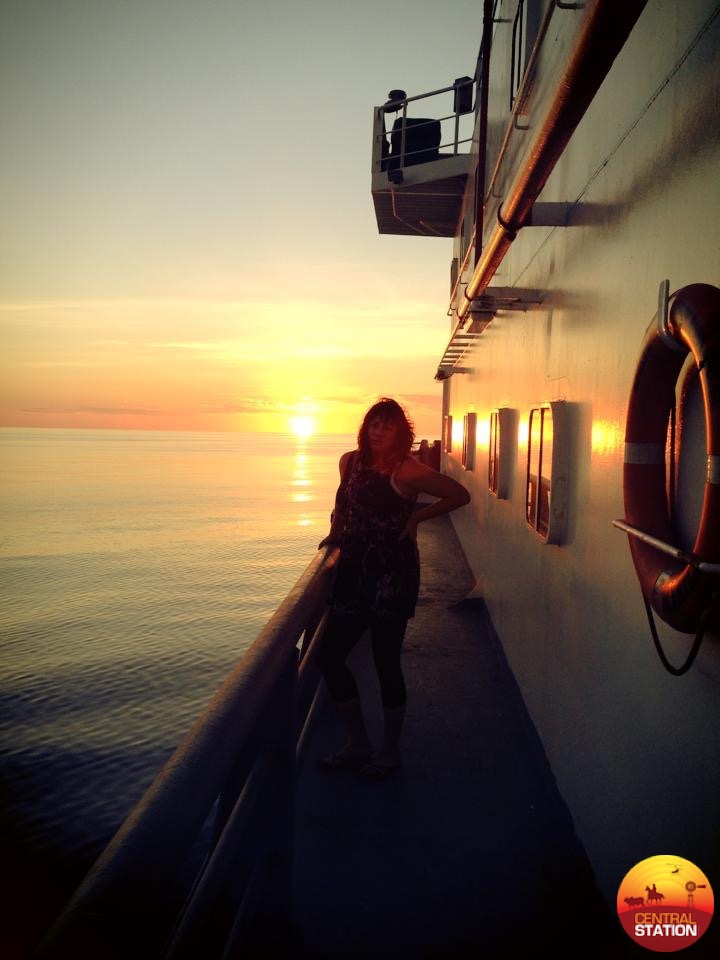 Enjoying a beautiful Indian Ocean sunset.
With dedicated support from her employer in the export business, Halleen Australasian Livestock Traders, Fi began to educate industry workers in Indonesia and further afield throughout South East Asia on livestock husbandry practices, with a focus on prioritising and improving animal welfare.
She is extremely passionate in regards to treating animals with respect and dignity, and has the gumption and grit to not only speak her mind on this front, but to roll up her sleeves and get involved on the ground. She is creating change through training and education, mentor work, and the development of healthy and respectful workplace relations. The work Fi continues in that field to this day, makes me very proud to know her.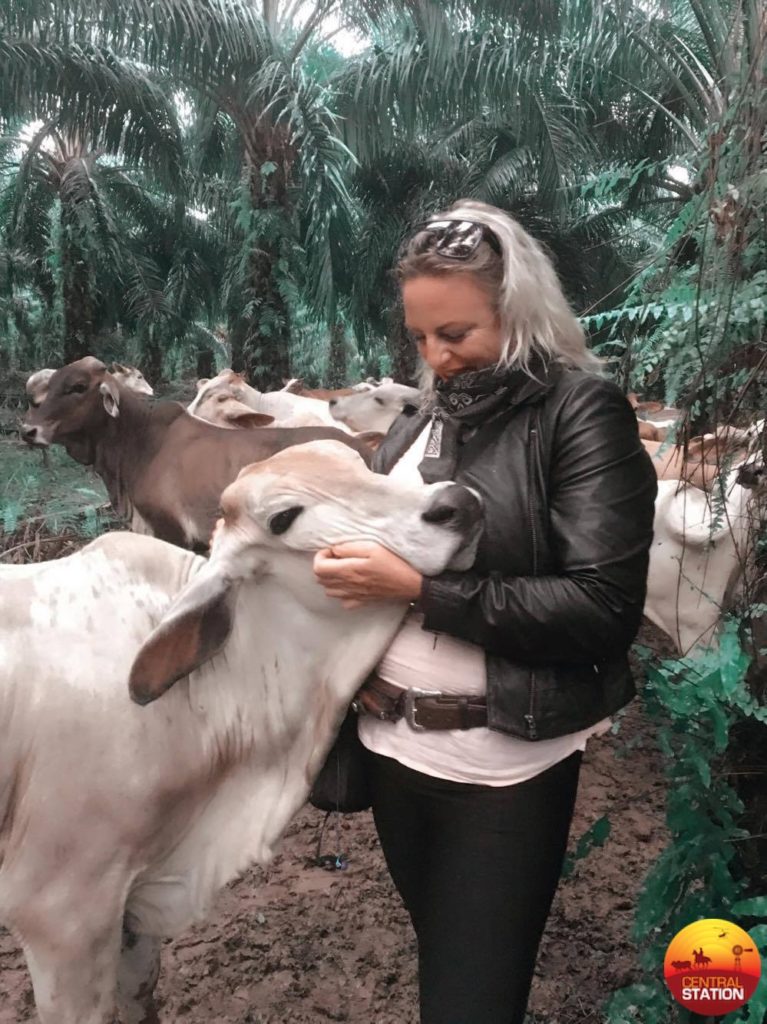 An affectionate brahman, feeling the love.
Fi still works boats, trains industry workers, and mentors women in the business, but in between all of these quests (and running her own fashion business) she plays a pivotal role in an advisory and training capacity, at a breeding and feedlot operation at Sulung Ranch, in South Central Kalimantan. 
In 2014, Fi delivered a herd of 2,000 brahmans from the Top End to Sulung ranch, nestled deep in the Borneo jungle. She then took up the position of Livestock and Operations Consultant, advising and working alongside two local managers. She trained staff and, in conjunction with the managers, set up feedlots, calf pens, a hospital pen and a weaner training program. The weaner training is done by both men and women, with a focus on creating a respectful relationship between animals and humans. A local woman runs the calf pen and hospital pen, caring for any orphans or animals that need extra attention. Again, a considerate mentality towards animals was a major cornerstone of the training that Fi provided across all of these endeavours.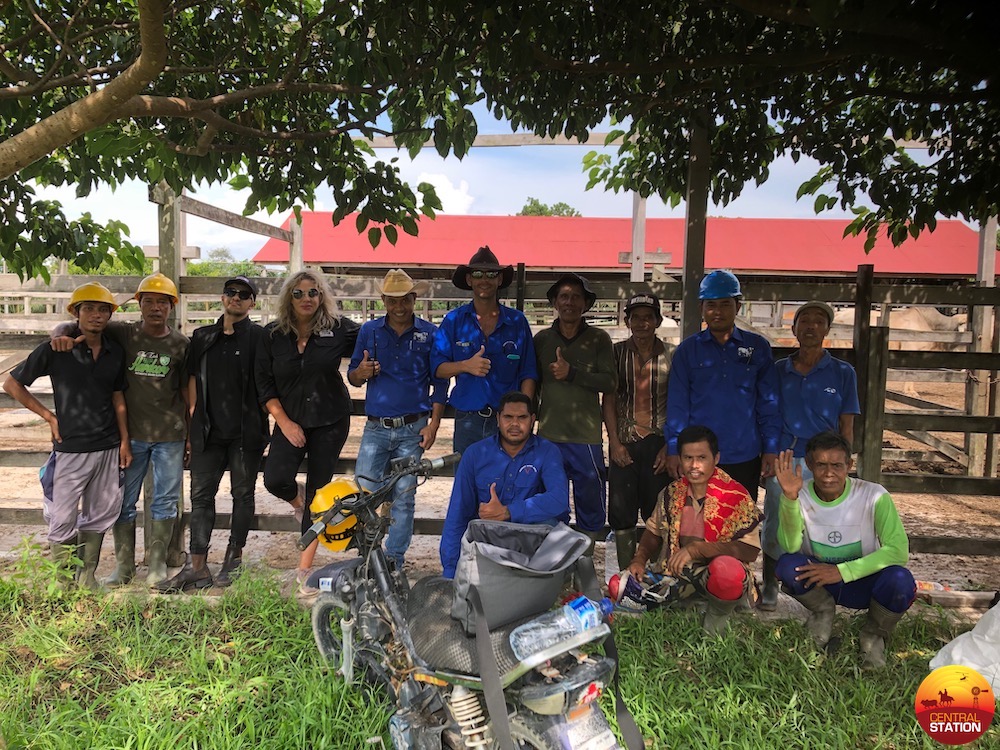 Fi and crew at Sulung Ranch, 2019.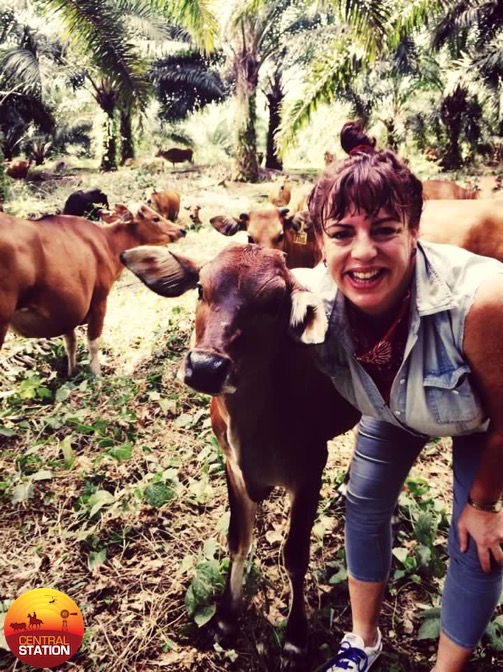 Fi in the jungle with one of her beloved bovine friends. It takes kindness and care to build a rapport like that, and Fi Baird has that in spades for the cattle under her wing.
Horses aren't generally used to work cattle in Indonesia, but Fi set up a team and showed staff how to start or 'break in' horses. They began with five wild brumbies; they now have nineteen educated horses, and are starting another two fillies at the moment.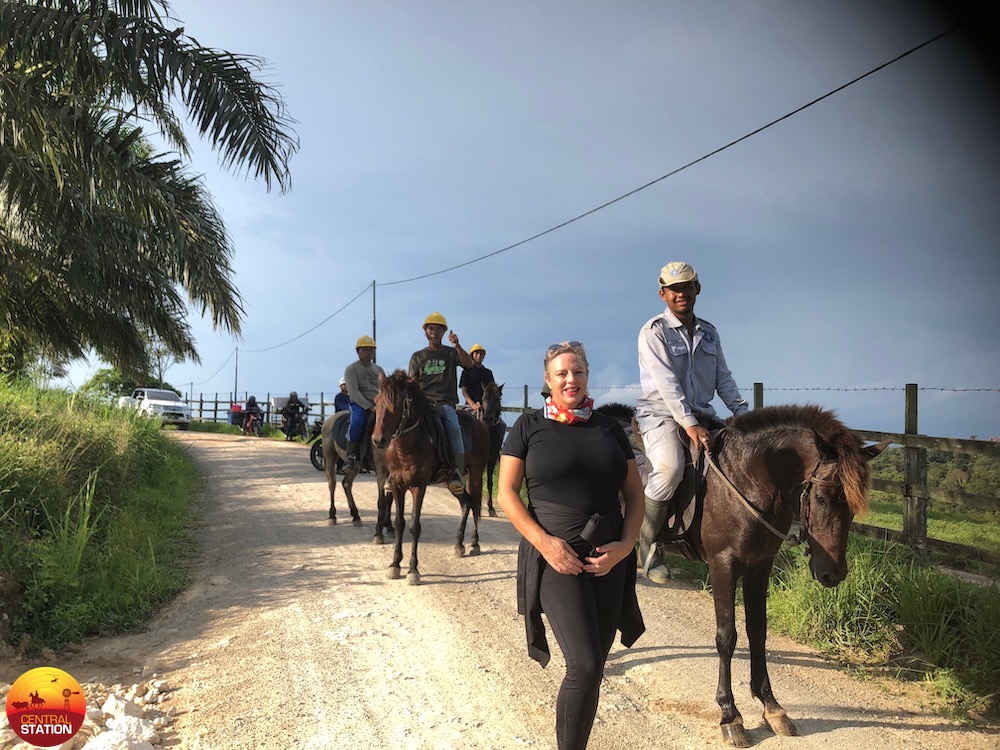 Fi with some of the Sulung Ranch horse team.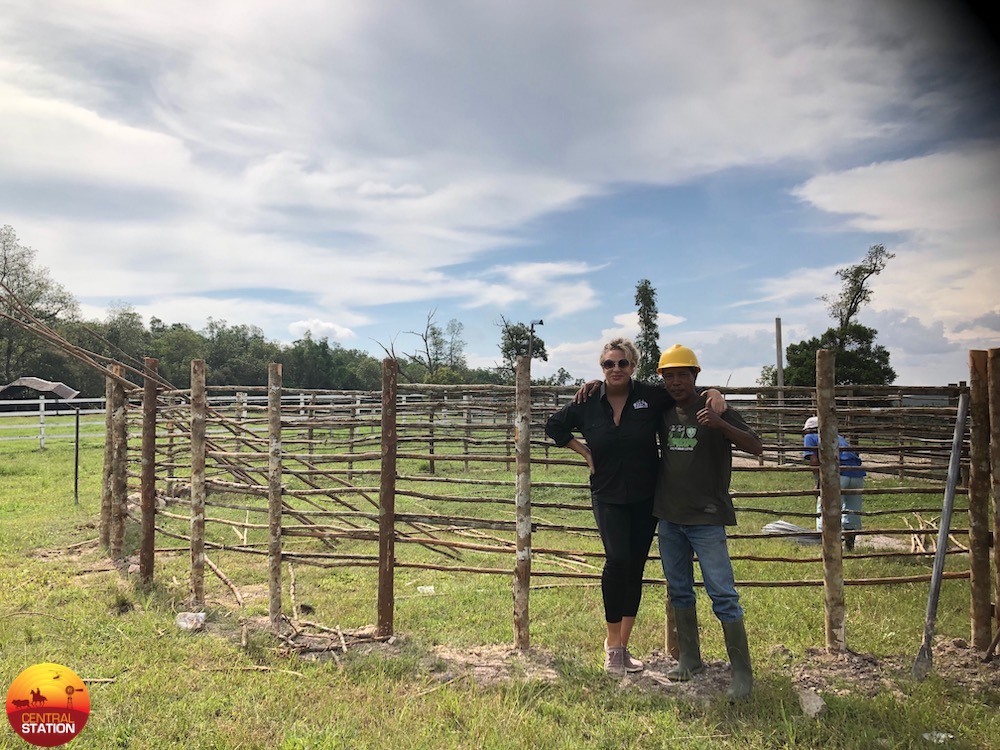 Building a new round yard at Sulung Ranch.
Fi began a gymkhana in 2015 to encourage the staff and give them an opportunity to celebrate their horsemanship skills. It is the only gymkhana in Borneo, potentially the only one in Indonesia (with the possible exception of Sumba Island) and getting bigger and better every year. The gymkhana and the utilisation of horses in managing the cattle, was completely Fi's initiative, of which she is very proud – and rightly so.
All of the mustering is done on horses; something Fi spent a lot of hours doing in the northern stock camps of Australia. This horse based approach has made a marked difference in the behaviour of the animals and the efficiency of the operation, and sets Sulung Ranch apart from other breeder projects in the region.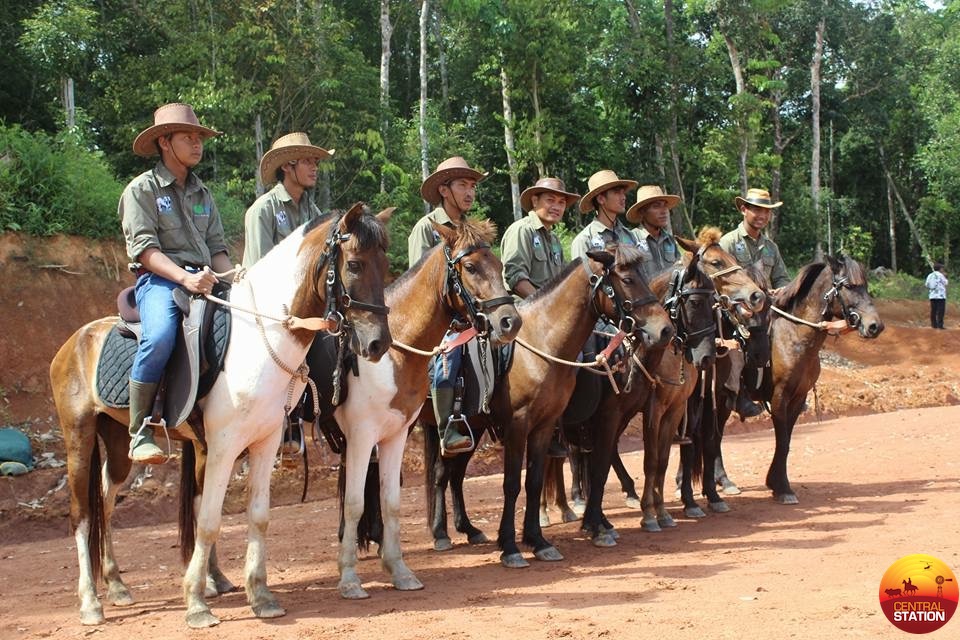 Competitors lined up at the Sulung Gymkhana.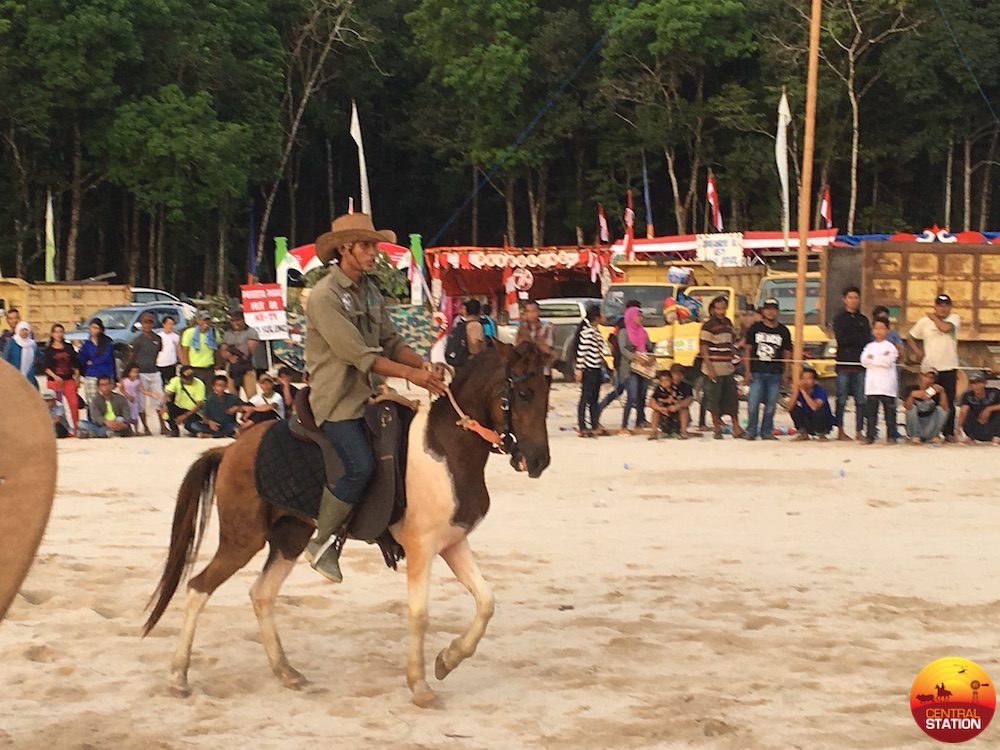 A colourful crowd gathering to watch the action.
In her endeavours, Fi has touched and transformed the lives of many people and countless more animals. The results speak for themselves; the health and contentment of the cattle under her watch, and the happiness, respect and enthusiasm of the people that she has worked with, are testament to the fact, that differences in culture, background and religion – not to mention language barriers – do not preclude success in achieving goals for the greater good. 
You can build a better world when you embrace diversity. It's a matter of skilfully navigating the channels rather than struggling blindly against the current. But make no mistake: the progress and the triumphs have not come easily, or without dedication and sacrifice. Charting the dynamic and sometimes turbulent social waters of a foreign country, and challenging the boundaries of a male dominated industry, are not trials for the faint hearted. Luckily for our industry, Fi Baird is not lacking in that department. And besides, she has goals to kick.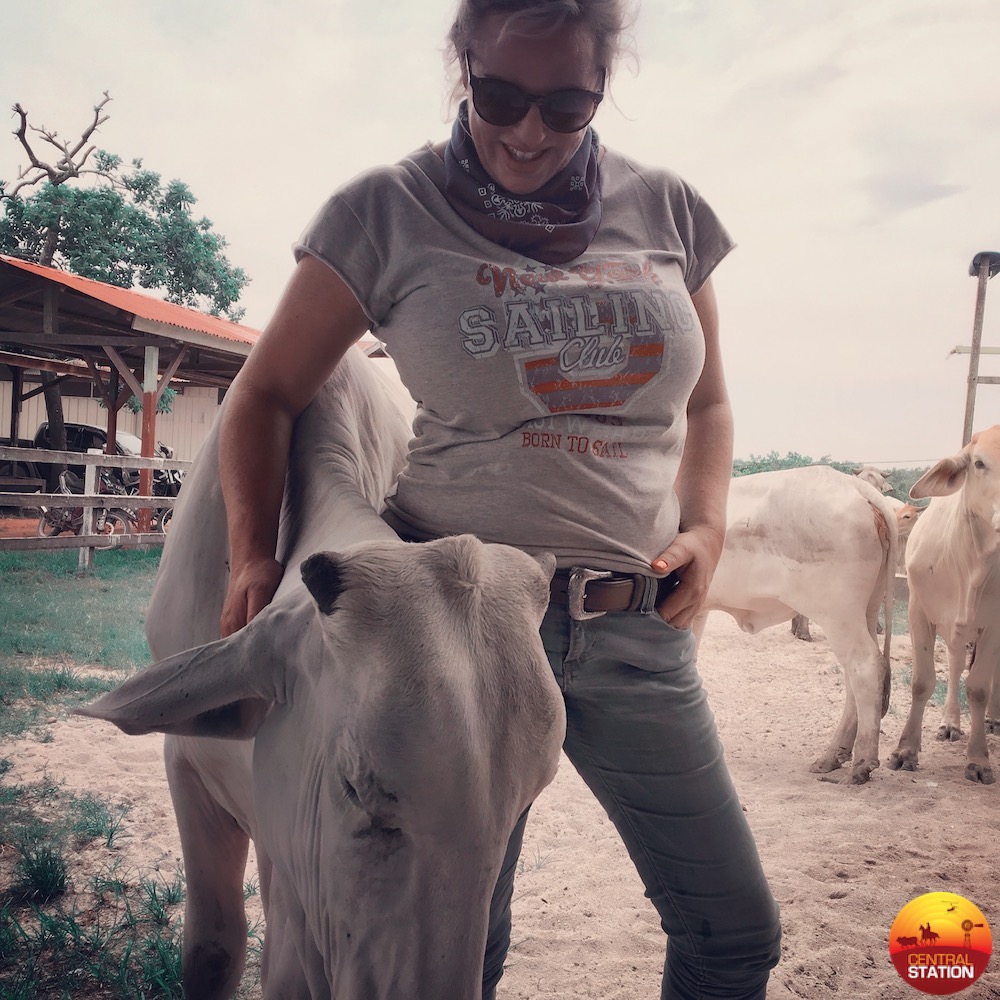 Fi with one of her mates at Sulung Ranch.
Comments