Host: Anna Plains Station
Written by Greta Stonier, 2017 Crew Member.
After finishing school, I had no idea what I was going to do with myself… I applied for a few local Sydney Universities, an apprenticeship with the AFL head office, and to a recruitments company for cattle stations on the northern end of Australia.
I received a job offer from Anna Plains Station in WA, only a couple of hours south of Broome, but I was still unsure if this was what I wanted to do. I spoke to a few people, mainly men who had been jackaroos and realised I'd definitely regret it if I didn't give it a go. Besides, I thought, if you hate it, just come home.
No one – including myself – thought that I would last the entire year.
So, I flew over to Broome and started working in the Kimberly on a property just less than one million acres with around 20,000 head of cattle. Anna Plains stretches from the shores of the Eighty Mile Beach to the Great Sandy Desert and is the most remote and beautiful place I've ever seen.
Every morning we would wake up to a delicious cooked brekky, feed the poddy calves and then set off to our assigned jobs for the day. Being a city girl (well actually a beach girl) I had to learn fast. Pliers were thrown my way, and soon I was dreaming about fencing. I learned how to drive a manual, tractors and a whole lot about cattle. Ear marking and tagging, injecting needles, dehorning, pregnancy testing and drenching. It all became second nature to me even though I had started off by not even knowing what they meant. I even had the opportunity to be taught how artificial insemination works, and prepared the straws and other necessities for the vet to be able to inject the heifers. It soon fueled my growing passion for a rural lifestyle like I had never imagined.
Having my family come to visit me for a week in the middle of the year was in some ways very strange, as it made me realise how deeply I had adapted. Our visits to the traffic light-less town of Broome seemed a long way from Sydney, and the Broome races outclass Sydney's any day. I plan on going back just for the rodeo and the Broome cup weekend, especially to watch all the stations hands in the bull ride, like they did last year.
In the dry season, we encountered a couple of bush fires, which was a serious eye opener for me. Learning how to deal with fire in such a situation made me realize the importance of protecting our land and cattle, and what it's like to be in such a life-threatening situation. The heat of those days was nothing like I've ever known and I definitely don't miss them, I can still almost feel my eyes well up from the intensely hot temperatures.
I was able to gain an understanding of the business side to the cattle and agricultural industries, learn from big animals vets, as well as discover the huge demand for jobs in the indigenous communities and the outback. By the end of the year it was clear to me that there was no way I would be happy with my original choice of Health Science at university, so I decided to jump ship and applied for a Bachelor of Agriculture in rural NSW.
Although I absolutely love what I am doing now, I think about my year on Anna Plains every single day. The simple things like feeding my favourite poddy calf Barney, and beers and banter after a long day's work while watching the sun set over the ocean (which I had never seen before). I don't think I realized how much I would miss it, and how the image of the crew having a quiet drink all together, chatting about the day's activities and laughing about the stuff ups, would stick so much.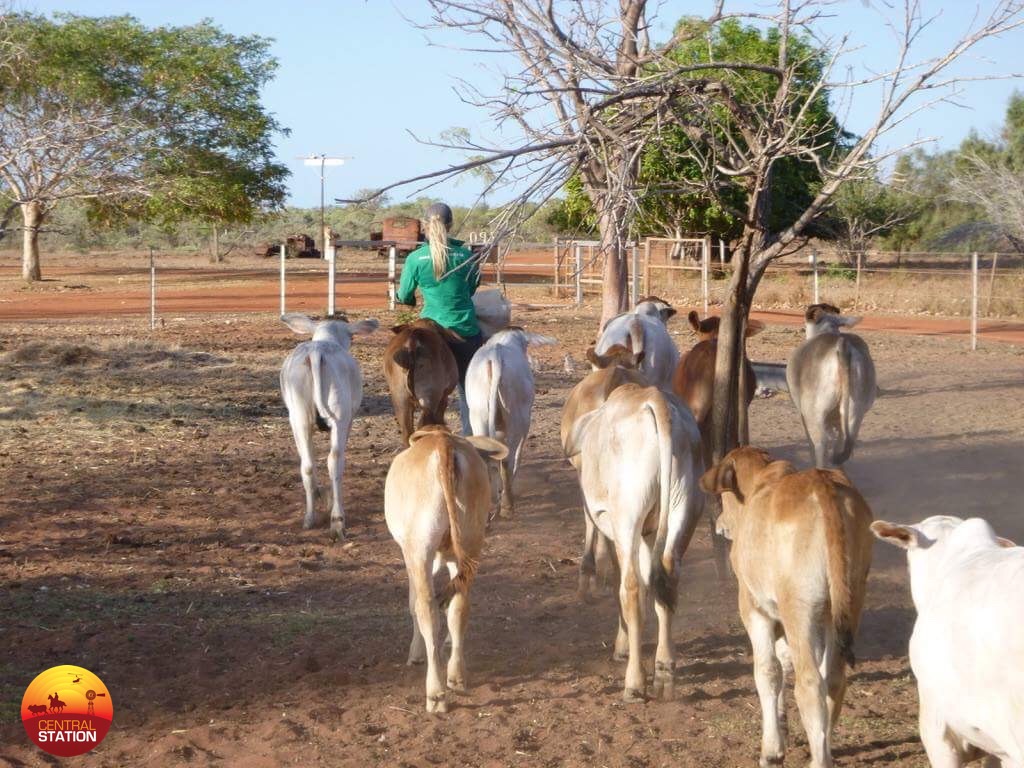 Sundays were also a favourite, especially when we all went fishing and brought back enough Threadfin Salmon to cook a fresh dinner for the crew – a treat that I never would have imagined when thinking of going to a cattle station.
When the 10-month season finished, it was time to head home. Driving across Australia with the two mates that had become like brothers to me was another adventure I'll never forget. It's obvious that exploring our own backyard was not only a challenge, but a source of the most unexpected memories. I mean it was great to get home and be able to sleep in, but I actually miss those 5am starts. The self-fulfillment of getting jobs done and seeing progress you have made to help a company develop is hard to leave behind.
The dust in the eyes definitely hasn't been missed, but the satisfaction of seeing the dirtiness of your snot in the shower after a long day doesn't compare to any of the snot rockets in the city. No matter what situation I have come across since my time spent at Anna, I know that after having to handle barbed wire bare handed, dehorn cattle, or fix a ute, I should be able to do anything.
Comments