Written by Maddie Johnston, Governess –  Mount Sarah Station
My name is Maddie and I'm the luckiest govie alive to have a job on Mount Sarah Station with Kirsty and Cameron Williams. I supervise two of the four children with their schooling through Port Augusta School of the Air (SOTA) with their classroom teachers located nearly 900km away.
Last year I had Lucy, 7, completing year 2, and George, 5, completing Reception (transition) and these two together are like chalk and cheese in the school room. Before starting, I had no idea what I was getting myself into being a governess… but it is safe to say I have loved every moment of it and I can't wait to see what fun we will all have in 2020.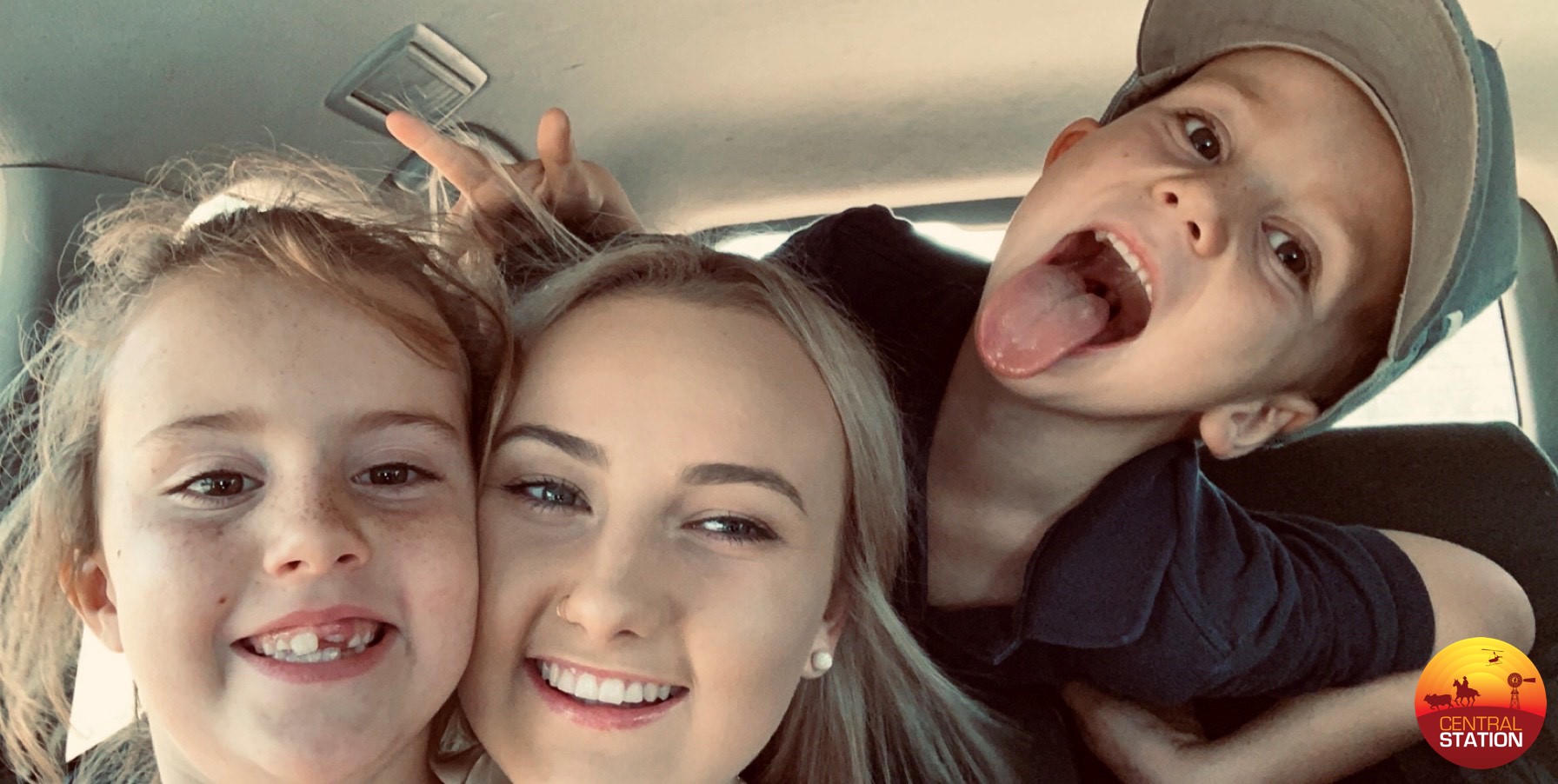 Myself with Lucy and George.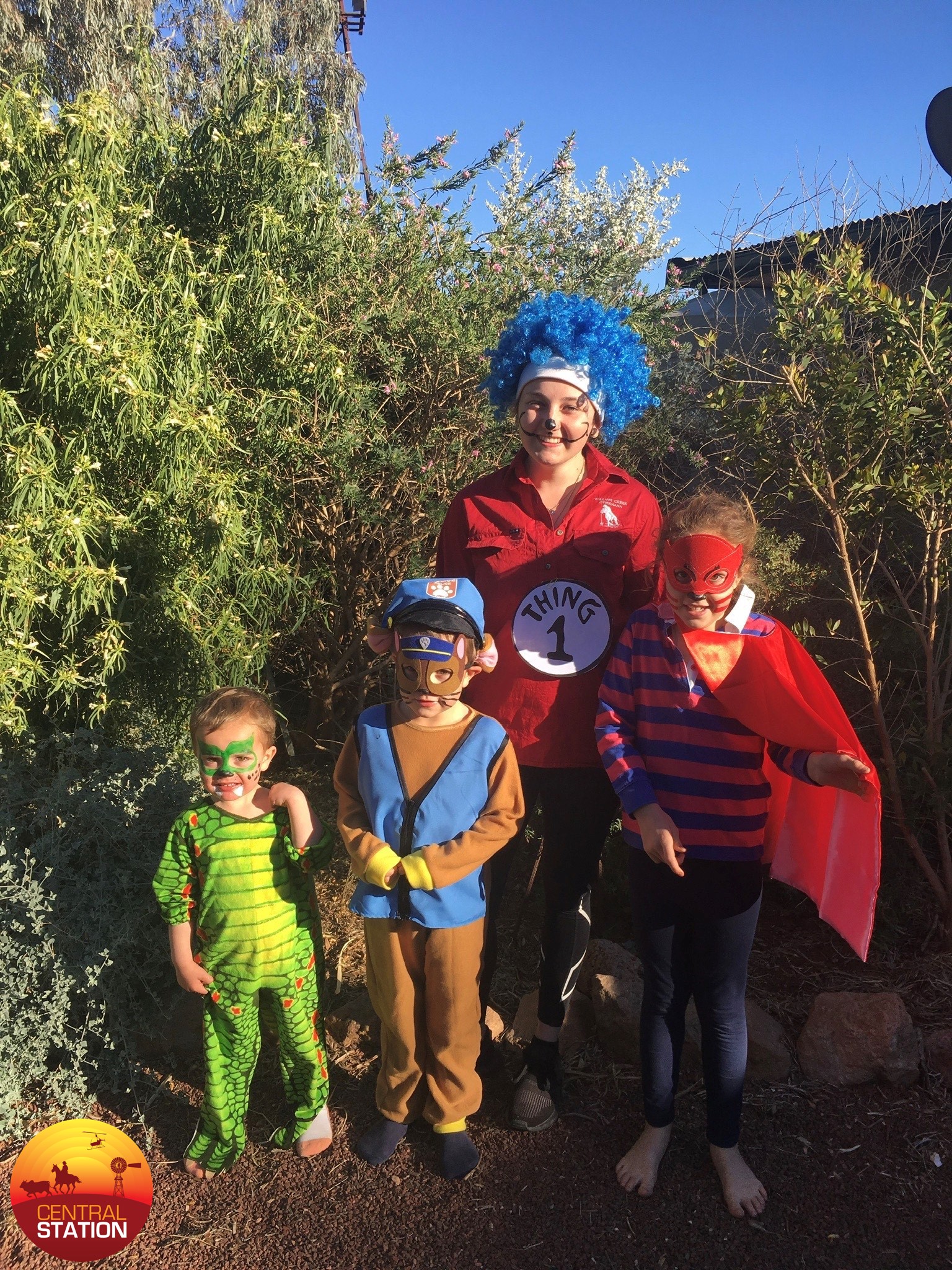 Book Week 2019.
Assisting a child with their schooling is the most amazing and treasured opportunity I've ever had. The kid's curriculum is delivered completely online with a number of face-to-face events throughout the year where we pack up and make the big journey South.
Watching both of the kids grow within the school room is the best feeling, not only do you watch them excel with learning, you get to watch them grow outside of the school room also. Lucy loves school and is always eager to get her work completed, ready to go on with the next task so we can do art and all the fun stuff. And George, where do I start with this one… trying to keep this little bugger in the school room, while Dad and all the boys are out doing all the fun cow work, was a lot of fun. The year started off with him giving me the nickname "Your Majesty" after giving out more instructions than he thought necessary. From there, the excuses to try and get out of school started… "Maddie, I'll have to leave school at smoko because Dad needs me out with him to put droppers in. So… I'm sorry but I have to go" or "Ummm…the teachers aren't at school today so there are no lessons".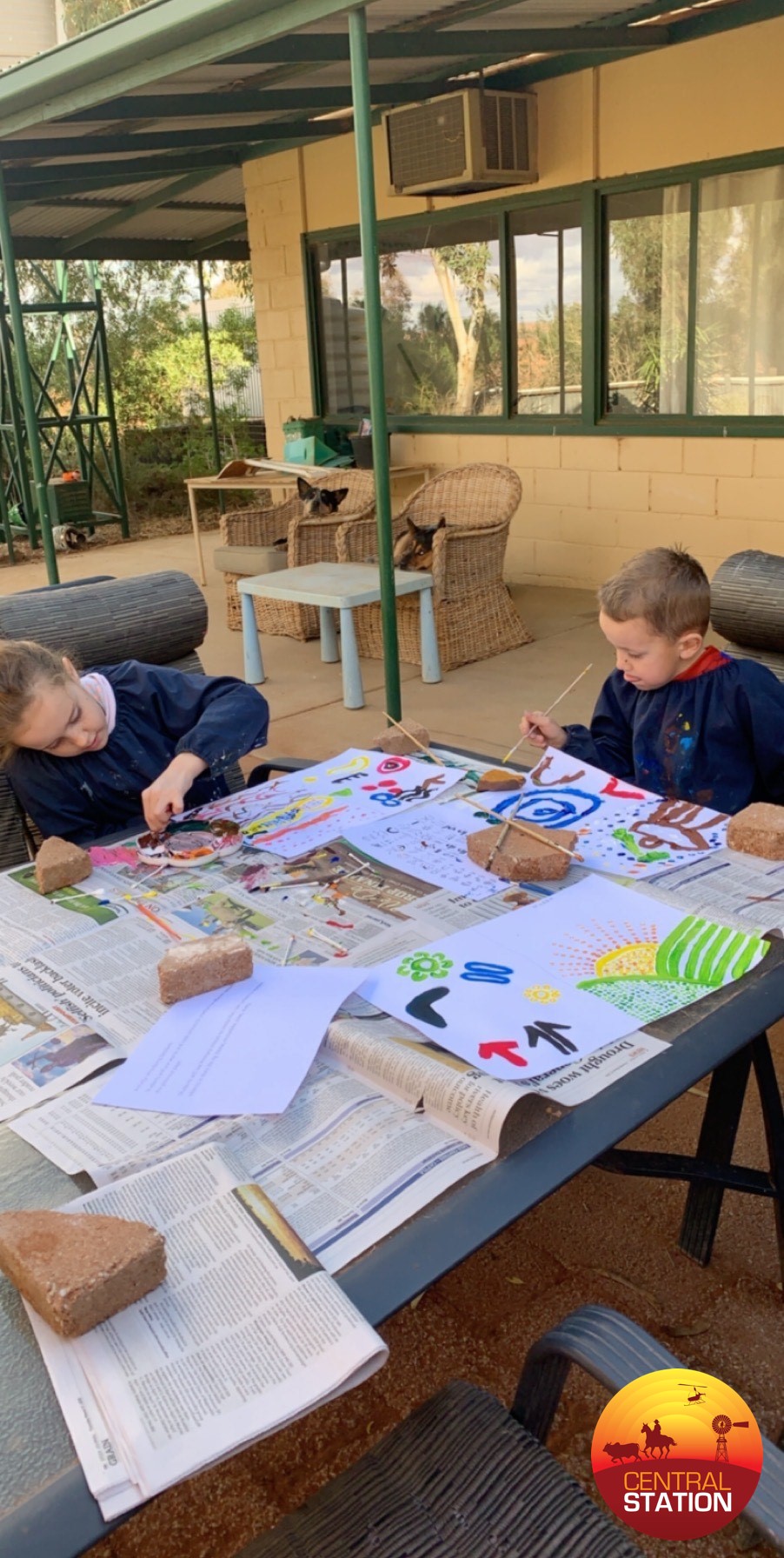 Schooling in the outback.
Being remote can sometimes be a struggle with the resources and access to equipment required to complete a school task. Not having items is not solved by a quick trip to 'Cheap as Chips' or the local supermarket… but from this does come a lot of improvisation and gets their brains thinking. The kids manage to come up with the most creative things with all kinds of objects here on the station and we have so much fun in our school room doing it.
Last year I also had the opportunity to complete my Certificate lll in Distance Education while working on the station, which improved and consolidated my knowledge and helped me learn other ways in how to explain and help with all subjects within the school curriculum. I had no idea but the opportunities since living in the middle of nowhere are amazing whether it be for school, through the community, through work or simply experiences and new places. No two days are ever the same.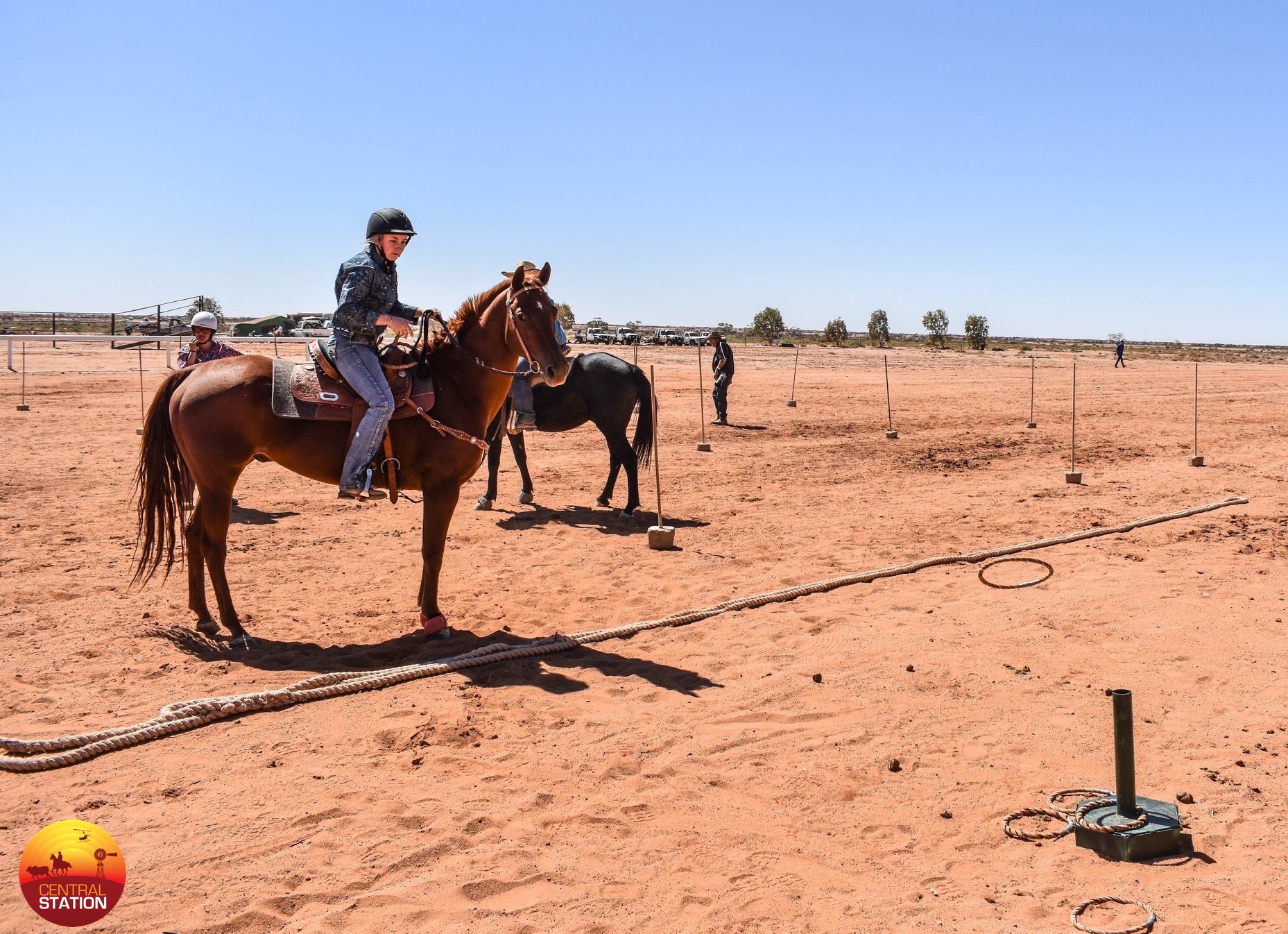 Competing in Quoits in a local gymkhana.
Being out here isn't just about being in the school room; we go to a lot of community shows around us including gymkhanas, picnic races, field days and station get togethers which could be 80km away or 800km away. I'm lucky enough to have my horse on the station, so in my free time and especially before a gymkhana, the kids and I get out and practice on our ponies. With both of them riding off the lead at home, it's amazing to watch how confident Lucy and George have become with their riding. At events we get to catch up with everyone from surrounding stations and towns and I especially love watching the kids with both of their eyes on the prize, not only in the horse events but the motorbikes as well.
Living out here and working is incredibly rewarding as I have learnt how to drive on dirt roads confidently and justify purchasing my own 4×4 ute that I have always dreamed of. You meet so many new faces and gain friendships you know you will have for a life time.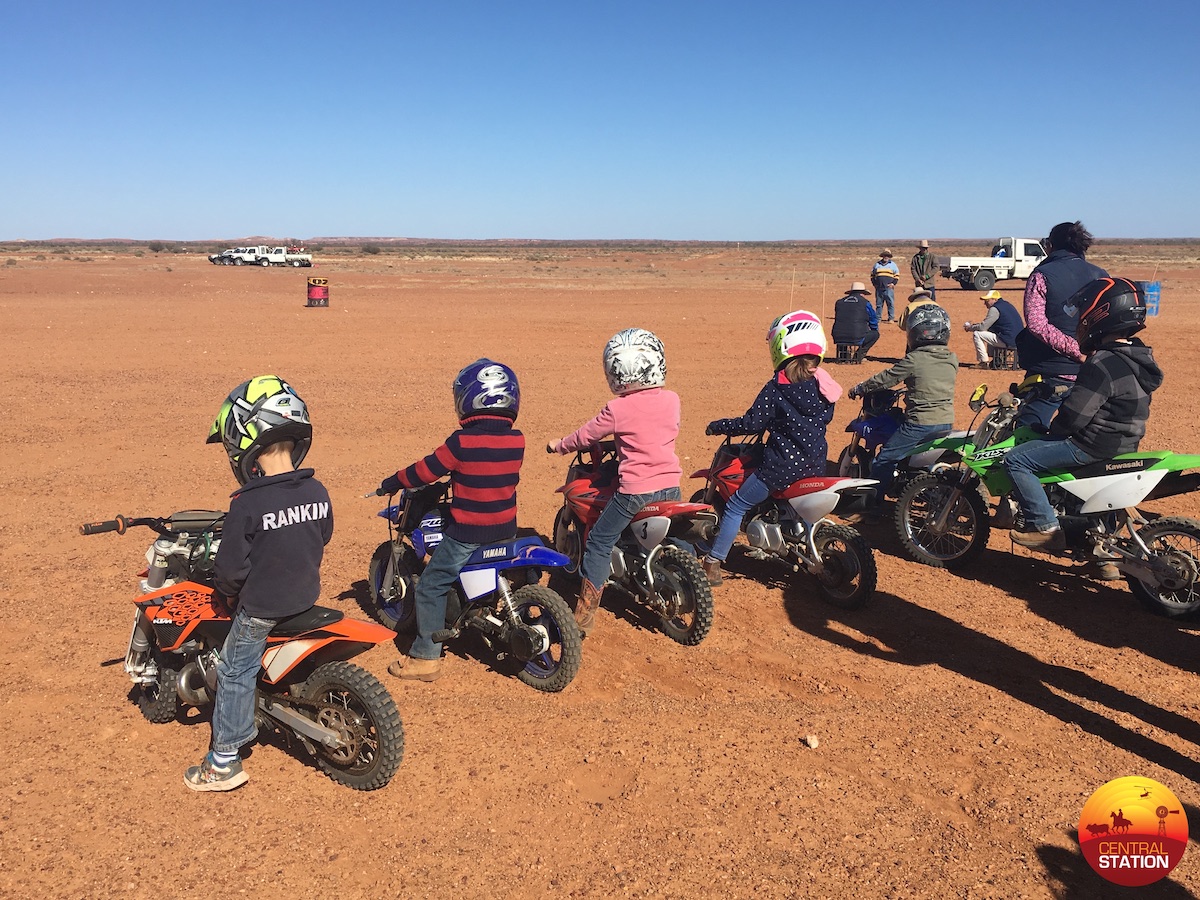 Ready to race.
Living on the station with the family and the kids, it is so much more than just a job – instead you become part of the family. Waking up every morning wondering what the day will bring is so exciting.
It's remote but being greeted at my door by four blue heelers, a donkey, three poddy calves, two sheep, smiling kids and knowing I am helping the kids on their learning journey – what more could you possibly want? It is a far cry from being lonely that's for sure, but is also about what you make of the experience.
It's such an exciting and rewarding opportunity doing something like this – governessing in the middle of the outback is such an incredible experience and I wouldn't change any of it for the world.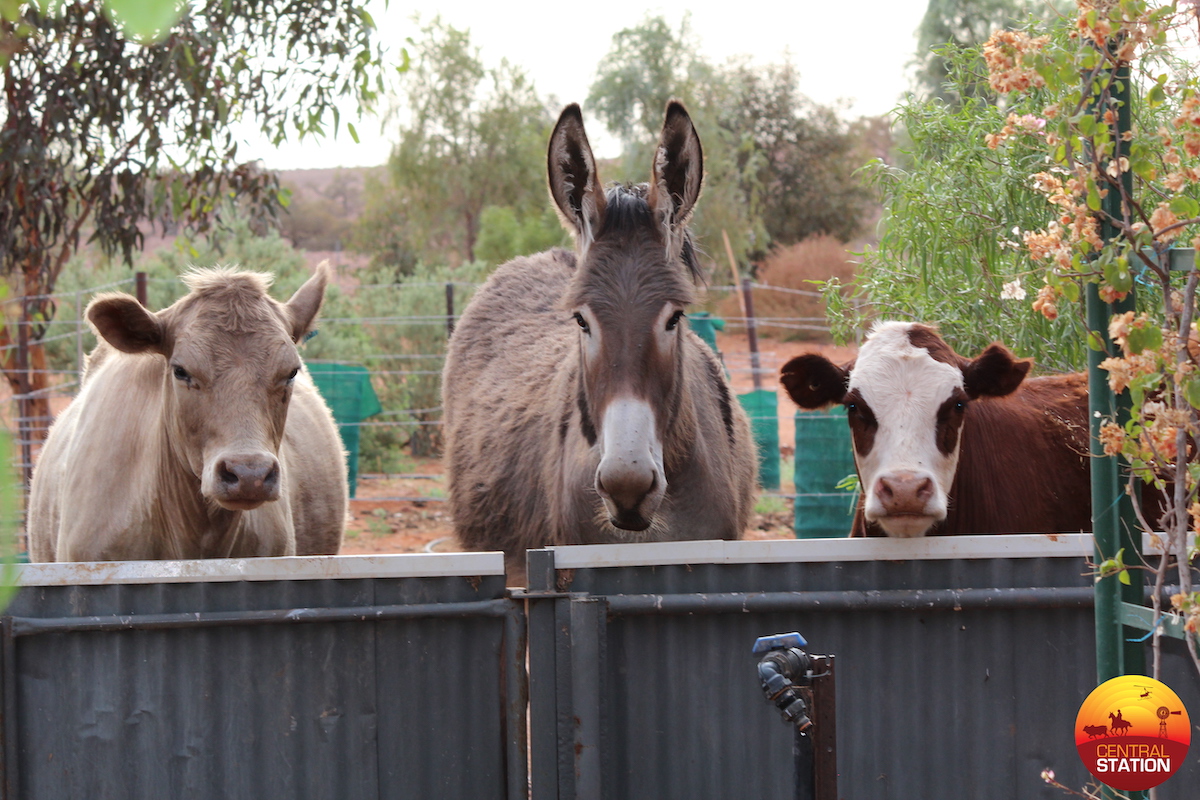 My welcoming party – Creamy, Jenny and Bruce.
Comments