Host: Mulyie Homestead (De Grey Station)
Written by Duggie Brownlie, Overseer
Ah yes, staff… they can make a bad season easy and a good season seem like the end of the world would be a good thing. They come in many different shapes and sizes, breeds and races, and more personalities than you can poke with a stick. They come from everywhere: Norway, England, France, Belgium, South Africa, Germany, Russia, the list goes on and on. Yet every now and then, and as hard as this is to believe, you can even get the odd good one from New Zealand! In today's pastoral game in my experiences an Australian is a rare thing indeed. Or…."as rare as bro!"
Don't get me wrong, some of the greatest workers I've ever seen have been folks working here from foreign countries, working their 88 days in a rural area for their second-year visas. The people you meet and the stories they bring can be as foreign and strange to you and I as it is to think that the Freo dockers may one day win a premiership flag.
A great example is of a Dutch fellow who worked for me last season. He had been in the Dutch army for 10 years, and while in the army he lived through 3 deployments to Afghanistan as a combat engineer as well as completing his plumbing trade. He then decided to throw it all in and go traveling. After landing in Perth and finding the job he had lined up didn't work out, he saw an advertisement of a cattle station seeking musters for the 2018 season and went, "Well, how hard can that really be?"
So, congratulations, you have finally found a mustering crew for the season. The rest should be straight forward right? No. No it's not.
The first thing you must deal with is the language barrier. There is a fairly good chance that for some of your new baby ringers, English is not their first language and some words such as "portable panels", "troughs" and "fence lines" just don't exist in their vocabulary. I once had a French couple work for me and I gave what I thought as simple instruction. "Go down that fence line and you'll come to a tank and a trough" to which they responded, "Yep, no worries, just 2 questions: What's a fence line and what's a trough?" Ah, right…
This leads me to the second thing you must deal with: training said staff. Training can range from the basics like: how to dress correctly for work, how to live away from home, and to make sure they drink enough water during the day so as to stop them from dying, to some of the more complicated stuff like "what is a cow" and "how do I move it?".
I'm lucky enough to work for an organisation that has some great training opportunities available to all staff members ranging from a Horse Shoeing School, to a Low Stress Stockman's course (how to move cows) to even putting you through your Certificate 3 or 4 in Agriculture. I had an 18-year-old girl rock up here one year straight out of high school. She didn't know what a 10mm spanner was, but by the end of the season she could weld, service a motorbike and complete every facet of station life. She left with promises of coming back the next season only for her father to learn of how good she had become and making her stay on the family farm instead.
Next is staff retention. So, you spend all that time training and raising your baby ringers, they have finally reached optimal efficiency and you can finally send them off to do a job without worrying that you'll have to go back out later and do it yourself, then the season ends, end of muster party comes along so as to finish on a high and there are grand promises of coming back again after summer. Do they? The good ones yes (and sometimes the bad ones too). Those that want to make a life for themselves in the agricultural game, who love the lifestyle of waking before the sun comes up and more often than not still working when the sun goes down again. For others maybe it didn't turn out like they though, maybe it was a gap year, maybe they can't stay because the government kicks them out of the country.
So, do we pick and choose which staff to train in certain things, do we not teach that backpacker how to weld because we know they won't be back? Or that young fella who rubs us the wrong way, do we not spend the time and effort on improving his skills? I think the answer is no, the agriculture industry is always in need of new blood, new ideas and fresh legs. We have an opportunity to train these young people and even if they don't come back at least I know they left here with the best skills possible and will be an asset to where ever life takes them.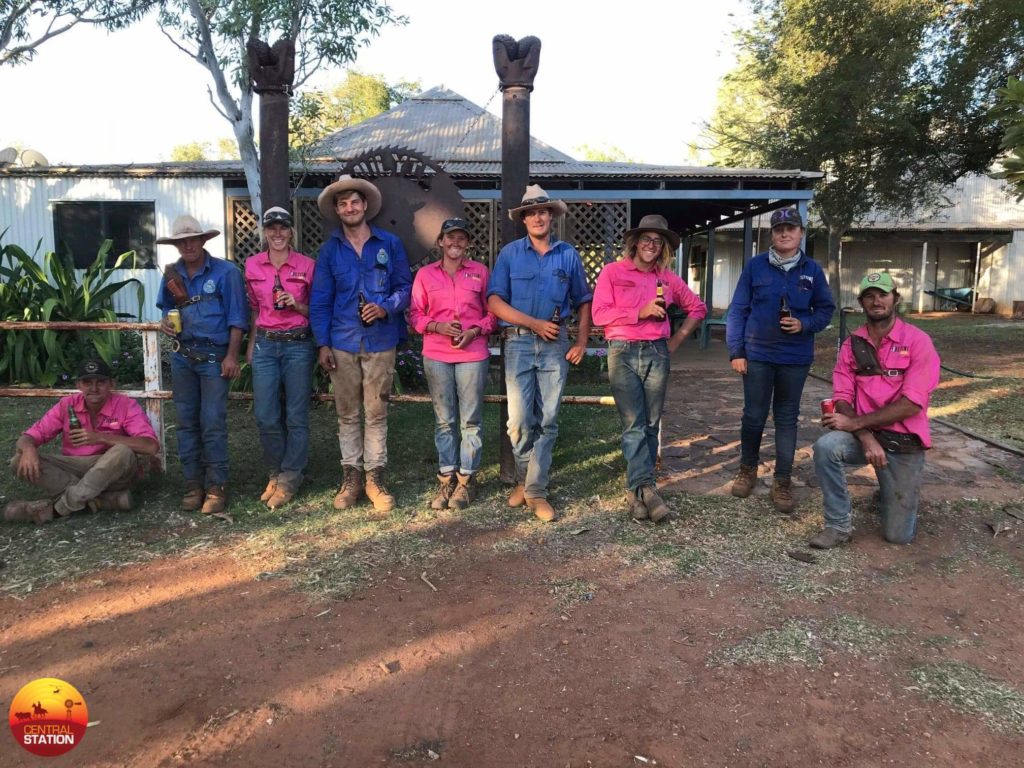 Mustering crew for Mulyie 2018. L – R Erik (Dutch) Dave (QLD) Nikki (NSW) Ben (English) Kat (Kiwi) Dave (Kiwi) Alex (WA) Sarah (WA) Duggie (WA).
Comments