Host: Barrygowan Station
Written by Tannas Godfrey, co-owner. 
When I came to Barrygowan Station, I had been fortunate to have a diverse range of experiences in my life.
I grew up on North Stradbroke Island on the East coast of Queensland. I have been a lifesaver, served as an Officer in the Australian Army and had 3 deployments overseas, travelled a little, managed the operational logistics in a coal terminal in North Queensland, consulted on maintenance management, served as an Asset Manager on our local Council and more recently as a Home Tutor to my daughter.
Where all of these experiences assisted me to find my way when I found myself smack bang in the middle of nowhere, what I would have really loved were some "tips for young players" that were unique to South West Queensland, so I thought for this article I would put some down for those of you that find yourself in the same position someday!
TIP 1 – Steel wool is not just for cleaning.
So, when you walk into a house that hasn't been lived in for over 10 years you automatically start the task of cleaning. Armed with the eucalyptus and a Chux, you are cleaning out the cupboards, wardrobes and cabinets, all the while collecting rusting bits of steel wool that have been jammed in random spots all over the place. Finally, you have everything clean and all the random bits of steel wool collected, remarking to everyone "Gee they were a bit random with the steel wool" … no one says anything.
About 1 week after your clean you notice there is mouse poo in your immaculate cupboards and mouse tracks on your skirting. "How on earth are they getting in there?" and then it hits you – steel wool. They weren't just randomly left, but rather they were lovingly "jammed" in to holes in the timber, mouse super-highways, stopping them in their tracks. So, you order another jumbo box from town, empty all your cupboards out and with a deftly honed chopstick and butter knife (my weapons of choice) go about putting every single piece back that you pulled out plus adding your own.
Steel wool is not just for cleaning people, it is domestic road spikes for mice!
TIP 2 – 'Knocked up' … don't be fooled!
Central Station is not new to articles on "lingo", but for an Aussie, I thought I had pretty much heard it all until I came west.  Firstly, the term "knocked up".
When you finish doing any type of hard work and walk into the family kitchen in front of a dozen people and your boyfriend's father asks you "Bit knocked up are you?" there's no need to die of embarrassment, turn red and stammer, "No…".  Out here it means that you are a bit tired, or had a tough day working, not that you're expecting to give birth to a child soon!
TIP 3 – Have a unique station mailbox.
There is something about a station mailbox that makes it special. It could be the lack of actual mail, the fact that it is nearly never an actual box, or that it becomes the source of joy on your drive when you hit the country roads at Christmas time. A station mailbox is your opportunity to put your little stamp on the property and make it fun and not to mention a great landmark to use for directions for visitors. Recycle, upcycle, build or weld, it will be worth it, I promise!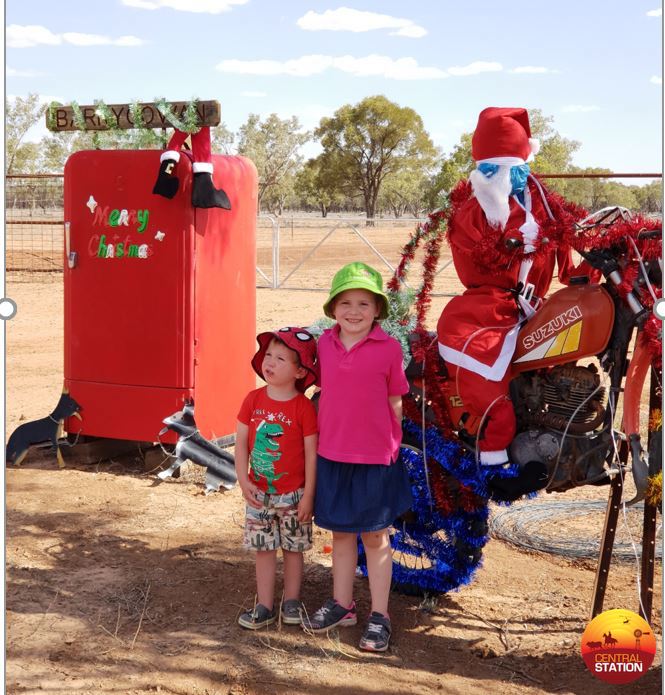 The Barrygowan 'red fridge' mailbox decorated for 2018 Christmas.
TIP 4 – Enter your local agricultural show.
There are few things as charming as a town's local agricultural show. It is where you see generations of your town young and old come together, amongst other entertainment on offer, to have a go at the arts, handicrafts, cooking, woodwork and many other categories in the pavilion.
Don't be scared, just have a go! Start with a few things that you are good at and pay your 50c to enter. Putting an entry in the local show is something any person, couple or family can do, it can be as simple as collecting a dozen eggs! So next time your local show is promoting its event book, pick up a copy and put in some entries, it is not just the thing of "River Cottage" cooking shows!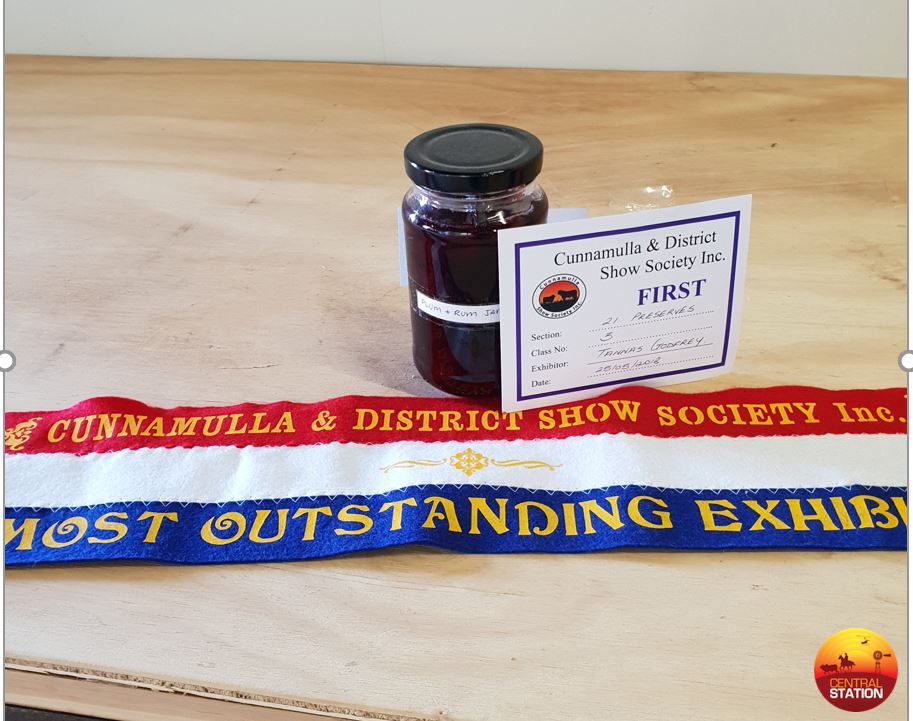 I think I peaked early with my 2018 "Plum and Rum Jam".
TIP 5 – Join a committee and take a position.
Rural towns are what they are and have the services they do because of volunteer committees. Let's face it – we all enjoy the services, help and support, and events put on by our volunteer clubs and organizations and it is a great way to meet people in your area.
Every town has their own branches of well known (ICPA, P&C, CWA) and lesser known (Country Education Foundation (CEF), race clubs, early childhood groups) committees and they all need you. Many hands make light work and if you think that you can't be a President, Treasurer, Secretary or other position, you can! If you can live and work on a station, you can help on a committee so put your hand up, the return on investment will be twice what you put in.
TIP 6 – Two washing machines will liberate you.
This is not about male/female roles, but in a family operation whoever in your household is responsible for the station's washing will know it is RIDICULOUS! You can do 6 loads of washing before 7am and by 8am there will be another one ready to go.
A couple of years ago I bought a second-hand washing machine and installed it next to my regular big capacity workhorse.  This die-hard combo lets me crack off 20kg of washing in 1/2  an hour, as the saying goes "Happy wife, happy life".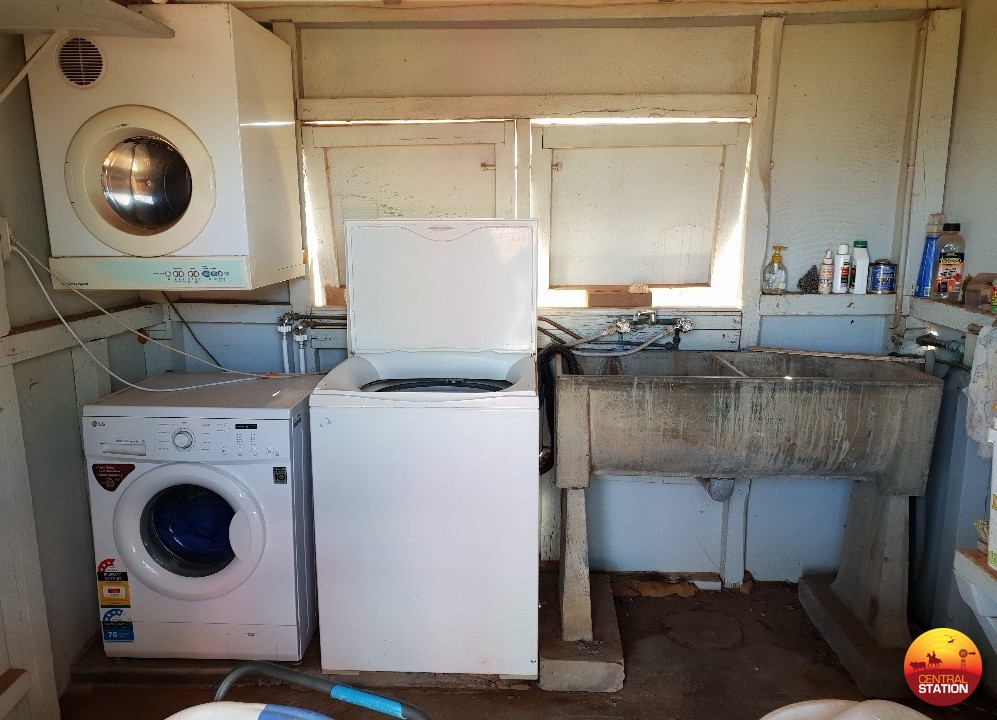 The Barrygowan wash room and brown snake den.
TIP 7 – Have a signature dish for your station.
In a rural community you will soon find that for nearly any occasion you will need to "bring a plate", so development of your signature dish for your property is crucial early on. Some will be lucky enough to inherit a traditional family recipe that has been passed on, others will need to go it alone.
Your station dish becomes what event planners "factor in" for your property at local events and parties. It will just be understood that you will bring your caramel slice/smoked brisket/noodle salad. And let's not forget, you need at least one thing to put in a community/distance education school recipe book when a fundraising coordinator hits you up (and they will!).
TIP 8 – Treat the people that work with you like family.
As a small family run station, we try to do as much as we can with your immediate family.  When you need a hand though, you need to call on trusted contractors, that even though they are not, fit in like they are family. They eat, sleep, work, laugh, and play with you and if it all hits the fan, they drop everything and come and help you out.
People with skills and loyalty like this, outside of family, are rare and even though there is a business relationship, never forget you can't do your all your jobs without them.
TIP 9 – Know your limits.
Life can suck you up on a station. You get busy trying to be everything to everyone. There is always a shortage of people so you find yourself saying yes because "who else will do it?". You constantly try to do things you have never done to prove you can hold your own, sometimes achieving, sometimes failing.
You don't have to be able to do everything, people will not think lesser of you if occasionally you say "no". Make time for yourself and know your limits. You are no good to anyone, especially yourself, if all you are is constantly unhappy, stressed or injured. Know your limits and love your station life.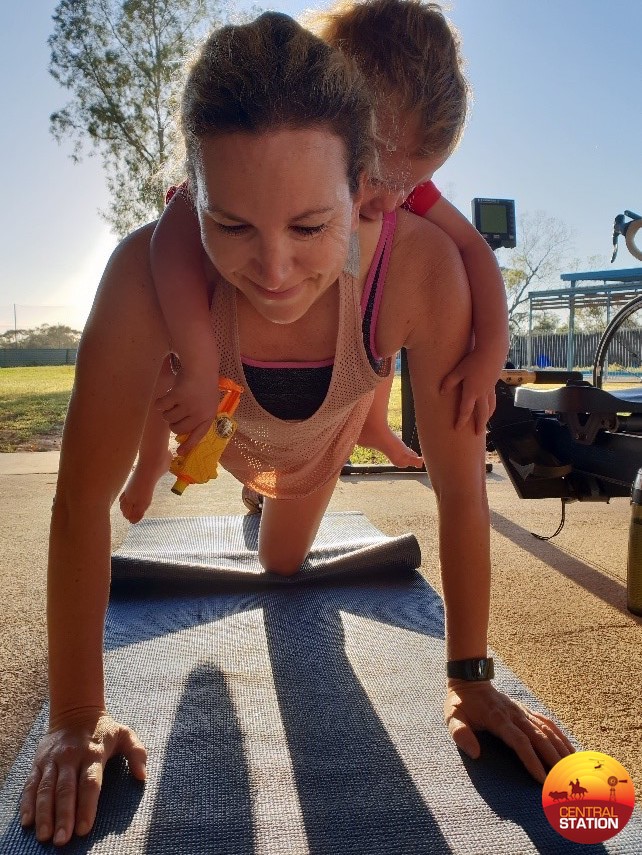 I take my time out at my favourite times of day – Dawn.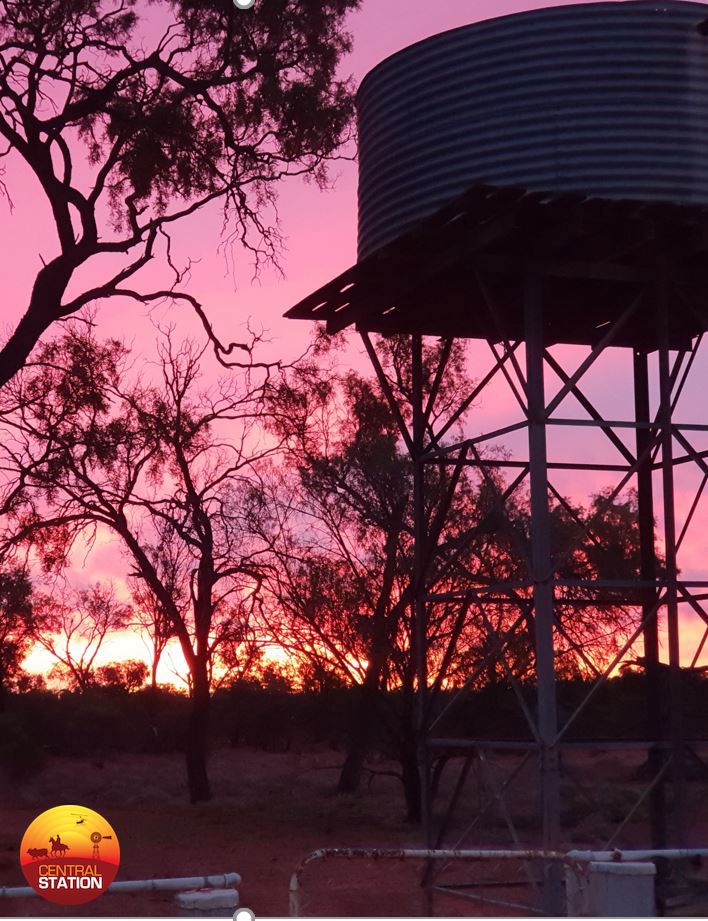 I take my time out at my favourite times of day – Dusk.
Comments