Host: Barrygowan Station
Written by Geoff Arthur, previous owner.
The year 1950 was the beginning of a golden 20 years for sheep industry in Australia – and Barrygowan was in a prime position to take advantage of that. Season-wise, 1950 to 1956 were bumper years which coincided with the wool boom generated by the Korean war.  It meant sheep prices rose to levels never envisaged before of 8 pounds per/head for young ewes etc. and Barrygowan wool averaged 392 pounds a bale in 1951. That roughly equates to $780 per bale which at that time would purchase far, far more than proceeds of an average bale today.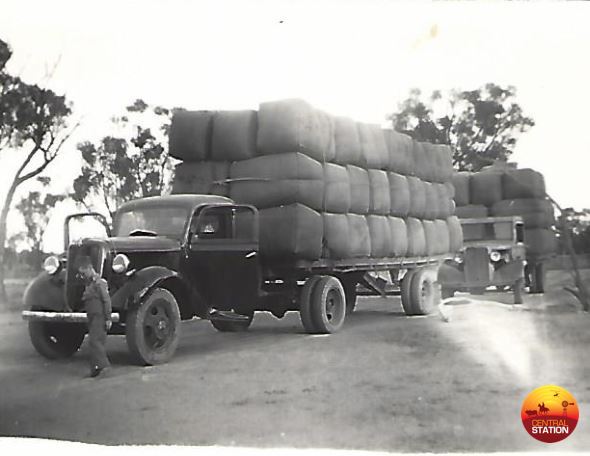 Arthur Collis' trucks delivering 1948 Barrygowan wool clip.
Barrygowan's owner, Lorna and my father, Alec Arthur, married in 1952. Lorna had been a widow for 6 years and Alec had been a widower for 2. This marriage meant that the running of Barrygowan and the property next door, Yankalilla, would be combined and become quite busy from then on. The prosperity from the wool boom meant that by that time every property could and did put on permanent labour. Lorna engaged Bob and Gwen Morrish from Cunnamulla in 1952 – Bob as station hand and Gwen as cook. They moved the hut from the old and set it up 60 metres from the back gate for married couples quarters.  This building is today used as the Barrygowan governess quarters and school room.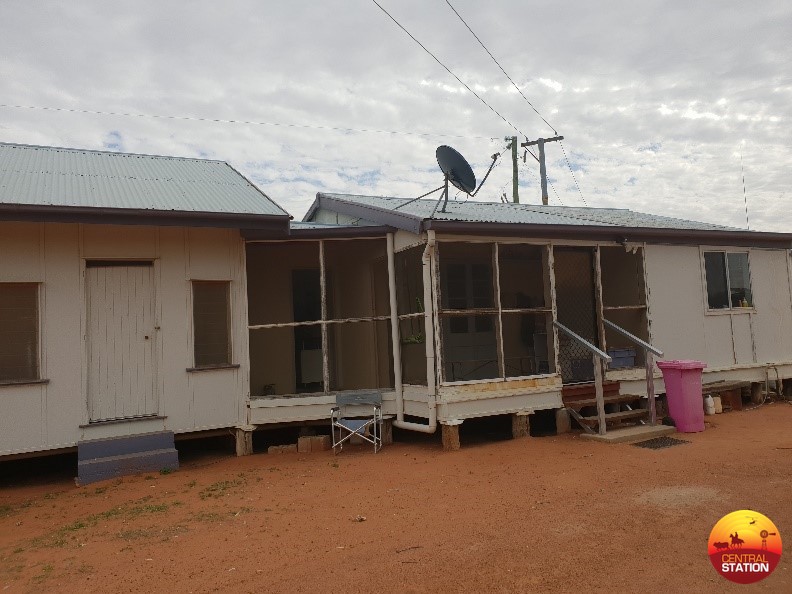 The original married quarters – now the Governess quarters and Schoolroom.
While sheep were the backbone of the business Lorna always had 40 to 60 Shorthorn cows which provided a handy extra bit of income but one thing she realised was that because it was flooded country, it wasn't safe cattle country and there would regularly be drought periods, like the early 1940's, when cattle would have died if not hand fed. There were times of opportunity when the Cudnappa creek would flood 6,000 acres and one could run 500 steers there for a few months but Barrygowan is not a property where you could depend on cattle as a sole income.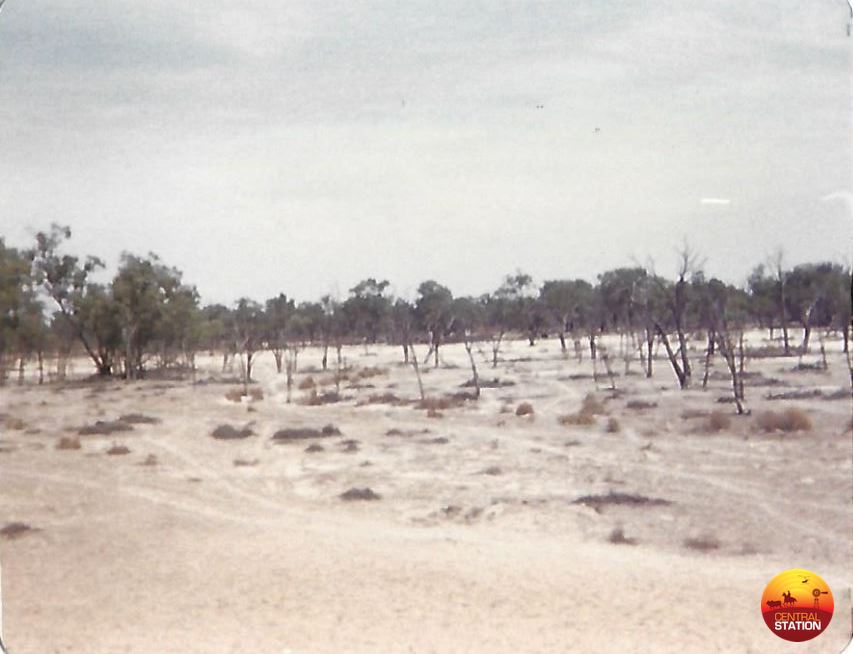 Barrygowan in drought.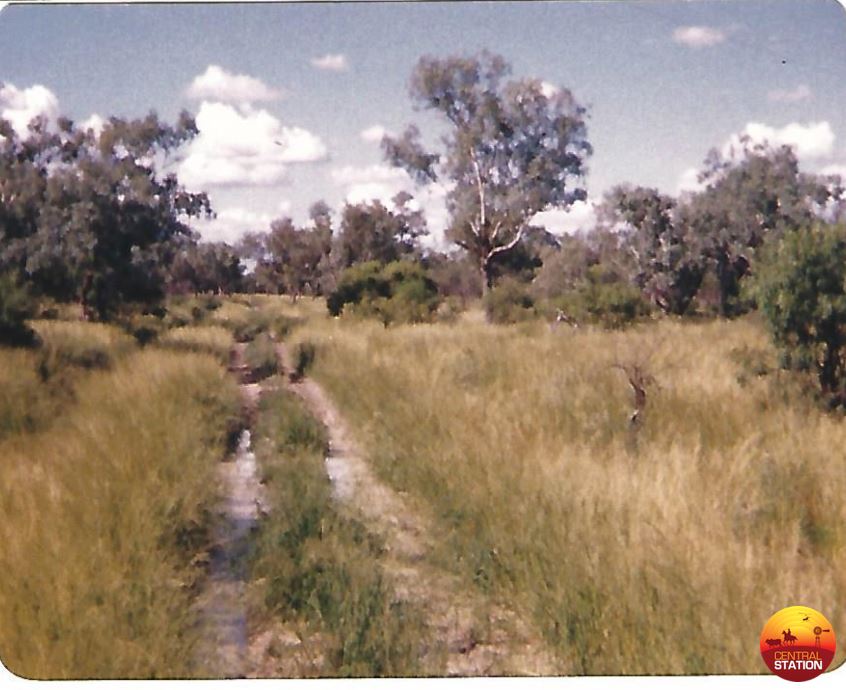 Barrygowan in flood in the early 1980's.
1956 was not only a flood year but the year of the Queensland shearers strike. The Arthurs were dedicated "new rate" graziers and had no intention of bowing to Australian Wool Union's demands for the "prosperity" rate to be maintained. To get the 7,000 Barrygowan sheep shorn we arranged to privately fly 3 shearers from Parkes who were prepared to defy Union rules and they shore for 4 weeks at Yankalilla and 4 weeks at Barrygowan during February and March. It was a secret operation and all the shed and paddock work was done by the Arthur family and our station staff. The wool had to be road freighted to Brisbane as the clip was blackballed by the railways. All this was accomplished despite having heavy rains in the first 6 months of the year and widespread flooding occurring.
A cultural revolution had taken place in the early part of the decade following the one property being balloted and turned into eleven, that accommodated another eleven families in the Noorama district. It completely changed our way of life in that, by 1962, there were cricket and tennis clubs, gymkhanas, film nights, pony club activities etc. all very active. Later of course the Noorama Picnic Race Club Inc was established in 1956 till the present day. Barrygowan managers and staff were actively engaged in all that was going on in this regard.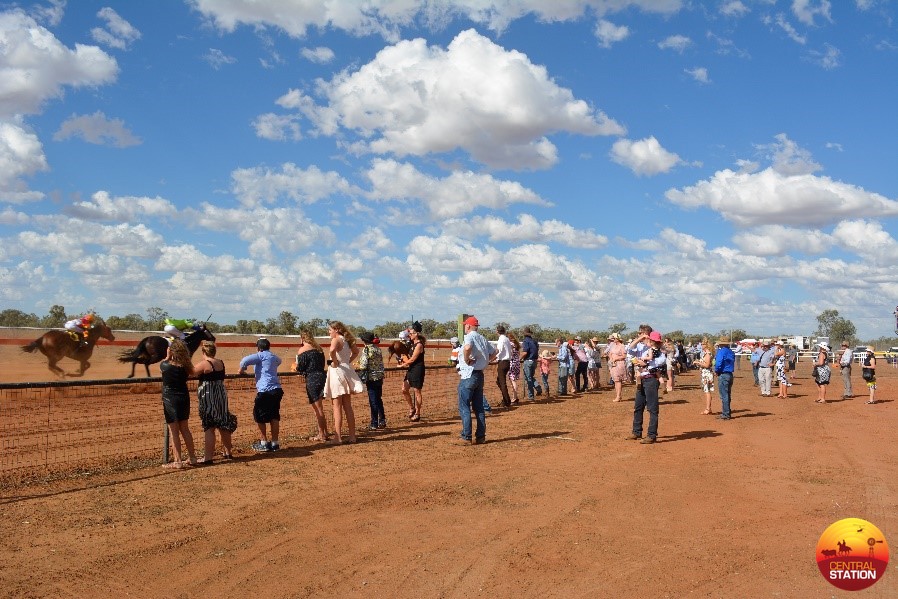 Noorama Picnic Race meeting held on the 2nd Saturday in April.
In August 1961 I went to manage Barrygowan. I was 21.  It was in 1963 we installed a piping and troughing system to replace the difficult little bore drains the took up so much time during the summers months. It was the first major pipe and trough scheme installed in the Paroo shire to my knowledge and was a great success.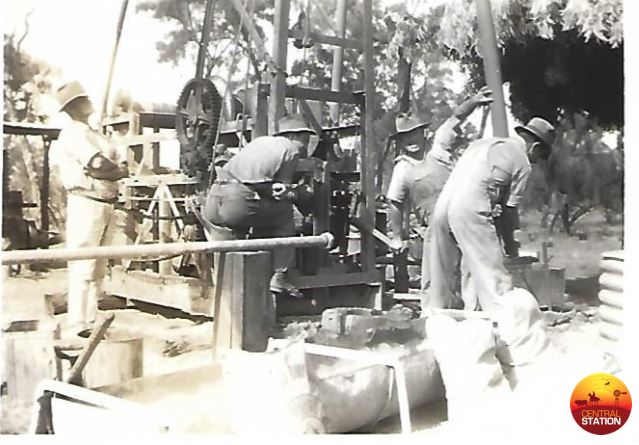 Sinking the Barrygowan House bore in 1946.
The year 1976 was noticeable for the biggest flood in living memory in the district up until that time. On February 13 an upper air low dropped 325 ml. in 24 hours across a wide area. Jenny, our 2 daughters and myself were isolated by road for 11 weeks but the phone remained on and there were food drops.
Rural power arrived in 1977 and what a change that made. No more starting the generator to wash or iron or charge batteries, no more battling with kerosene fridges and welders and power tools changed our way of doing workshop things.
Barrygowan continued on through the next few years producing as usual. Jenny and I decided to have a change of life and in early 1983 told Lorna of our plans to leave Cunnamulla and she said it was time for her to sell Barrygowan as well. In the spring of that year the country looked a picture after good winter rain and it was sold privately to the partnership of Roberts & Arblaster for $13/ acre bare. This was the highest price paid for a Noorama district property to that date but it seems so modest by present standards.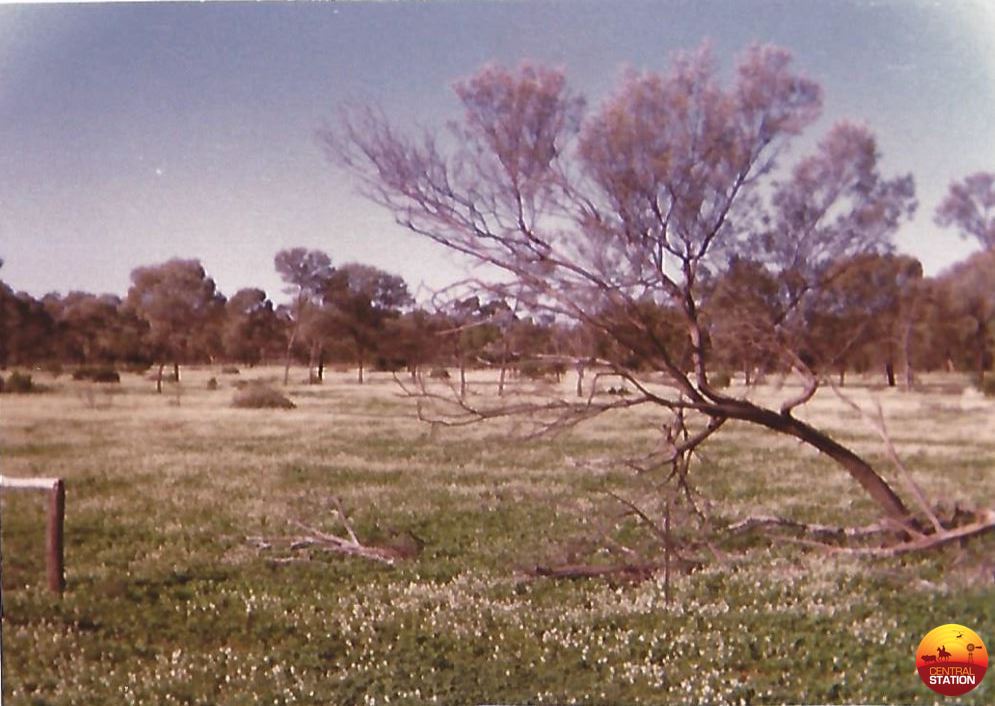 Wild Elysium in 1983 when Barrygowan was sold.
In conclusion in my opinion the main advantages of our time at Barrygowan were the proliferation of saline weeds, the variety of country and conservative stocking policies during the period . The negative was the extreme variation of annual rainfall.  On average Barrygowan is still considered equal to any Merino sheep breeding and wool growing country providing conservative stocking rates are employed. Unfortunately, the economics of pastoral enterprises today requires a much larger production base than the Barrygowans of this world to sustain the average family.
Comments