Host: Northern Beef Development project
Written by Clare Atkins, Development Officer, Department of Primary Industries and Regional Development
In my time as a stock inspector, I have seen some incredible things and travelled a few miles!
My name is Clare Atkins and up until a few weeks ago, I was one half of the Department of Primary Industries and Regional Development's (DPIRD) Stock Inspector team based in Kununurra, on the WA/NT border.
The other half of the team was Simone Andrews (Min), who had been in this role for almost 5 years. She has a wealth of knowledge and has dealt with almost any variation of the tasks that the Stock Inspector role can present. Min recently took on a similar role across the border in the NT, so now Charlotte Thompson is our resident stockie (stock inspector).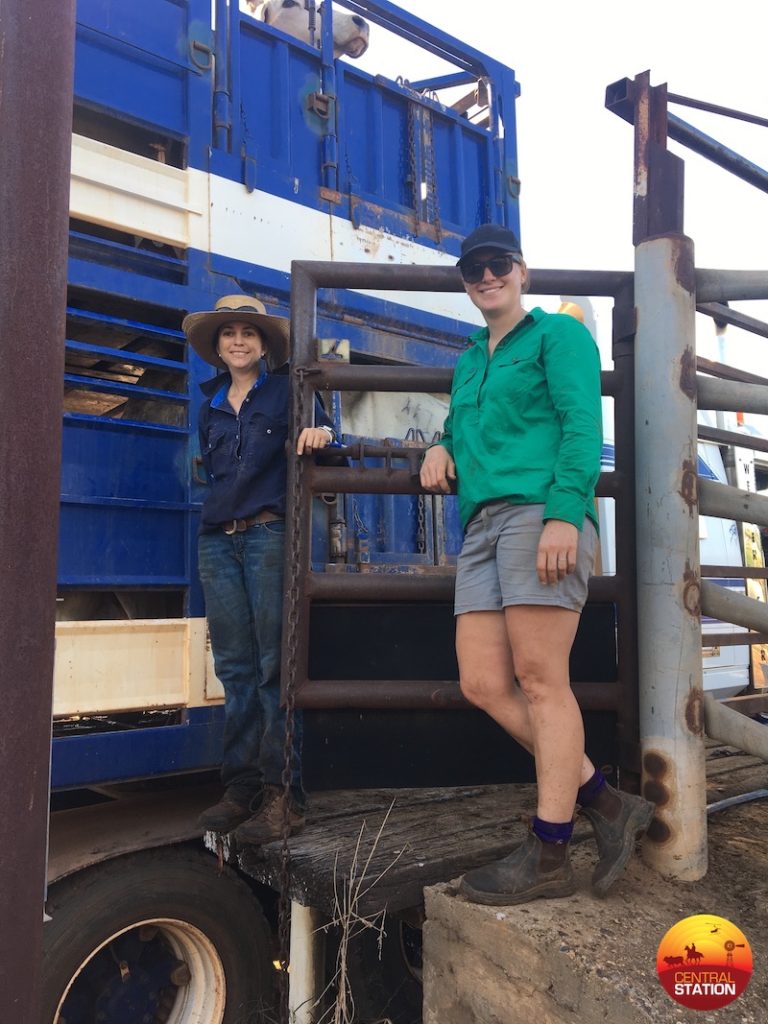 Min and Clare at the Kununurra Quarantine Yards.
"What is a stock inspector, and why does the job exist?" I hear you ask.
Strict requirements exist when importing livestock from interstate and overseas, and all livestock entering must meet the conditions outlined in the "Health certificate for movement of stock to WA".
These requirements exist to protect the State from pests and diseases that are not currently present. WA agricultural products are renowned as safe, valuable and of high-quality with our biosecurity systems ensuring our reputation and status are maintained. Our biosecurity status allows significant competitive advantage and value proposition in overseas markets.
All the rules and requirements come under the Biosecurity and Agriculture Management Act 2007 and the Biosecurity and Agriculture Management Regulations 2013.
Upon arrival in WA, livestock are inspected by a Biosecurity Officer, or Stock Inspectors as commonly known, at a designated inspection point to ensure they meet all prescribed import conditions. Stock that do not meet these conditions will not be eligible for entry. In the two years I worked in the Stock Inspector role we have inspected more than 20,000 animals.
You would think that with having seen the large amount of animals spread over hundreds of individual consignments, the details would be a blur. Surprisingly, when we're asked about a specific consignment, we can recall the particulars such as type and number of livestock, the origin, destination, transporter, lab results, health treatments, and even which animals had us climbing the rails!
Building working relationships with the stakeholders importing and exporting animals across the WA/NT border is one aspect of the Stock Inspector role that appealed to me the most. In my role, I get to work with many salt-of-the-earth, hard-working passionate people such as managers, owners, truck drivers, ringers, contractors and a captivating range of colourful characters that fit everywhere in between.
When Min and I are not carrying out maintenance or working with livestock at the Kununurra Quarantine yards, we are often on the road travelling to properties to inspect animals or treat animals as part of the post-border requirements. We go from as far as the Tanami Desert Road around Halls Creek to my favourite road, the Duncan Highway, which winds across the WA and NT border.
We are lucky to work with a wide range of livestock whose destinations are varied and far between. We get to inspect a whole range of livestock, including cattle, going for export out of the Wyndham or Broome ports, valuable breeding stock purchased from bull sales and studs based in Queensland and exotic breeds of cattle being imported to test their suitability for the Northern WA conditions.
I hope you find the next few examples of this as interesting as I do!
In 2017, a production crew filmed a truckload of camels being processed at the Kununurra Quarantine Yards as part of the import process to be allowed into Western Australia. Seven camels had been transported from Shepparton, Victoria to Broome after they were sold to a local tourism operator.
The filming of the camels was used as part of a broader documentary on the transportation of animals.  It provided an opportunity to demonstrate the department's interstate quarantine processes.
It was a challenge handling the camels in yards built for cattle, but the process ran smoothly and the camels were on their best behaviour.
The camels reportedly handled the long journey well and have settled into their new home in Broome enjoying sunsets on Cable Beach.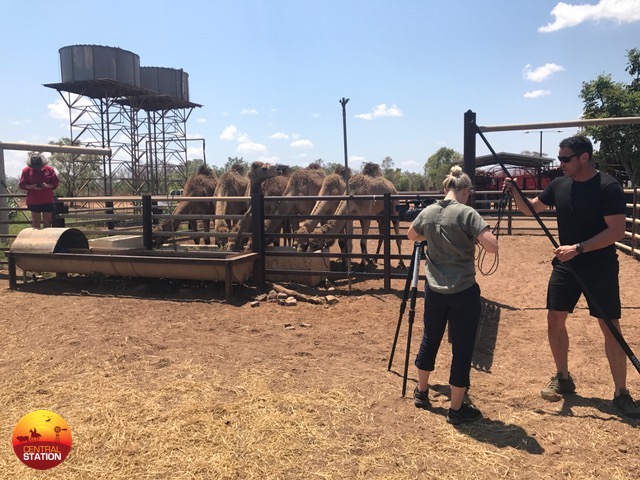 The crew of Busy Bee Productions filming the stars of their show at the Kununurra Quarantine Yards.
We've had another consignment involving a menagerie of circus performing animals, including camels too!
The circus had recently acquired two calves to join their team, so Min and I assisted them in ensuring they remained compliant with the National Livestock Identification (NLIS) requirements. The circus management team was very professional and we were able to meet all the mammalian performers!
One of the tasks on that job was to assist with tagging the calves with an NLIS tag. The calves were bottle-fed and took the tagging all in their stride, however the visibility of the NLIS tag in the calves' ears was a concern, considering the animals were to perform in the circus performances.
We considered this and placed the tags in a spot on the ear that reduced visibility during performances, although there was discussion about enhancing the look of the NLIS tags with glitter and diamantes to befit the performance! Maybe this will become a trend in the future?
With each racing season, we welcome the racehorses that travel great distances to participate in the Northern WA race season. They often also do the circuit that can include race meets held in Broome, Derby, Wyndham and Kununurra.
These horses are elite athletes and are always an impressive sight when they are led off the transport trucks. Some horses have come to the Kimberley from as far away as Hong Kong just to race! I wonder how they feel swapping metropolis Hong Kong for the white sands and pindan that surround the Broome Turf Club?
Whatever livestock that is presented for import or export, I take pride in upholding the biosecurity requirement for WA.
WA remains relatively free of pests and diseases that adversely affect our agricultural industries and environment. This allows our primary producers greater access to worldwide markets, which is a significant advantage to our primary producers.
The Stock Inspector role is varied, challenging, and very rewarding. However, I recently moved into a new role as a Development Officer for the Northern Beef Development team within DPIRD.
Charlotte Thomson is now the stock inspector you will encounter in any future interstate livestock movements up in the north.
As for me, who knows what stories I will have under my belt in 12 months' time!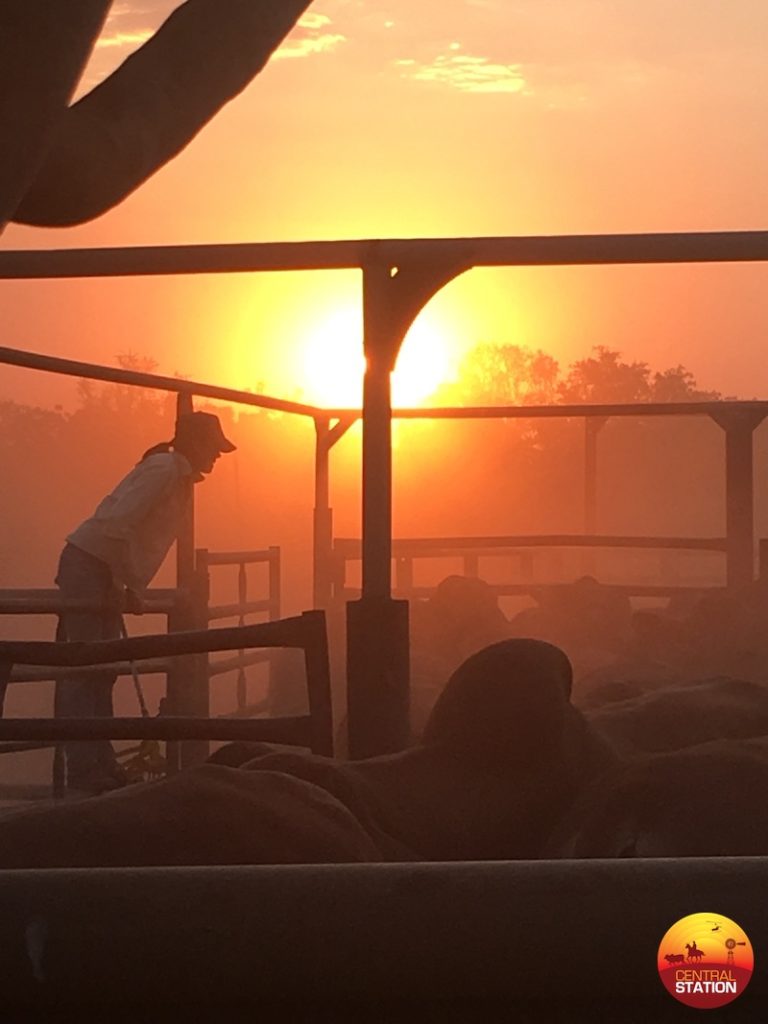 Charlotte moving cattle at the Kununurra Quarantine Yards.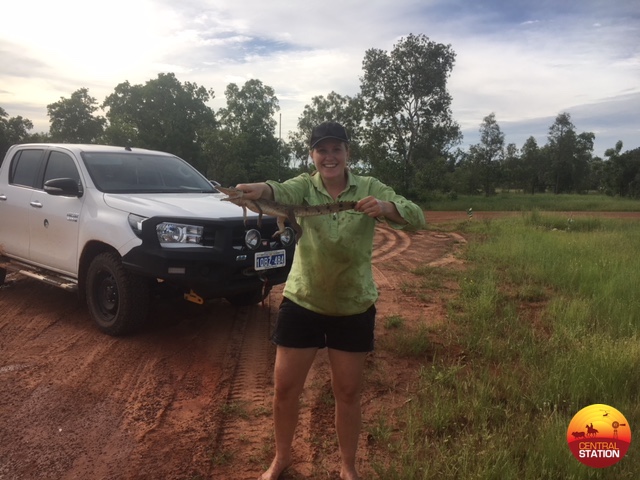 Clare inspecting an unscheduled visitor at the Kununurra Quarantine Yards.
Comments